Heiress-turned-reality TV darling Paris Hilton has returned to our screens in her new Netflix show Cooking With Paris.
Unlike other culinary TV offerings, Hilton takes a tongue-in-cheek approach to the show filmed at her home which she calls "Slivington Manor."
Donning evening wear for trips to the grocery store and wearing diamond-encrusted sunglasses to cut onions, 40-year-old Hilton has packed the show full of her literal trademarks including "That's hot" and "Sliving"—a portmanteau she explained she coined at a party which means slaying, living your best life.
Talking the audience through various recipes in her bedazzled recipe book with a wink, Hilton explains that she's not a natural cook.
She shows off her comedic talents as she makes fun of herself for not knowing what tongs and whisks are.
While some may argue that cooking shows should be reserved for foodie experts, Victor Garvey, chef-patron of Michelin-starred SOLA in London told Newsweek: "I think any show that gets people more interested in cooking is a good thing.
"It's also good that it's done in such a way that it doesn't take itself too seriously, because, honestly, unless you are doing it for a living, there's no reason to take it seriously; it should be fun and relaxing."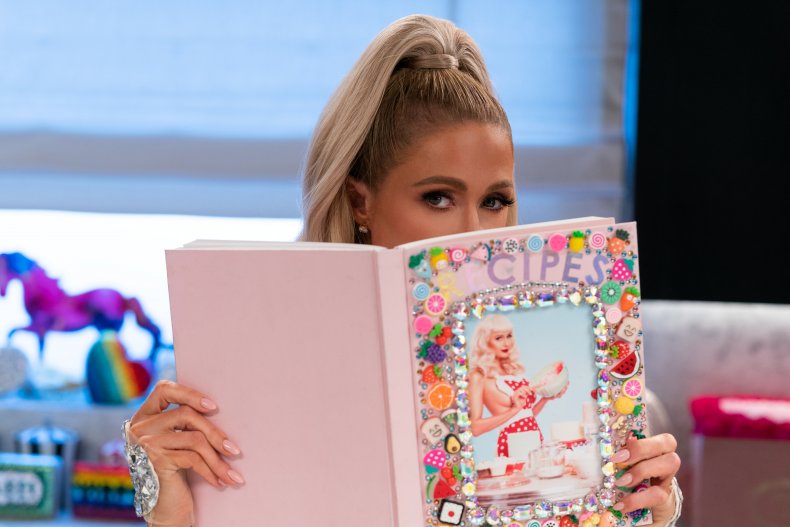 Head chef at Pasta Evangelists, a pasta recipe box delivery service in the U.K., Roberta d'Elia shared his sentiments, adding: "Shows like this are a source of inspiration because they prove you do not need to be a chef to prepare a delicious meal. You just need love, passion and an 'adventurous' spirit like Paris."
Hilton's desire to learn how to cook comes from her aspirations to start a family with fiancé Carter Reum, the audience learns.
Earlier in 2021, while appearing on podcast The Trend Reporter with Mara, she revealed she had already undergone the egg retrieval process and was introduced to IVF by longtime friend Kim Kardashian.
"I'm really excited just to move on for the next step of my life and finally just have a real life. Because I really do believe that having a family and having children is the meaning of life," she said.
When it comes to cooking for families, d'Elia said it's all about planning ahead: "A bit of planning makes the shopping much easier—especially if you include lots of fresh ingredients. With fresh, quality ingredients, it's very easy to cook a delicious meal."
Garvey added: "Some of the best times my daughter and I have had have been cooking and baking; getting kids interested in the kitchen young I think has a large positive impact on their confidence and independence."
While both admire Hilton's can-do attitude in the kitchen, their thoughts on her technical skills are another matter entirely.
Paris Hilton and Lele Pons' Christmas Dinner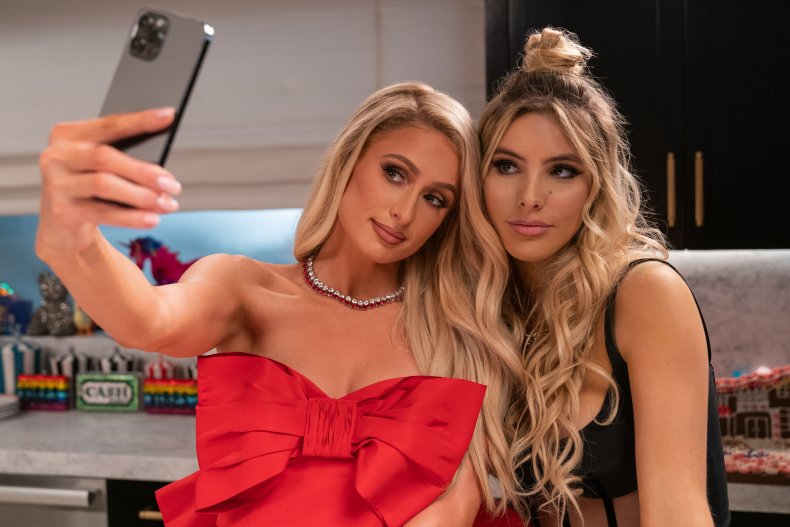 The season's penultimate episode sees Hilton open her kitchen to influencer Lele Pons as they attempt to prepare a traditional Christmas dinner together.
Getting this holiday meal right involves very careful timing as California native Garvey explained: "When you've got 12 dishes plus sauces to get on the tables at the same time, it's hard to strike that balance between piping hot and not over cooked."
For Hilton or any other amateur cooks unsure how to tackle this feast, he said "less is more."
"Do four dishes really well rather than 12 for the sake of giving people variety."
When it comes to keeping your visitors happy, he joked that a bit of holiday cheer goes a long way.
"If it all starts going pear-shaped, make sure your guests are too drunk to care."
While preparing her turkey, Hilton pours almost an entire bottle of wine over the meat.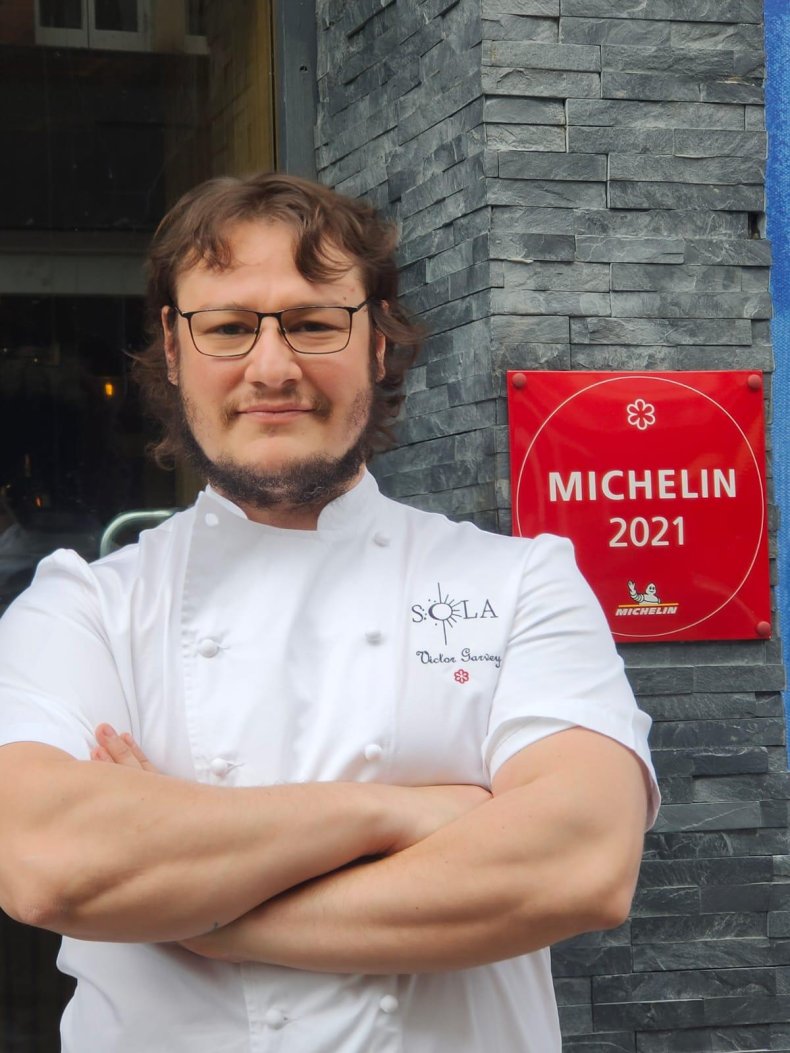 Garvey commented: "I'll reserve judgment. One of the golden rules in cooking is 'don't add unreduced wine to anything.' It was a big bird so I doubt it had much of a negative effect, but I doubt it actually added any extra flavor."
Overall though, he said her preparation was "not bad," but added: "Everything was a bit wet though.
"The goal with any poultry is to make sure the surface of it is as dry as possible to maximize eventual crispiness of the skin."
As for the finished article, Garvey thinks she may have cooked her turkey for 30 minutes too long.
Once out of the oven, Hilton and Pons, 25, set about trying to make the meal match its glamorous surroundings by decorating it with the logo of French luxury fashion designer Louis Vuitton and even adding sprinkles.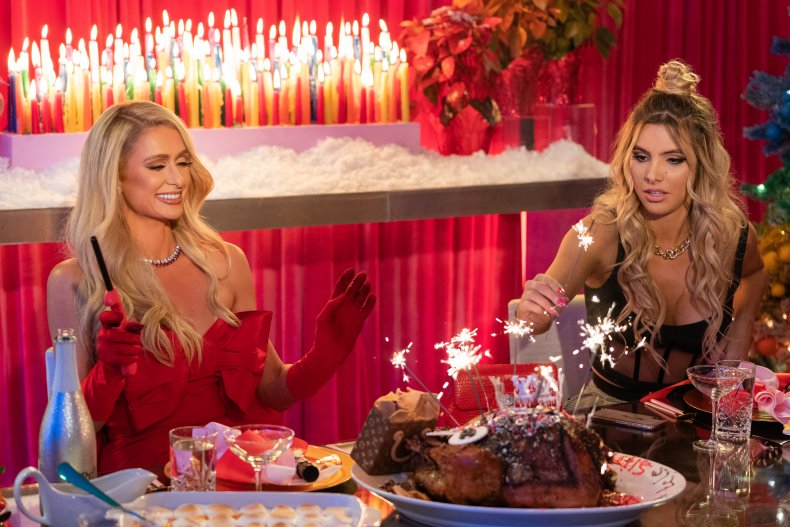 "I've eaten crazier things," Garvey said. "But as a general rule, keep the donut garnishes away from the main course."
As for his overall thoughts on her Christmas dinner, he said: "It was gaudy, over-the-top, and probably not replicable by your average person," before adding that Hilton's accompanying mac-and-cheese side dish "did look pretty tasty."
Paris Hilton and Demi Lovato's Cannolis
In episode 4, Hilton invites singer Demi Lovato to create a feast of Italian food.
The entire Hilton family is such a fan Italian cuisine, that her sister Nicky Hilton Rothschild, and father Richard Hilton even have dishes named after them at their favorite West Hollywood restaurant, Dan Tana's, she says in the episode.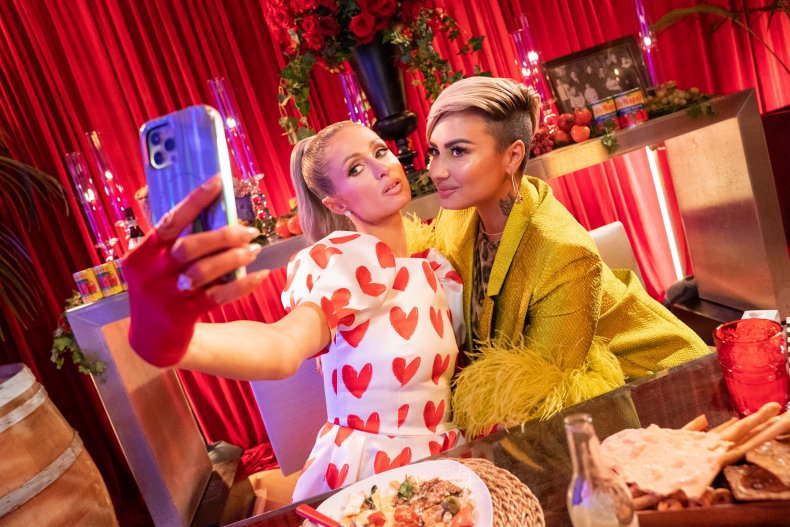 Hilton begins by attempting to make cannoli fillings ahead of Lovato's arrival but falls at the first hurdle as she's unsure how to zest a lemon and tries to use a potato peeler to do the job.
Asked if this is an adequate substitute, Italian chef d'Elia replied: "Absolutely not!"
"Paris needs to use a lemon zester, or, failing that, a microplane cheese grater, so she can properly grate the lemon rind into the ricotta.
"She could use a potato peeler for limoncello as in this case she would simply need to infuse the lemon skin in the alcohol. But not for cannoli filling, mamma mia!"
After tasting her mixture and deciding it's not sweet enough, Hilton pours more sugar into her piping bag.
D'Elia explained this is another cooking no-no: "Never add extra ingredients directly into the piping bag as it means the mixture won't blend properly.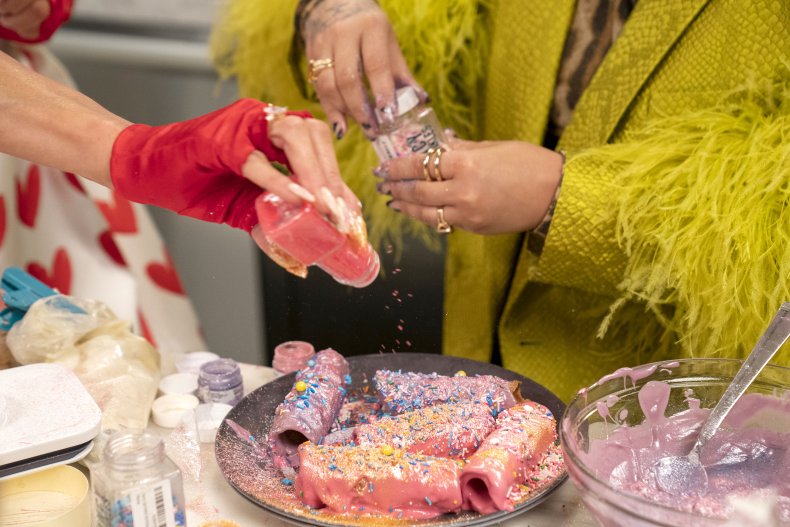 "I think Paris likes her dessert to be very sweet. That's fine but she must add the sugar gradually and keep tasting, tasting, tasting until it is just right."
Paris Hilton and Demi Lovato's Caprese Salad
Once Lovato, 28, arrives, the pair tackle a caprese salad.
"Paris' knife skills have seen better days," d'Elia said.
The caprese salad typically consists of mozzarella, basil and tomato and as d'Elia explained, is "an icon of Italy, taking inspiration from the red, green & white of 'Il Tricolore,' the Italian flag."
With this in mind, she described Hilton's presentation as "lacking."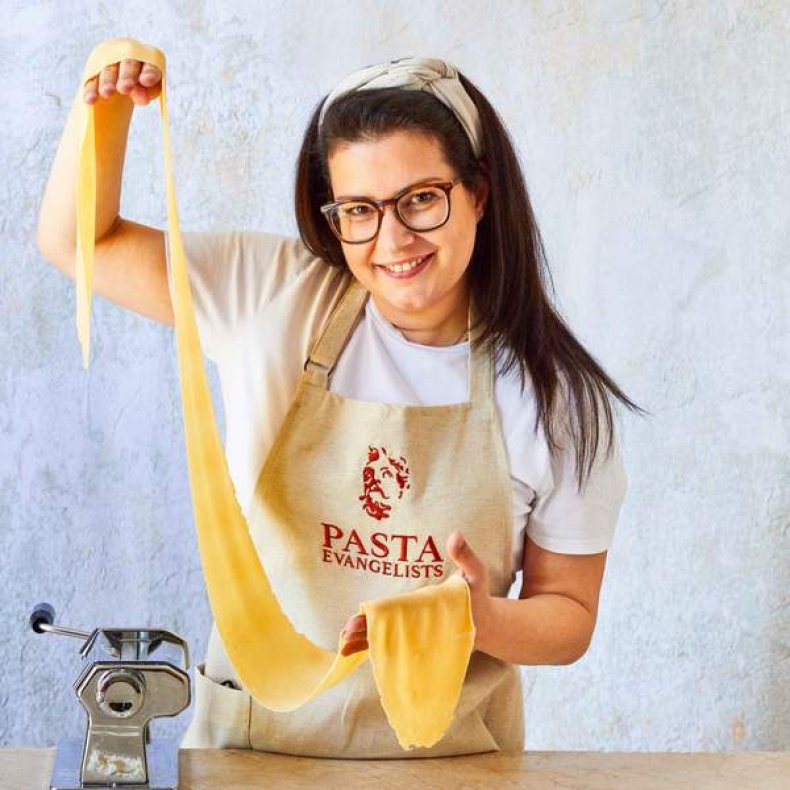 While getting ready to serve, Lovato comments "you can't overdo the balsamic glaze," though d'Elia disagreed.
"This couldn't be further from the truth.
"Good quality balsamic vinegar is a prized, specialty ingredient and not something to be drizzled illiberally. A small amount is enough to elevate the flavors of the salad without overpowering the delicate leaves. Italians treat balsamic vinegar, as well as extra virgin olive oil, with great respect.
"Personally, I would never serve a caprese salad with balsamic. Just good extra virgin olive oil and sea salt."
Paris Hilton and Demi Lovato's Pink Ravioli
One of Hilton's biggest kitchen disasters comes when attempting to make pink ravioli from scratch and ultimately results in her having to throw her mixture in the trash and cook store-bought pasta instead.
"Paris' pasta was an unmitigated disaster," d'Elia said.
For any beginners thinking of attempting their own pasta dough, she shared this: "A little tip from Chef Roberta: while you don't need to beat the eggs before adding it to the flour, I do sometimes recommend beginners to beat flour and eggs in a bowl before moving onto the table to knead the dough."
While kneading the dough, Paris liberally adds olive oil.
This was not advisable, according to d'Elia.
"With pasta you need to be so careful... a little water is fine if your dough is dry, but if you add too much liquid you will end up with a very sticky dough that you won't be able to knead.
"Kneading the dough is crucial when making fresh pasta as it will create the elasticity you need to shape into pasta."
Not wanting to ruin her carefully put together outfit, Hilton pulls rubber gloves over the top of her fingerless gloves only for her dough to get stuck to them.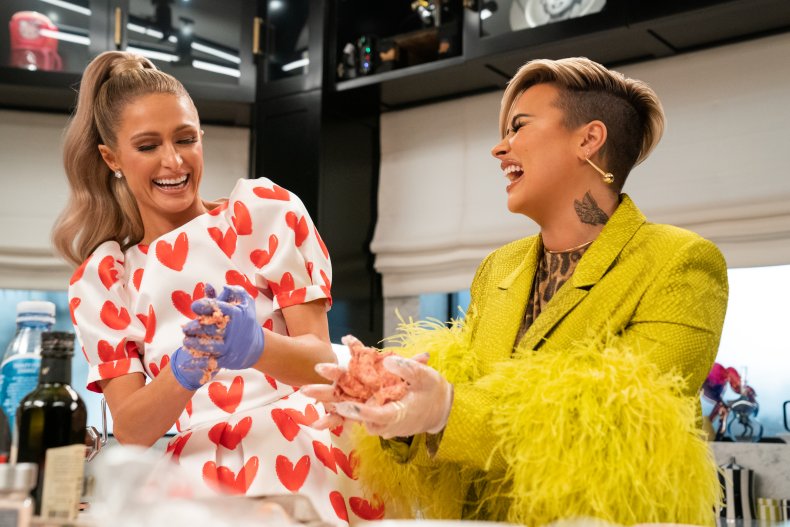 She would have found things easier had she been working with her bare hands.
"In my lifetime, I have never seen anyone in Italy make pasta wearing gloves," d'Elia said.
"If I had turned up in gloves to make pasta with my nonna, Maria-Assunta, I would have been slapped on the wrist and sent to bed without any supper."
Eventually, Hilton's dough is so thick she can't get it through the pasta machine.
"Even if you are using a machine, you should always flatten the dough a little by hand before putting it through the machine or it will get stuck," d'Elia explained.
Once they finally cooked their back-up ravioli, d'Elia said Hilton should have drizzled on the butter sauce instead of pouring it over, before adding: "But Paris did get the Parmigiano correct at the end. Bellissimo."
Overall, d'Elia felt Hilton's technique was "a little lazy," but she said her resourcefulness is "very Italian."
D'Elia would happily share a kitchen with the heiress for a pasta masterclass though, but added: "if she is in my class, she will have to follow my instructions."