Paris Hilton Launches Netflix Cooking Show, and It's Exactly What You Expect
Netflix has just dropped the trailer for their new culinary show Cooking With Paris, starring the Hilton heiress.
The 40-year-old released a lasagna tutorial on YouTube in 2020, under the same name, which has now been turned into a six-part series.
"Any b**** can cook," she says as she uses diamond-encrusted utensils, drags her feathery outfits across dishes and Googles "what is zest lemon."
But she finally gets to use her catchphrase in an appropriate situation, saying: "That's hot...literally."
The Simple Life star is joined by her "sous chefs," aka A-list pals Kim Kardashian West, Demi Lovato, Nikki Glaser, Saweetie, and Lele Pons, along with Nicky and Kathy Hilton.
The trailer for the "cooking" show premiered Tuesday, with the first instalment airing on August 4.
Hilton tweeted about the launch of the show, saying: "I'm so excited to finally share a taste of my new cooking series and reveal my amazing sous chefs."
Netflix explained more about the tongue-in-cheek series, saying: "Paris Hilton can cook...kind of. Check your smoke detector and get ready—Cooking with Paris comes to Netflix August 4th!
"She's not a trained chef and she's not trying to be. Join Paris Hilton along with her celebrity friends (and sous-chefs) Kim Kardashian West, Nikki Glaser, Demi Lovato, Saweetie, Lele Pons, Kathy Hilton and Nicky Hilton as she navigates new ingredients, new recipes and exotic kitchen appliances.
"Inspired by her viral YouTube video, Paris will take us from the grocery store to the finished table spread—and she might actually learn her way around the kitchen. With an anyone-can-cook attitude, Paris Hilton adds her own flair to every dish. Fun is just one edible glitter bomb away on this unique cooking show."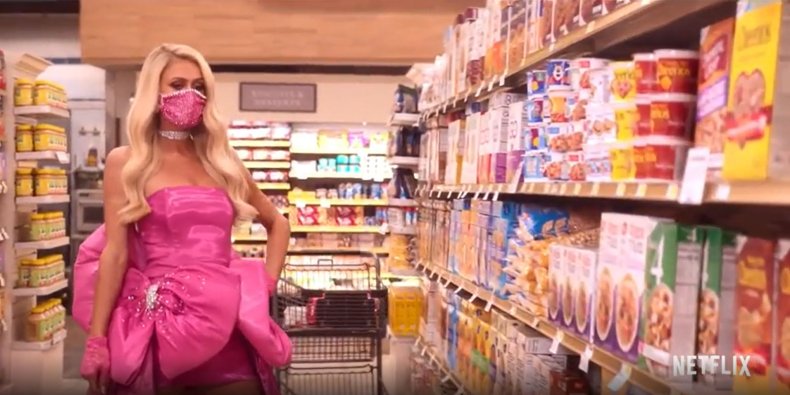 If her cookery debut on YouTube, watched more than 5 million times, is anything to go by, viewers are in for an interesting menu.
"I'm doing a cooking tutorial and I have none of the correct things," she says, pulling out a barbecue spatula.
Her lasagna recipe is fairly straightforward, even if it does call for an obscene amount of ricotta.
She acknowledges the extreme quantity, saying: "Obviously you do not need to use this much ricotta cheese, I like to use a lot of it because it's amazing. But don't use this much, it's way too much."
And she has some words of wisdom for any budding chefs out there: "Careful if you have long hair because it could light on fire."