Debate has long raged over whether pineapple belongs on a pizza, but those for and against need to cast aside their differences to unite against this new foe: watermelon pizza.
And we don't mean adding slices of the fruit on top of a pizza pie, rather using a watermelon as the base itself.
The bizarre culinary creation was brought to life by Oliver Paterson, who shared a cooking tutorial to his TikTok.
The 24-year-old, from the U.K., used a middle cut from a watermelon to achieve that authentic pizza shape, before frying it.
Paterson, who works in a supermarket supply chain, then slathered it with BBQ sauce, before adding cheese and chorizo on top.
Speaking to Newsweek, Paterson revealed what inspired him to try out such an unusual food pairing.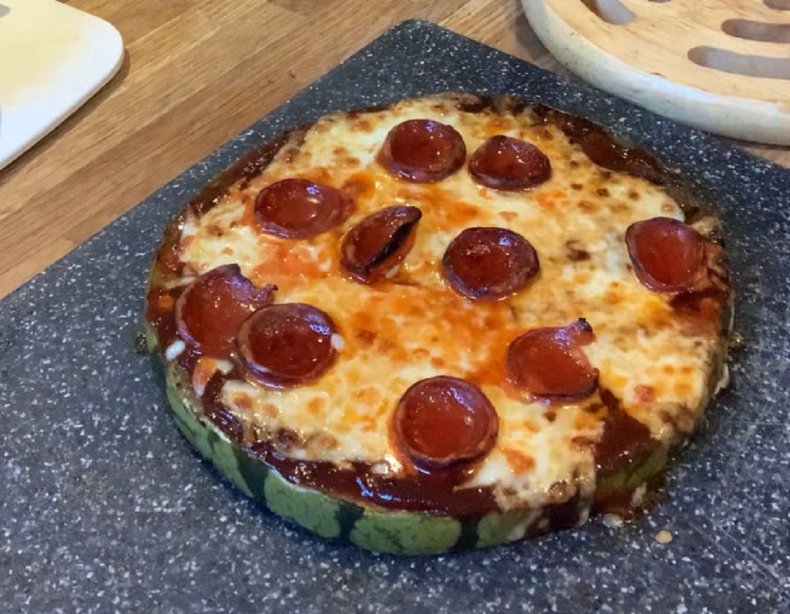 He said: "I've made several videos using various things as a pizza base—such as recently making a hash brown base pizza. I've made BBQ-roasted watermelon before and it came out great, I saw someone make that on a TV show called Crazy Delicious judged by [British chef] Heston Blumenthal and they said it was good on the show, so I thought I would combine the two to make a BBQ-based pizza—I don't think it would work with tomato at all.
"Watermelon holds its structure quite well when cooked, and I wanted to grill it first to get some of the water out and develop some Maillard reaction on the outside," which is a browning method he later confirmed was to "caramelize" the flesh.
The most important was the taste test, which Paterson says was a winner—and his mom is even a fan.
He revealed: "It didn't actually taste too sweet—the BBQ sauce was sweeter than the watermelon but that was balanced out by the cheese and chorizo to make a pretty well balanced snack! I made it again the next day just to eat it again—not even for a TikTok! I also made my mum try it—reluctantly—and she also really liked it, commenting how it satisfies pizza cravings whilst also being very light!"
And it seems the dish has made its way onto Paterson's regular menu, while he may even experiment with different toppings in the future.
The budding chef continued: "I may make a few changes, but I would keep it pretty simple with the toppings. I wouldn't add any veg to the pizza as I think it would mess with the textures, but would consider swapping out the chorizo for bacon."
The recipe attracted horror and disbelief after he shared the clip online over the weekend.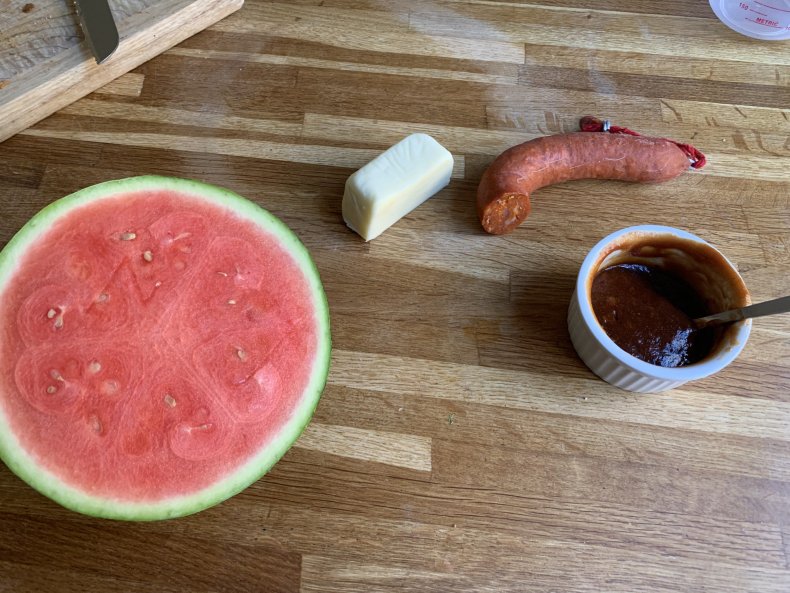 In a voiceover, he said: "So everyone's arguing right now about whether watermelon belongs on pizza. I wanted to flip the question on its head and ask does pizza belong on watermelon."
Paterson's clip has been watched more than 2 million times, with MrmOnke asking: "Did we just witness a war crime?"
Ethan Little responded: "I'm calling the police."
Debbie Grace860 wrote: "Why would you ruin food like that. Let watermelon just be watermelon. Ya'll doing too much."
"Who hurt you," Novanme joked.
Gabe Robertson commented: "What the f did I just witness."
Lloyd declared: "I've never seen something more wrong than this."
Liv thought: "Feels illegal to watch this."
Although not everyone was repulsed, as this person admitted: "Is it bad I think it looks kinda good."
Paterson acknowledged the dish had proved divisive, adding: "When I first made it I knew it would be pretty controversial. It actually turned out really tasty, and I probably won't make any tweaks to it as it's very well balanced as it is!
"People can hate away all they want, I can handle it, but all I'm looking out for is the few people in the comments who have tried it for themselves—and all the ones I've seen have liked it so far!"