'Offensive' Peanut Butter and Jelly Ribs Meal Has People Threatening to Call the Cops
First there was the nacho table craze then the feta pasta trend, and now we have peanut butter and jelly ribs.
The new food trend is taking off online using elements from everyone's favorite kindergarten sandwich, the PB and J, and people are horrified.
The unusual dish—which sees a rack of ribs smothered in peanut butter and jelly—is gaining interest after a sports reporter, from Arizona, shared snaps of the meal.
Kari Steele, a Digital Video Beat Journalist for ABC15, posted five photos to Twitter on Thursday, each showing a different outlet's take on the bizarre food pairing.
Despite it being popular enough to be cooked up by a few chefs, it seems the combination is a step too far for some.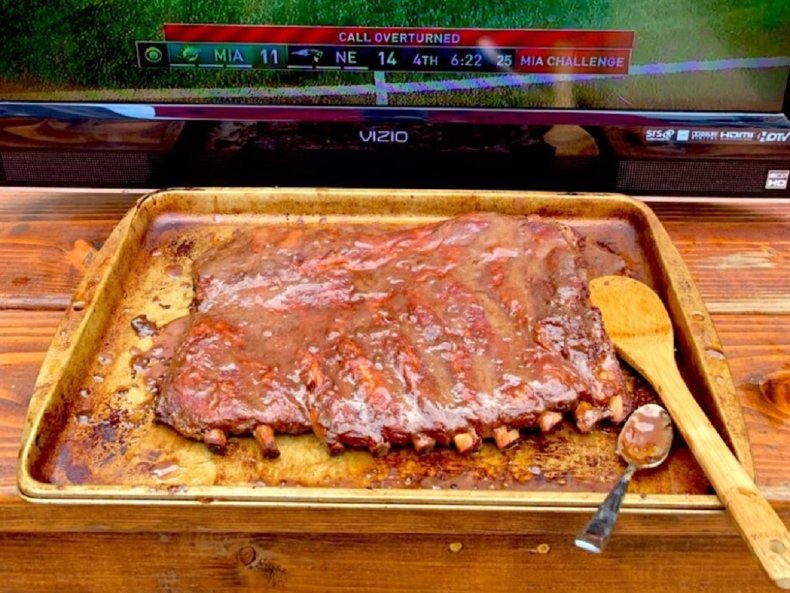 Virginia-based @Smokeboiz, one of the groups behind the dish, confirmed to Newsweek it was divisive.
They said: "Yeah people have strong feelings about BBQ. This wasn't actually made at a restaurant. It's something we do at home. They are definitely different but very tasty. After all they're ribs, you can't really go wrong."
They added it would be a "dream" to sell the dish commercially in the future.
After the images widely circulated on Twitter some people claimed the combination had crossed a line, with some threatening to call the cops over the meal.
Les Is More thought: "People have gone to prison for much less."
"This is more offensive than any of the politics drivel I heard today!" @secur80consult declared.
DeathMetalViking simply wrote: "I'm calling the cops..."
LannaMick went a step further, tweeting: "911 - "Hello, what is your...." Caller - "WE GOT A BAD MOFO SITUATION ON THE BBQ RIGHT NOW......" ! lol."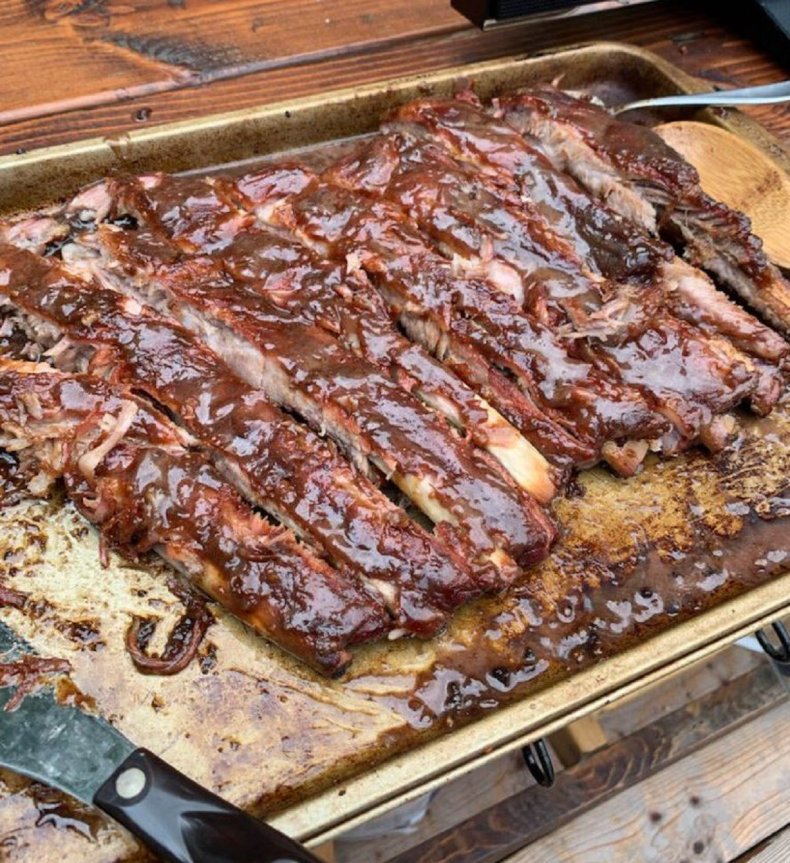 "Is this legal?" Coach W00K1E asked.
Chris Schoenfeld commented: "The court would like to have the defendant bring the evidence to chambers for a closer examination before giving a ruling."
That's hilarious! Asked: "Why???? Why would anyone ruin a marvelous rack of ribs with P&J?"
Veritable Jones quipped: "Add to the list of 5 words that abruptly end a first date."
WhatIsThisMalarkey pointed out: "Man, if you smoke enough meat, you're going to experiment with some weird ideas. Doing the same thing day in and day out is straight boring. Jelly is just fruit flavored sugar—I always have sugar in my rub and my sauce. Dunno about the peanut butter, but it might work."
Not everyone was revulsed, as Curtis Gardner Jr admitted: "Honestly, I would try them."
And it seems the dish has at least one other fan, as John Gallagher revealed: "I've had em. They are so good. Another crazy recipe I loved but was wary about. Peanut butter and bbq sauce chicken tenders. They are on the menu of a local bar we visit."
While Lauren Lowell defended the dish, saying: "Actually peanut butter goes with pork well and the sweet of jelly is good too. Might be weird for some but don't knock until you try."
Newsweek reached out to Steele for comment.