Foodie Shares Menu for 'Most Expensive Dinner in the World' at $445 a Head
A foodie has revealed what's served up at the "most expensive dinner in the world," which cost nearly $500 a head, as she dined in Las Vegas.
Lors regularly shares dishes to her TikTok account, but it was a high-end meal at the MGM Grand in Sin City which proved a hit with followers, garnering about 1.8 million likes.
Lors, whose Instagram page says she's from L.A. headed to the Joël Robuchon eatery, named after the famous chef, who passed away in 2018.
The 21-year-old filmed every dish she was served, captioning the now viral video, which has amassed nearly 8 million views: "$445 per person at Joël Robuchon."
She added in the clip, which can be viewed here: "Most expensive dinner in the world. Full course experience." She filmed the long and impressive menu earlier in July, which consists of numerous amuse-bouches, along with some larger plates.
Among the dishes served were controversial foie gras, caviar, lobster, frogs legs and squid ink. But first, bread. No meal would be complete without the carb-filled staple, as Lors filmed a "bread cart" that was wheeled round.
It was piled high with numerous variations of the baked good, ranging from baguettes to croissants. Lors picked out a selection, including a cheese brioche, before the starter arrived.
She revealed it was: "Ossetra caviar served atop of king crab served in a crustacean gelée dotted with cauliflower purée." Adding on the voiceover: "This is art."
Called le caviar imperial, the dish features on the website among the "menu highlights."
Next up was the first course, with Lors served: "Artichoke with foie gras salad and parmesan shaves. Maine lobster with turnip and sweet and sour dressing. Tomato candies invigorated with lemon virgin olive oil."
She gave the latter a seven out of 10, explaining: "I don't like tomatoes."
Next up was the second course, which consisted of: "Frog leg fritters with garlic purée and parsley coulis. Eggplant velouté and cumin and rice ginger espuma. Sautéed green zucchini with curry, almost and chorizo."
She raved about the first dish, saying: "This was very good indeed."
The third course was made up of: "Seared hokkaido scallops with Mediterranean garnish and lemongrass foam. Lobster flan with sea urchin and fennel emulsion. Langoustine with tempura of green shiso leaf over delicate squid ink risotto."
Next out of the kitchen appeared to be the larger plates, as Lors explained she dined on "Le black cod, 'The traditional plate,' and Le pigeon."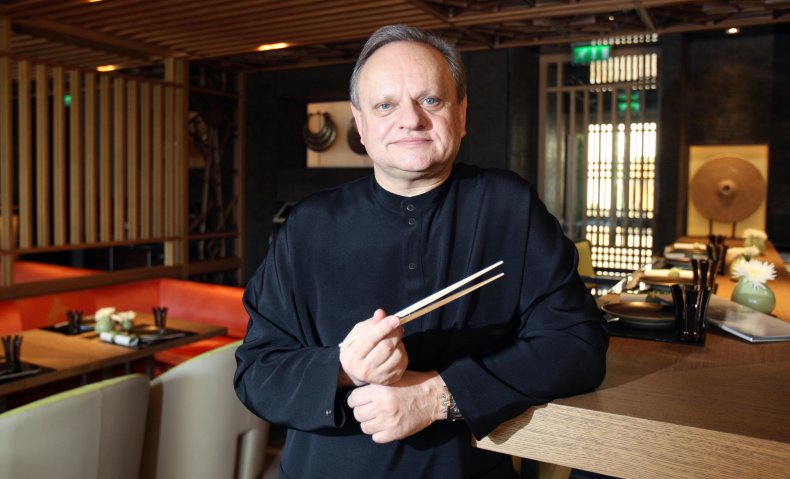 Finally it was time for dessert, with Lors served a sumptuous selection of sweets, including cherry mousse chocolate cream with kirsch chantilly. But if that wasn't enough, there was also a mini sweets carts to indulge the appetite even further.
The website describes the eatery as a one-of-a-kind experience, saying: "This unforgettable Three Michelin Star restaurant caters to a sophisticated palate and was designed to resemble a luxurious Art Deco townhouse complete with a lush garden terrace and marble floors. Winner of Forbes Five Star, AAA Five Diamond and Wine Spectator's Grand Award, Joël Robuchon has redefined Vegas dining. Quiet and intimate, this experience promises to be one of the finest meals of your life."
But despite an exquisite array of rich and rare food, some people weren't convinced by the spread online.
HaileyFay joked: "Anyways so, what ya'll want from McDonald's?"
While Liv asked: "$450 for bread, foam and leaves."
Jazmin Garcia asked: "Do they have chicken nuggets?"
And Cocoahobi stated: "Yeah I'm not eating no pigeon for $445."
Newsweek reached out to Lors and the MGM Grand for comment.