Paris Hilton Alleges Abuse at Teen Treatment Centers: 'I Was Strangled, Slapped'
Hotel heiress Pais Hilton has said that she was strangled, slapped and otherwise abused during her time in congregate care facilities. The facilities supervise teens and other children 24 hours a day.
"I was strangled, slapped across the face, watched in the shower by male staff, called vulgar names, forced to take medication without a diagnosis, not given a proper education, thrown into solitary confinement in a room covered in scratch marks and smeared in blood and so much more," Hilton told reporters about her time at Provo Canyon School and in other so-called "troubled teen" facilities in Utah.
Hilton made her comments at a Wednesday press conference in front of the Washington, D.C. Capitol. The conference promoted the Accountability for Congregate Care Act, a proposed piece of Democratic legislation that would establish a bill of rights for all teenagers held within congregate care facilities.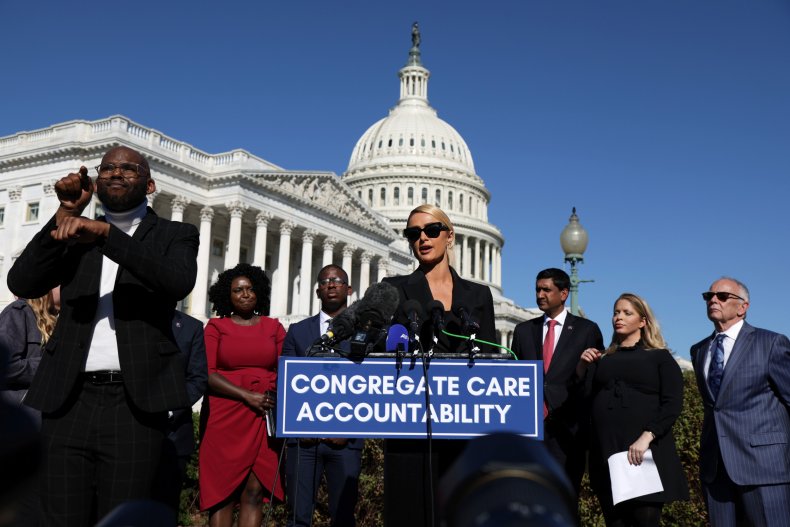 Hilton said that when she was 16 years old, two large men entered her bedroom and asked her if she "wanted to go the easy way or the hard way." The men then dragged her out of her home as her crying parents watched.
Her parents had forced her into a facility that promised to "fix" her through "tough love," she said. She was then sent to four different facilities over a two-year period that left her with decades of "severe" post-traumatic stress disorder, she added.
"My experience at each one haunts me to this day," Hilton continued. "I was forced to stay indoors for 11 months straight, no sunlight, no fresh air—these were considered privileges. Children were regularly hit, thrown into walls and even sexually abused at Provo."
There are an estimated 120,000 children in congregate care facilities across the United States. The number of kids in these facilities could even be higher because of a lack of reporting, licensing and oversight requirements at such places.
Kids are referred to these centers by child welfare and juvenile justice systems, school districts, refugee settlement agencies, mental health providers and private parental placement.
But despite their lack of governmental oversight, these facilities receive over $23 billion in annual public funds each year, according to Breaking Code Silence, a movement that raises awareness about problems in the troubled-teen industry.
"It's clear that the state by state patchwork of limited, weak oversight and inconsistent licensing requirements is not working," Hilton said.
Currently, such facilities only have to submit a one-page affidavit about their purpose to the Department of Education for certification.
However, the Accountability for Congregate Care Act would establish rights for children in congregate care facilities. The rights state that children in the facilities should be free from humiliating or traumatizing abuse, neglect, restraint, exploitation and unreasonable search and seizure.
The bill would prohibit facilities from placing kids in solitary confinement or cutting off their communication with people advocating on their behalf. It would also require kids in such facilities to have their essential needs met and to guaranteed access to continuing education and life skills.
Lastly, the legislation would establish a commission to study such facilities, advise on how to reduce child placement within them and also help close facilities with records of abuse.
"Ensuring children are safe from institutional abuse isn't a Republican or Democratic issue," Hilton said. "It's a basic human rights issue that requires immediate attention."
Newsweek reached out to Hilton's publicists for comment.