Paris Hilton's recent appearance on The Tonight Show with Jimmy Fallon is going viral after the pair had a pretty awkward and downright absurd conversation about NFTs.
NFTs, or non-fungible tokens, have become something of a bizarre status symbol and have prompted much debate in recent months, as many internet users struggle to see their apparent value.
Hilton and Fallon, both multi-millionaires, have purchased "Bored Ape" NFTs—randomly generated cartoon apes that are apparently digital assets, the late-night host paying $200,000 to purchase his.
These "Bored Apes" are both online avatars and access to an online social club.
NFTs have become increasingly popular over the past year as artists and public figures have explored alternative ways to make income or invest during the COVID-19 pandemic.
"This is your ape!" Fallon exclaims in the clip displaying a picture of Hilton's NFT. Hilton then says: "I was going through a lot of them. I was like, I want something that, like, kind of reminds me of me. But—this one, it does."
The segment makes for some very dry viewing with the audience's applause failing to convince viewers that this moment wasn't incredibly painful to behold.
The clip has gone viral on Twitter where it has received much ridicule.
The Tonight Show has shared the clip, which has amassed more than 700,000 views, while Twitter account @WinkyChrist also shared it, garnering 5.3 million views at the time of publishing.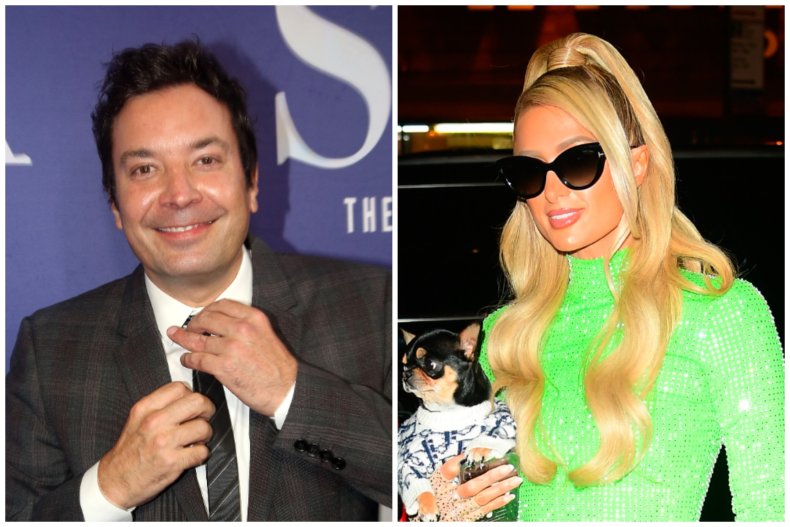 "the joylessness of this conversation is really quite affecting. i'll be thinking about it for a while," reads one tweet.
Another added: "this is the most vapid exchange i've ever seen in my life lol."
Influencer James Kavanagh tweeted: "Are NFTs some sort of global prank on me? Why are people all of a sudden talking about buying sh*te clip art? Surely this is the real pandemic."
Screenwriter Zach Kornfeld added: "This clip of Paris and Jimmy talking about their NFTs is just the most deeply uncomfortable and pathetic thing I've ever seen?? A true culture is dead moment, it's almost beautiful if you squint real hard."
While another added: "im almost convinced that someone has dirt on every celebrity getting into NFTs because this clip is just WEIRD. genuinely feels like they're being held hostage lmfao wtf is going on."
Hilton's appearance on The Tonight Show comes as the heiress' podcast Trapped in Treatment is set for release.