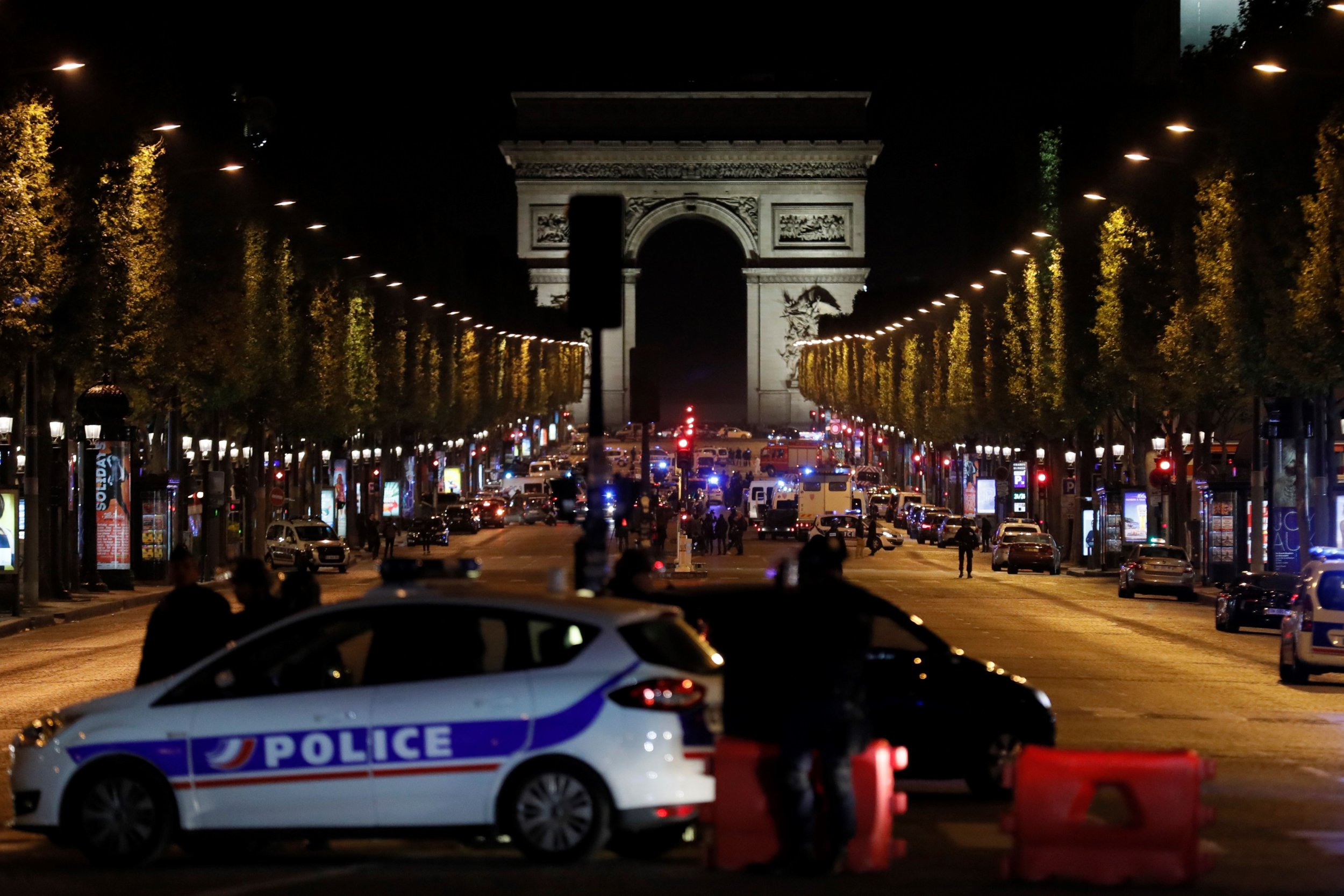 Updated | Police said a suspected attacker in Paris on Monday was "downed" after he crashed a Renault Mégane into a police van on the Champs-Élysées, the French capital's famous shopping avenue.
French Interior Ministry spokesman Pierre-Henry Brandet told reporters at the scene that the incident appeared to be a "deliberate act," Reuters reported. He said the armed attacker was most likely dead after police pulled him from the burning vehicle, and police were checking the vehicle and surrounding area for explosives.
The suspect, who wore a white shirt and dark shorts, was immobilized and lying on his stomach after the crash. French officials, speaking to the Associated Press on condition of anonymity, said the incident may have been an attack on the police.
The vehicle reportedly exploded on impact with the police van, and the attacker was armed, probe sources told AFP news agency. No police or civilians were injured.
The Paris prosecutor's counterterrorism unit said it had opened an investigation in response to the incident.
Police warned citizens to stay away from the area in a tweet immediately after the collision.
The motive for Monday's suspected attack remains unclear. But the Islamic State militant group has called on its supporters around the world to use everyday objects to commit attacks in Western countries. The annual call came before the Islamic holy month of Ramadan, during which Muslims fast from dawn to dusk.
In recent years, extremists in France have targeted police officers and law enforcement. Monday's suspected attack comes after an assailant attacked a police officer with a hammer outside the medieval Notre-Dame Cathedral, a popular tourist destination located on Île de la Cité at the Seine. The attacker pledged allegiance to the Islamic State militant group (ISIS) in a pre-assault video.
In April, a gunman shot and killed a policeman and wounded two more on the Champs-Élysées. Police found a note praising ISIS next to his body after police shot him dead at the scene. In February, an assailant with a machete attempted to stab a French soldier outside the Louvre. In June 2016, an assailant fatally stabbed a police commander and his partner, also an officer, inside their home near Paris. Another man attacked law enforcement at Paris Orly Airport in April 2015. Three of the 17 victims killed in the January 2015 attacks in Paris were police officers.
French right-wing politicians have called for police to be granted greater authority. "The uniform no longer protects. On the contrary, it is a target that exposes those who wear it," said Eric Ciotti, then a leader in France's since-dissolved center-right Union for a Popular Movement party, before France's National Assembly in 2015. After the Champs-Élysées attack in April, Marine Le Pen, then running for French president, said, "Our police officers are attacked because they are symbols of the state."
Read more: French police are targeted but rarely killed
Aside from extremist attacks, French police officers rarely die in the line of duty. Six officers died in 2015, according to numbers from the French government.
During his election campaign, French President Emmanuel Macron promised to hire 10,000 more police officers over five years.
France remains in a state of emergency after a series of coordinated attacks by jihadis across the country since January 2015 that have left hundreds dead. In November of that year, an Islamic State militant group (ISIS) cell killed 130 people in a rampage through the streets of Paris.
In January 2015, an attack on the offices of the satirical newspaper Charlie Hebdo and a kosher supermarket left 17 dead. In July 2016, Tunisian national Mohamed Bouhlel drove a lorry into revelers watching the Bastille Day fireworks in the southern city of Nice, killing 86 people.