Parkland Parent Blames Santa Clarita School Shooting on Mitch McConnell Not Doing His Job
Fred Guttenberg, whose daughter was killed in the mass shooting at Marjory Stoneman Douglas High School in February 2018, chastised Senate Major Leader Mitch McConnell on Friday for not passing gun legislation that could have prevented incidents like Thursday's shooting at a school in Santa Clarita, California.
Guttenberg responded to a tweet by McConnell that accused Democrats of ceasing to legislate due to the House impeachment hearings. "Washington Democrats in the House and Senate cannot simply stop legislating because of one hearing in the House. The American people deserve progress: Funding for the national defense. Key legislation to support our armed forces. The USMCA and the new jobs it would create," The Kentucky senator tweeted.
Guttenberg called out McConnell's tweet as "disgusting" disregard for the victims of the Santa Clarita shooting. "Putting out a tweet like this, full of your BS on a day when 3 children died is disgusting @senatemajldr," Guttenberg wrote. He went on to defend Democrats for working to pass gun legislation and accused McConnell of being the real place where legislation ends. "The Dems are passing legislation, only to have it go to your graveyard," he tweeted, finishing with a chilling indictment of McConnell's lack of effort towards gun reform. "Perhaps, had you done your job, more kids would not be ending up in cemeteries."
Friday was not the first time the grieving father lashed out at the GOP lawmaker. In an earlier tweet Guttenberg expressed similar sentiments. "I will simply say @senatemajldr you are full of crap. The [H]ouse keeps passing legislation that simply goes to you to die. My daughter is buried in an actual graveyard, legislation to deal with gun violence is buried in our graveyard," he tweeted.
He also dismissed President Donald Trump's tweet offering condolences as he claimed "to monitor" the incident. "You do not need to monitor. Just more kids going to a cemetery only to be following by your empty words and promises. Please, show me that I am wrong," he wrote.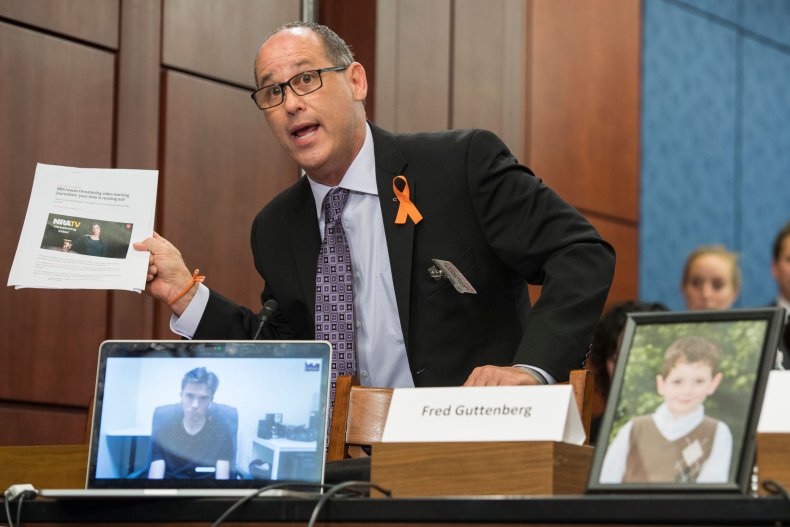 Guttenberg also expressed his gratitude to officials who he felt did offer solutions and action for stricter gun control. He praised Democratic Presidential Candidate Kamala Harris for her work.
Guttenberg, whose 14-year-old daughter, Jaime, was killed in the 2018 Parkland shooting, has been an active voice in the fight for stricter gun laws. In the past, he's spoken out against Trump for stating that gun violence and mass shooting survivors "love" him. He's also denounced legislators for passing open-carry laws.
After the shooting Thursday, many other people on Twitter expressed their outrage at McConnell for his lack of action on gun control legislation. "#MassacreMitch" trended with many telling the Senate Majority Leader to do his job, echoing Guttenberg's statement.