Parkland Shooting One Year Later: Marjory Stoneman Douglas High School Teacher Reflects on Anniversary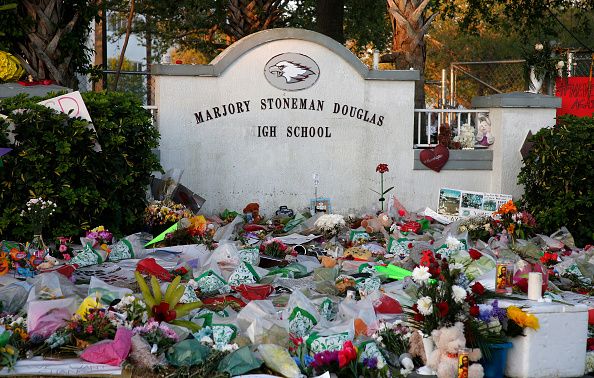 Sarah Lerner, an English and journalism teacher at Marjory Stoneman Douglas High School, remembers placing Hershey kisses on her students' desks as they took a quiz on George Orwell's 1984 on February 14, 2018.
When she re-entered the same classroom a few days after a gunman had killed 17 people inside the school, her English classroom looked exactly as she had left it.
"I walked in my room and I remember the date was on the board. It said February 14. Their quizzes were still on their desks," Lerner told Newsweek. "I had students cell phones plugged into outlets. A carnation that one of my yearbook kids, that they jokingly gave to me, was still in my room."
"It looked like the kids have just left my room a mess on Friday and I should be really mad at them that I have to straighten all of this up now, but I knew this wasn't the case. I guess that's when all of it hit me."
On Thursday, Lerner, along with other faculty members and students at the Parkland, Florida, high school, will remember and reflect on the lives lost in the devastating shooting. The English teacher has taught at Marjory Stoneman Douglas for five years, and in the Broward Public School District for 17 years.
She recalls Valentine's Day at Marjory Stoneman Douglas as a joyous occasion, with students carrying oversized, stuffed teddy bears in the hallways, along with plenty of candy and pink carnations. A year ago, that all changed when she found herself hiding with 15 teachers and students waiting for the SWAT team to arrive to come and get them. She told Newsweek it took about two and a half to three hours for them to finally be released.
"My room was silent. No one made a sound. No one flipped out. I was incredibly calm, and I remember thinking how oddly calm I was once I realized what was going on," she said.
Lerner said once February rolled around, the atmosphere of the school felt different.
"It's been pretty terrible. You can feel the vibe at school really start to change once the last days of January hit knowing that it was going to be February," Lerner said. "I needed to assure [my students] that I was not going to make February a heavy month because I have a lot of kids who were in the building and classrooms that were directly affected. I need to be sensitive to that and sensitive to my own healing."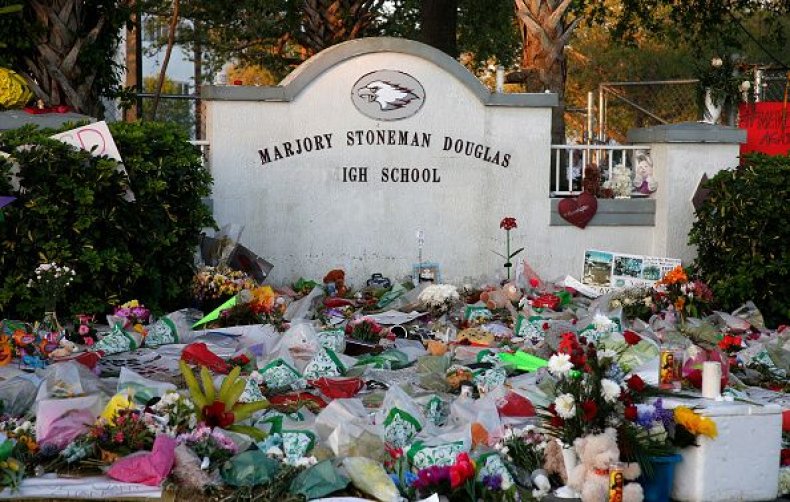 Lerner, a 38-year-old mother of two, said she has suffered from PTSD since the shooting. Despite this, she has used her experience and voice to speak out against gun violence. The day after the shooting, Lerner went on a media marathon of interviews before attending a vigil in the park to remember those who had died. She also participated and was on the teacher advisory board at the Student Gun Violence committee in October in Washington, D.C.
"It keeps happening. Until laws are passed and looked at from a nonpartisan perspective, things aren't going to change," Lerner said.
Lerner and many other educators are standing up to gun violence a year after the shooting at the Parkland school. On Monday, the Everytown for Gun Safety Support, the American Federation of Teachers and the National Education Association released a report showing data and ways to combat gun violence in schools.
Issuing policies that keep guns away from people who should not have firearms, improving school security and providing mental health resources in schools for students were some of the report's recommendations.
"When the safety of our kids is at stake, we must consider every possible solution to gun violence in schools," said Randi Weingarten, president of the AFT, in a statement. "That means focusing on the approaches that are proven most effective: providing schools the necessary staff and resources to address students' mental health needs; empowering educators and law enforcement to intervene when students show signs they could be a danger; and keeping guns out of the hands of people who shouldn't have them in the first place. If other countries have solved these problems, so can the United States.
Lerner told Newsweek that she was grateful for the community that she surrounds herself with and said she took solace in knowing that she was not alone. Like the Parkland students, she said she would continue to speak out against gun violence so another school wouldn't have to endure another tragedy.
"You never think something like this happens to your school in your town and you're blindsided, but I have always been an activist and have a big mouth," Lerner said. "I can't just sit by and not talk about this."
"This has already happened to us," Lerner said. "We're trying to prevent this from happening again."