Parkland Students Want More Done on Gun Violence After Biden's Executive Order
Parkland students are calling on President Joe Biden to sign even more executive orders targeting gun violence as he is set to take action in response to the recent wave of deadly mass shootings across the nation.
In a statement released Thursday, March For Our Lives (MFOL) said that while the new orders Biden is expected to issue will be "a critical step toward treating the gun violence epidemic as the public health crisis that it is," "there remains more to be done."
MFOL is a national youth-led movement to end gun violence in America. It was started by a number of students who survived the 2018 mass shooting at Marjory Stoneman Douglas High School in Parkland, Florida. The shooting left 17 dead, including 14 students.
Max Markham, March For Our Lives' policy director, told Newsweek that while they are "encouraged" by Biden's actions on gun violence prevention, "there is still a ton of work to do."
"We've called on President Biden to issue executive orders that close the boyfriend loophole, and hold gun manufacturers accountable by revoking licenses from manufacturers who break the law," the statement reads.
"We've also urged the president to appoint a Director of Gun Violence Prevention, reflecting the understanding that this crisis disproportionately impacts our most vulnerable populations, and requires the full weight of our government to bring innovative, comprehensive solutions," MFOL added.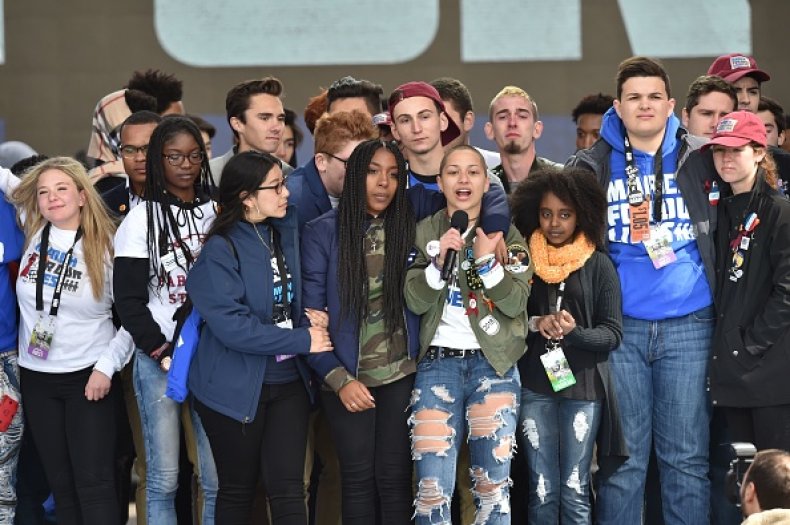 The advocacy group has released a set of policy demands for the Biden administration to develop a national, comprehensive plan under the president's executive authority. Biden has faced increasing pressure from activists to take matters into his own hands as Congress remains divided.
"Long after the ink dries on these executive orders, we will continue to work with federal legislators to ensure the swift passage of the entire American Jobs Plan, and work with state and local government to ensure we effectively distribute resources directly to communities in need as a method of gun violence prevention," the youth-led group wrote.
Biden is expected to sign three executive orders on Thursday addressing gun violence in America. A senior administration official previously told Newsweek that it would direct the Justice Department to develop plans to address "ghost guns" (untraceable firearms assembled from kits), gun modifications and measures that states can adopt.
MFOL said that these measures "will be another important tool to reduce the kinds of preventable everyday gun violence that don't usually happen with assault rifles." The group also commended the Biden administration for launching a $5 billion investment into community-based violence prevention programs last week.
"After struggling to be seen, heard and valued by the former administration, President Biden's executive actions to address gun violence are a welcomed pivot toward human-centered policies that will create a safer society," the group said.
On Thursday, Biden will also formally nominate David Chipman to lead the Bureau of Alcohol, Tobacco and Firearms (ATF), which has not had a permanent director since 2015.
Chipman served as a former ATF special agent for more than two decades and is currently a senior policy adviser at Giffords, a gun control advocacy group led by former Representative Gabrielle Giffords.
MFOL commended Biden's pick, saying that they were "looking forward to working with the president's nominee for Director of the ATF, David Chipman," but reiterated that the group wants the administration to go even further on gun violence.
"We know that enforcement alone will not keep us safe from gun violence, and we're encouraged that the president appears to think so too," MFOL said.
Newsweek reached out to the White House for comment but did not hear back before publication.