'Parks and Recreation' Reunion Release Date, Cast, Trailer, Plot: Everything We Know So Far
Parks and Recreation is coming back for a one-off scripted half-hour episode, raising money for Feeding America's COVID-19 Response Fund. NBC has announced the release date for A Parks and Recreation Special and revealed that all of the cast, including Amy Poehler, Chris Pratt, Rob Lowe and Nick Offerman, will be back for a plot that sees the Pawnee Parks and Rec team tackling the outbreak.
When is the Parks and Recreation reunion airing?
The release date for A Parks and Recreation Special is Thursday, April 30, when the episode will air at 8:30 p.m. ET / 7 p.m. CT on NBC. The half-hour episode will then be streaming on the NBC website and app shortly after.
This was announced in a promo-of-sorts featuring Poehler. In this trailer, the Golden Globe-winning actor said: "Hi, it's Amy Poehler, and I'm inviting you to a very special Parks and Rec, all shot from our homes. We, along with our neighbors at State Farm, are coming together to raise money for Feeding America and we hope you'll join us.
If this announcement has left you wanting to revisit old episodes of the NBC comedy, the entire series is streaming now on Hulu and Amazon Prime Video.
Who is in the cast of the Parks and Recreation reunion?
Per TVLine, the following actors are returning as their Parks and Rec characters:
Amy Poehler—Leslie Knope
Nick Offerman—Ron Swanson
Rashida Jones—Ann Perkins
Aziz Ansari—Tom Haverford
Adam Scott—Ben Wyatt
Rob Lowe—Chris Traeger
Chris Pratt—Andy Dwyer
Aubrey Plaza—April Ludgate
Retta—Donna Meagle
Jim O'Heir—Jerry Gergich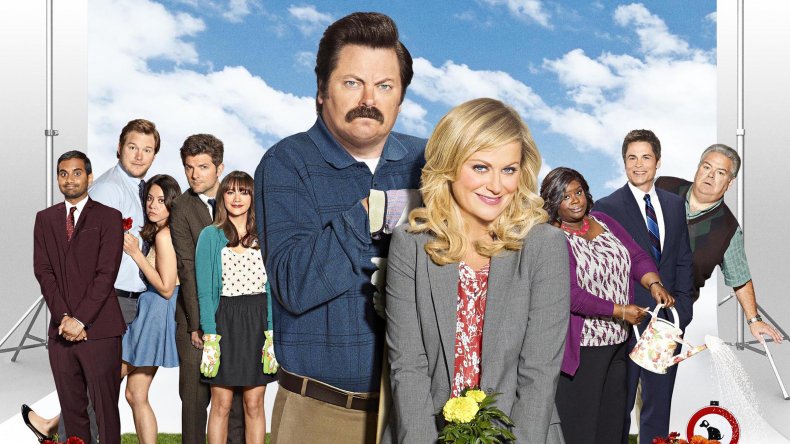 The NBC statement announcing the special episode also promised appearances from "several guest stars from the Pawnee universe"
What will happen in the Parks and Recreation reunion?
In a statement announcing the special, NBC said of the episode: "The story comes from the events of the day—Pawnee's most dedicated civil servant, Leslie Knope, is determined to stay connected to her friends in a time of social distancing." The release also confirmed that, unlike the upcoming Friends reunion, the Parks and Recreation special is an actual in-character scripted special.
Show creator Michael Schur said in a statement: "Like a lot of other people, we were looking for ways to help and felt that bringing these characters back for a night could raise some money. I sent a hopeful email to the cast and they all got back to me within 45 minutes. Our old Parks and Rec team has put together one more 30-minute slice of (quarantined) Pawnee life and we hope everyone enjoys it. And donates!"
The announcement also revealed that State Farm, Subaru of America, Inc., NBCUniversal and the writers, producers and cast of Parks and Recreation will match donations up to $500,000 made during the telecast.
A Parks and Recreation Special will air on Thursday, April 30 at 8:30 p.m. ET on NBC.