Trolls 'Invade' Parler, the Free Speech App Favored by the Right
Social media app Parler has captured the attention of more than just conservatives. The app is now also being used by liberals and Black Americans, too, and they're using the self-proclaimed free speech site to troll the alt-right.
Launched in 2018, Parler was recently thrust into spotlight after Texas Senator Ted Cruz announced he joined the platform in July, listing the site's open policy surrounding censorship and the ability to "speak freely" as Parler's biggest attractions. The app has largely become a sounding board for those in support of President Donald Trump and conservative agendas, but over the weekend a flood of new users, many of whom appeared to be people of color in their profile photos, started posting.
"Omg. Black twitter [sic] & other funny twitter folk are invading Parler the conservative app. It's trending and the posts are bonkers," one Twitter user wrote on Monday.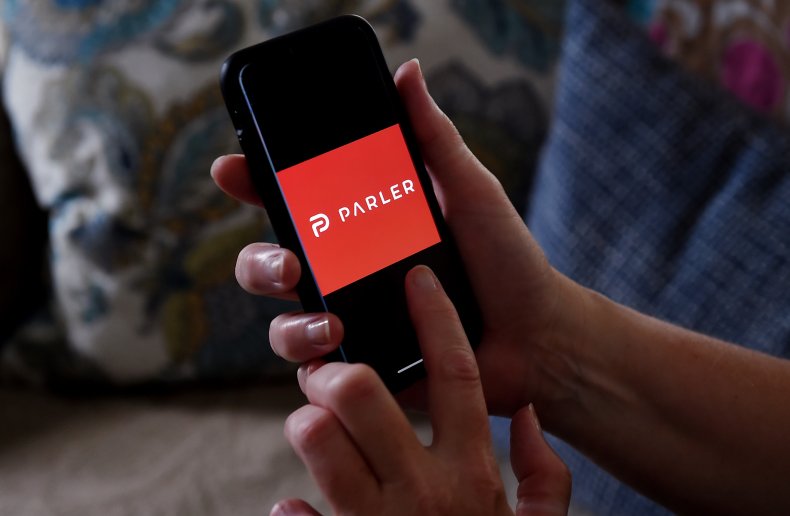 The tweet included a screenshot of posts—known as parlays on the app—between former Texas Representative Ron Paul and a user named @teenagemillionaire, who recently joined Parler. Paul wrote: "I've spent my adult life fighting for Liberty, and I am excited about this new. Space where I can openly share my work with special people like you. Parler accepts your right to express your. thoughts, opinions and ideals online. No 'throttling.' No shadow banning. Just Free Speech—our God-given, Constitutional Right."
However, the parlay was met with nothing but jokes. "ion [sic] really care dawg, where tha hoes?" @teenagemillionaire responded.
That comment and plenty of others like it—for instance, one user asked "who posting meat tho??"—resulted in the sharing of some sexually explicit photos, wisecracks about being in the mood and folks posting about potential hookups, essentially drowning out the pro-Trump chatter that typically fills the timeline. So, naturally, people flocked to Twitter to talk about it.
"Parler about to be a free onlyfans the way yall [sic] droppin [sic] a** on the app," one user Tweeted on Sunday night.
Although the app's community guidelines' claim the "free speech social network" is "an unbiased social media focused on real user experiences and engagement" that won't ban users, remove content or block people for what they post, some users, who have accused Parler of being a white supremacy forum, also claimed that those using the service to expose racism and post about the Black Lives Matter movement were being blocked on the site.
"I got thrown off tha app for 'parling' [sic] 10 things, 9 were te [sic]phrase "black lives matter" against some people who said "all/white lives matter" and one was me saying "fuck the kkk," one user wrote, adding, "So tell me, why was I censored from parler [sic]?"