Parler's Interim CEO Mark Meckler Bashes Mask Wearing As 'Psycho-Social Experiment'
The interim CEO of social media platform Parler has likened face coverings designed to limit the spread of COVID to a "psycho-social experiment."
In a post to his account published Tuesday, acting boss Mark Meckler shared an image of himself on a plane wearing a mask. In a caption, he said the covering makes travel "much worse" and asked: "How long are they going to make us do this stuff?"
While the U.S. Centers for Disease Control and Prevention (CDC) has said masks can prevent the spread of the disease—which circulates via respiratory droplets—Meckler predicted wearing the cloth coverings could have long-term consequences.
He wrote: "I put a blue tone on the pic because that's how it feels to be under these masks all the time. I miss people's smiling faces.
The post added: "Can't imagine what this is doing to the development and emotional well-being of young children. This is a psycho-social experiment on the mental health of the U.S. and world population on a scale never seen before. I have a feeling the psychological and emotional costs are going to be astronomical over time."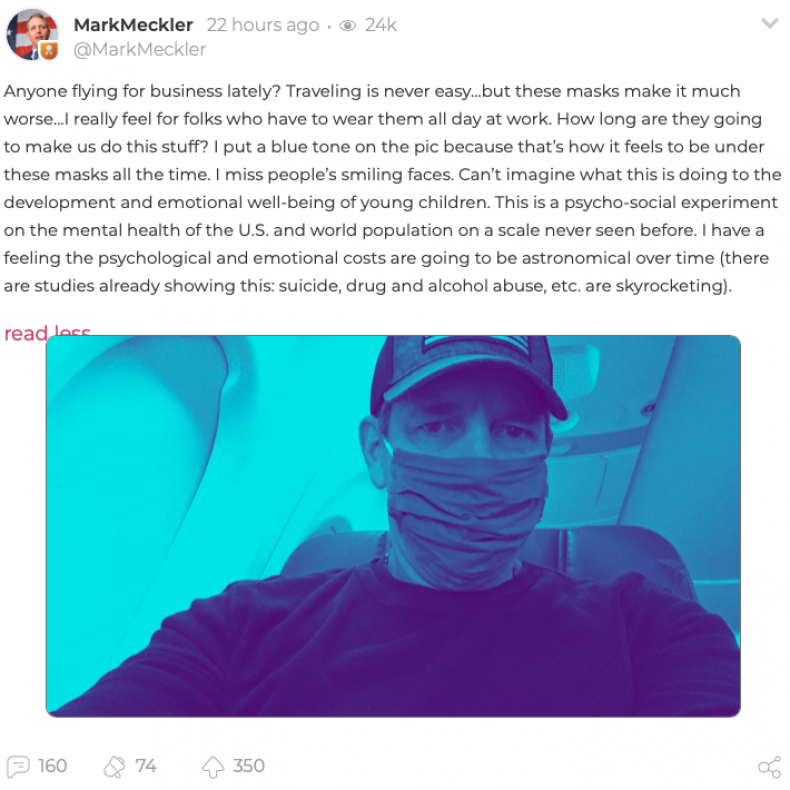 Parler has spiked in popularity in the past 12 months, particularly among supporters of former President Donald Trump and a wave of conservative personalities.
It was pitched as a "free speech" alternative to Twitter and its mobile app previously topped the charts amid surging demand, although is no longer accessible.
It was offline for roughly a month this year after being ditched by Amazon, Google and Apple in the wake of the Capitol riot on January 6, as the trio of tech giants complained it was failing to adequately moderate extremist content uploaded by users.
The service was previously spearheaded by John Matze. However, he was fired in late January, reportedly following a dispute over content moderation.
Meckler, a right-wing activist and a co-founder of a group called the Tea Party Patriots, was named interim CEO on February 15 as the social network relaunched.
He said at the time: "When Parler was taken offline in January by those who desire to silence tens of millions of Americans, our team came together, determined to keep our promise to our highly engaged community that we would return stronger than ever.
"Parler is run by an experienced team and is here to stay. We will thrive as the premier social media platform dedicated to free speech, privacy and civil dialogue."
The website is documented as being funded by Rebekah Mercer, a Republican political donor and daughter of wealthy hedge fund manager Robert Mercer. It remains unclear who will take over as the full-time CEO. Parler has been contacted for comment.
Despite Meckler's post, which came the same day as Texas governor Greg Abbott said he would lift his state's mask mandate, advice on the matter is clear: wearing a mask can limit the spread of COVID, while reducing risk for those having to travel.
An executive order signed by president Joe Biden that came into effect on February 2 requires the wearing of masks by all people—including those vaccinated—traveling on public transportation, including planes, trains, subways, buses and rideshares.
Under the guidance, people should wear masks that "cover both the mouth and nose when awaiting, boarding, traveling on, or disembarking public conveyances."
The CDC says masks stop people who have contracted COVID, including those who are pre-symptomatic or asymptomatic, from spreading the virus to others.
The agency in an online fact-sheet: "Masks also help protect the wearer by reducing the chance they will breathe in respiratory droplets carrying the virus."
The travel order will stay in effect "unless modified or rescinded," or if the Secretary of Health and Human Service rescinds the determination that a health crisis exists.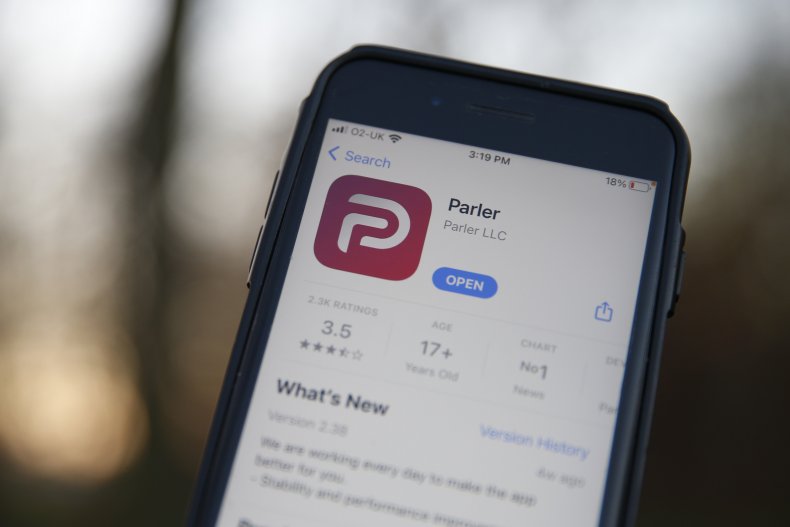 Newsweek, in partnership with NewsGuard, is dedicated to providing accurate and verifiable vaccine and health information. With NewsGuard's HealthGuard browser extension, users can verify if a website is a trustworthy source of health information. Visit the Newsweek VaxFacts website to learn more and to download the HealthGuard browser extension.