Parler, Fighting for Survival, Backed by Sean Hannity and Rand Paul
Parler, the social network favored by conservatives and Donald Trump supporters, shared messages of support from Fox News host Sean Hannity and Senator Rand Paul on Wednesday as it continued to fight for survival.
The main platform remains offline as of Thursday morning after its account with hosting giant Amazon Web Services was suspended last Monday for its alleged failure to adequately moderate extreme posts from its 12 million-strong user base.
The company's mobile apps were pulled offline by Apple and Google last weekend and only a static web page remains, kept online by Russian firm DDoS-Guard.
Despite the full social network being offline, the Parler domain is still being used to post sporadic updates from its leadership, including CEO John Matze, and high-profile supporters such as the Fox media personality and the Republican lawmaker.
A message on the website attributed to Hannity, timestamped as Wednesday, said: "I've spent my entire career fighting for free speech, even for those I strongly disagree with. We stand with Parler in the fight for free and open dialogue."
The post from Sen. Paul characterized the network's removal as an attack on free speech by "big tech," a term often used to describe companies such as Facebook, Twitter, Amazon and Google.
"Competition is the surest means to preserving free speech. Everyone, left and right, should be horrified at Big Tech's attempt to stamp out speech. I wish Parler and all other innovators success in keeping the marketplace of ideas open and uncensored," read the comment attributed to Sen. Paul, also timestamped as Wednesday, January 20.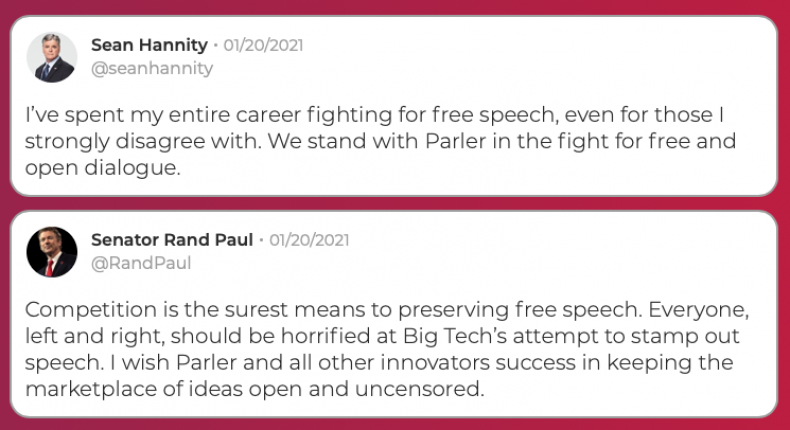 Parler has surged in popularity in recent months as Twitter and Facebook stepped up moderation on accounts that spread baseless claims about the legitimacy of the 2020 presidential election and fringe conspiracy theories including QAnon.
Twitter suspended Trump's account on January 8 after a mob of his supporters stormed the U.S. Capitol in a siege that ultimately left five people dead.
Parler quickly found itself at the centre of moderation efforts by the tech giants after the riots, accused of hosting content that could incite further violence.
After being ousted by Amazon Web Services, Parler's executives have been scrambling to find alternative hosts, but have so far been unsuccessful.
Matze said in a court filing on Monday—part of Parler's effort to restore the Amazon hosting—that at least six "extremely large potential providers" had refused to work with the social network in the wake of Amazon dropping its support. He did not name the six.
The CEO continued: "Parler does not have its own servers or the technical and security expertise to host the Parler environment on its own. Nor is it feasible for Parler to do so: Parler is not in the hardware or data center business."
Parler has been contacted for comment.
One of the fears voiced by executives has been that users will abandon the platform if it is inaccessible for a long period. "Parler is an internet company that cannot get on the internet. And the longer Parler lies dead, the harder it will be to resuscitate," Parler's lawyer David Groesbeck said in a separate legal filing on Monday.
It is unclear when—or if—the network will be back online. Matze, who previously conceded that it might never be restored, told Fox News this week he was "confident" the hosting problem could be resolved by the end of January. That date is now approaching fast.