Parler Back With Message From CEO John Matze, Full Site May Be Online This Month
Parler CEO John Matze has said the social network could be back online by the end of January after posting a message to its website domain.
The platform was pulled offline on January 11 as its business account with hosting giant Amazon Web Services (AWS) was suspended amid accusations it posed a risk to public safety by not adequately moderating extremist content uploaded by users.
The website became popular among Republican politicians, conservative personalities and supporters of President Donald Trump in recent months by pitching itself as being a "free speech" alternative to mainstream services, primarily Twitter.
Tolerance of Parler disappeared after January 6, when a large mob of Trump supporters stormed the Capitol Building in Washington, D.C., a siege that claimed five lives.
Citing a potential to incite violence, its app was pulled from Apple and Google's stores and remains inaccessible at the time of writing.
A message from Matze was posted to the Parler domain over the weekend, shared on what appeared to be a static web page roughly a week after the site vanished.
The CEO, who co-founded the site back in 2018, wrote: "Now seems like the right time to remind you all—both lovers and haters—why we started this platform.
"We believe privacy is paramount and free speech essential, especially on social media. Our aim has always been to provide a nonpartisan public square where individuals can enjoy and exercise their rights to both. We will resolve any challenge before us and plan to welcome all of you back soon. We will not let civil discourse perish!"
Matze has previously given conflicting timelines on when users could expect to regain access to the social network, initially claiming the situation may be resolved in a week, before conceding to Reuters that there was a possibility it could be offline forever after losing financial partners and alternative hosting services decline to partner up.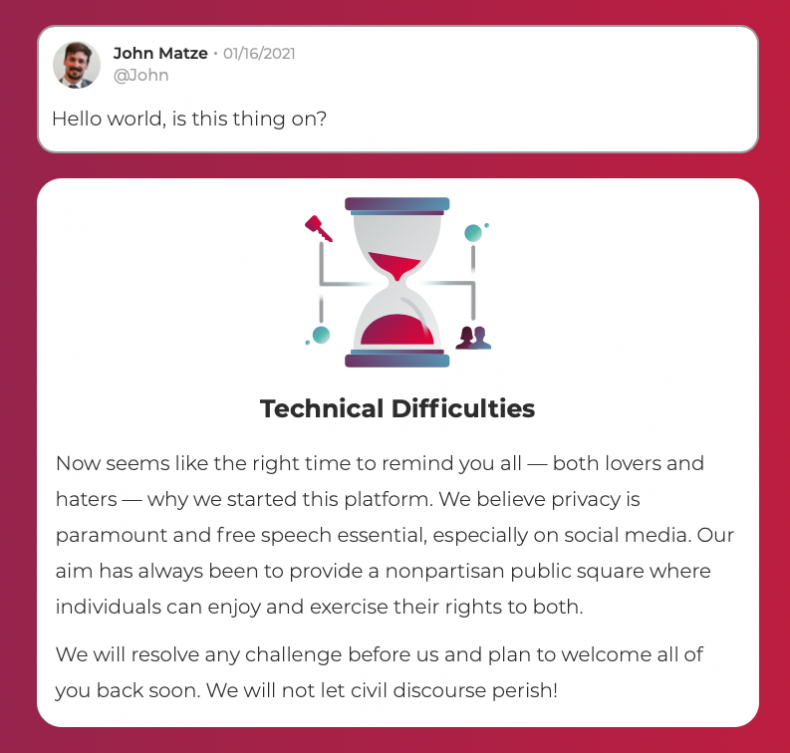 Parler has been contacted for comment by Newsweek.
In an interview with Fox News on Sunday, Matze claimed that he was "confident" Parler could be back online by the end of the month, but didn't give an exact date.
"Every day it changes wildly, but I feel confident now. We're making significant progress. When you go into Parler it doesn't go into the void now, it hits a server, and it returns just one piece of information," Matze said, calling the message a "big milestone."
The CEO told Fox News his team recovered the platform's data from AWS last Friday and said updates would be posted to the static page periodically.
"We're going to try to get an update out every day... so that people can stay up to date with the site," he said, describing a site rebuild as being "critically important."
Epik, a domain registrar and web hosting company that has previously appeared willing to hosting far right or extremist content, including the sites 8chan and Gab, said in a statement on January 14 that Parler's team registered a domain name there despite having "no prior conversations" with the company about a full-on website migration.
"We had no anticipation their domain would arrive at Epik," the company said. "There is generally no involvement of consent for this basic action... the entire [signup] process is automated as per the common practice that nearly all registrars follow."
Epik's statement confirmed that discussions with several members of Parler's executive team had taken place. It asserted the actions of tech firms may "represent one of the most grotesque abuses of power and privilege in America seen in this generation."