Parler Users Praise 'Patriot' Josh Hawley for Challenging Biden Victory
Users of the social media site Parler have praised Senator Josh Hawley (R-MO) after he announced he would oppose ratification of President-elect Joe Biden's victory in the 2020 presidential election.
Hawley will raise his objections when Congress meets to finalize the election on January 6. Though Republican efforts to challenge the outcome are unlikely to succeed, Hawley's decision proved popular among some Parler users.
Many conservatives have set up accounts with Parler, seeing it as an alternative to Twitter. Some on the right have criticized Twitter for its content moderation policies, claiming the site is biased against conservative views.
"By tomorrow, I better hear many more @GOP Senators have joined in with #senatorjoshhawley," wrote Parler user @Jakaroo65.
"[W]e are watching you all. Loyalty is everything."
Other users expressed similar sentiments, praising Hawley as a "patriot" and calling on his Republican colleagues to follow his lead.
"A PATRIOT," wrote user @Lawzz. "Sen. Hawley said that he will join several House Republicans in objecting to the 2020 Electoral College vote when the results are presented to Congress on January 6. Hallelujah!"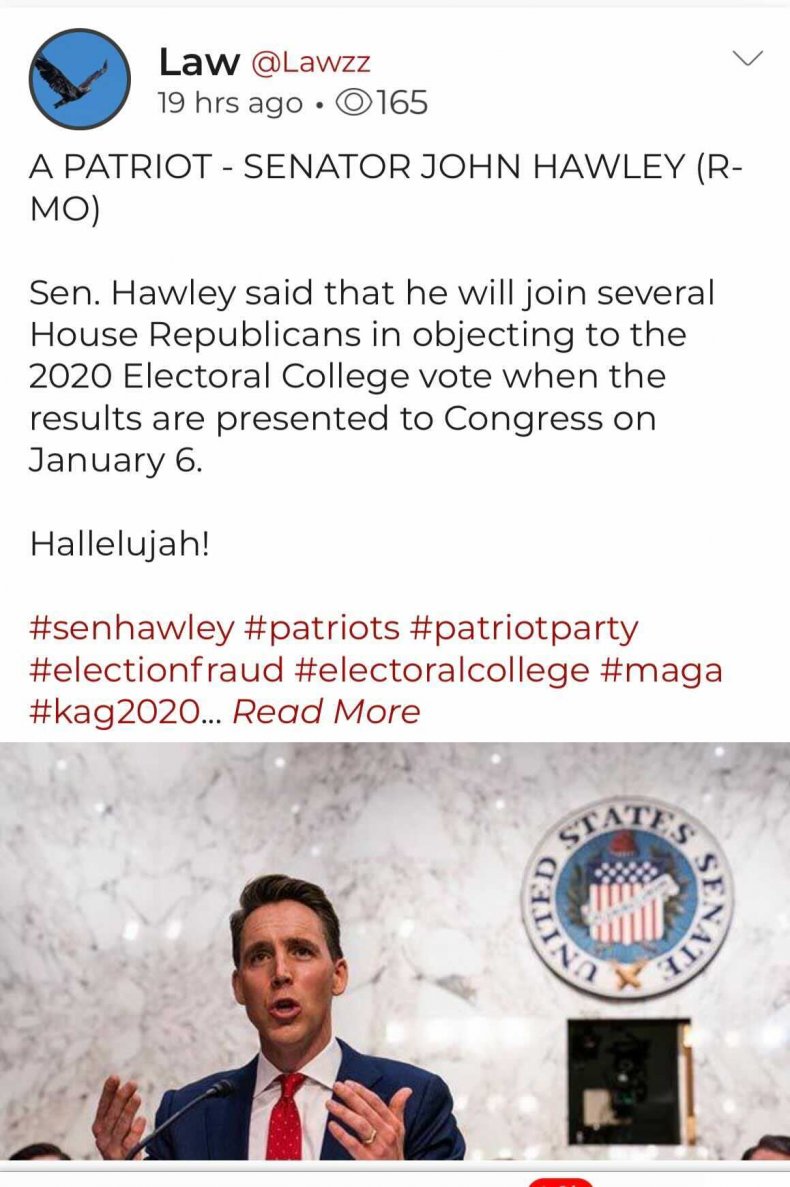 User @Kac29us simply wrote: "Sen. Hawley is a Patriot," and added the hashtag "patriot."
Others suggested contacting the senator "to thank him for standing up for what is right," in the words of user @SorosInTarget. "Tell him that you stand with him and have his back," that post went on, adding his contact details.
"I cannot vote to certify the electoral college results on January 6 without raising the fact that some states, particularly Pennsylvania, failed to follow their own state election laws," Hawley said of his decision, according to CNN.
"At the very least, Congress should investigate allegations of voter fraud and adopt measures to secure the integrity of our elections. But Congress has so far failed to act," he said.
There is no evidence that the presidential election suffered from widespread voter fraud, though President Donald Trump and some his allies have repeatedly made unsubstantiated allegations that the election was "stolen" or "rigged."
Legal challenges to the election by the Trump campaign and other litigants have been overwhelmingly unsuccessful and the Electoral College affirmed Biden's win when they met on December 14.
One of the lawyers involved in the effort to challenge the election, Lin Wood, also focused on the upcoming meeting of Congress in a post on Parler directed at Vice President Mike Pence on Wednesday. Pence will preside over the count as part of his constitutional duties.
"I do NOT trust VP Mike Pence," Wood wrote. "He is wolf in sheep's clothing. Pence is only focused on himself & 2024. He does not support President Trump. Let Pence hear your voices & read your words. If he does not support Trump, his career is over. Warn him."
Republican attempts to challenge the results of the election are unlikely to succeed as both chambers of Congress would have to agree to reject a slate of electors. With Democrats in charge of the House, this possibility seems remote.