Hurricane Season Is Expected to Be Particularly Active This Year, and Coronavirus Could Make It Worse
The start of the U.S. Atlantic hurricane season is just over two weeks away and forecasters are expecting particularly high activity this year. With warmer than usual conditions anticipated in the North Atlantic this summer, meteorologists have predicted that the season could produce eight or more hurricanes.
While forecasters cannot predict how many hurricanes—if any—will make landfall, the potential for dangerous storms to strike the southern and eastern coasts poses an additional problem for authorities already grappling with the COVID-19 pandemic.
Experts say that the pandemic is straining the capabilities of The Federal Emergency Management Agency (FEMA)—the government agency responsible for disaster coordination—and other organizations involved in responding to natural disasters.
Retired U.S. Army Lieutenant General Jeffrey Talley, who now leads global efforts on disaster management at IBM's [International Business Machines Corporation] Center for the Business of Government, told Newsweek that with FEMA and other authorities engaged with responding to the pandemic, resources will be strained if a hurricane strikes.
"When we look at a disaster... I think of it in terms of how we prepare for, respond to and recover from those types of events," Talley said. "Right now we're in the middle of the response of COVID-19. None of us are really sure how long it's going to last and how and how the response [to disasters] is going to be different, say, two months from now, six months from now, so on and so forth," he said.
According to Talley, the pandemic could complicate the response to a hurricane by interrupting the flow of emergency supplies to areas where they are urgently needed, or overwhelming hospitals at crucial moments. "We've already got a supply chain process that's stressed and strained," he said.
Social distancing and stay-at-home orders will also force authorities along the south and east coast to rethink how they manage people who must evacuate their homes in the event of a disaster. While many states are already lifting some lockdown restrictions, social distancing will still be important for many months to come.
The U.S. Atlantic hurricane season lasts from the beginning of June until the end of November, by which time a second wave of the virus may have arrived—as experts are predicting—potentially forcing state authorities to reintroduce stay-at-home orders.
"In the past, individuals would typically be able to safely gather in large arenas; however, this pandemic has officials rethinking their plans to cohesively manage the spread of the disease while keeping people safe and healthy in storm shelters," Sheldon Yellen, CEO of BELFOR Property Restoration, a disaster recovery and restoration company that has been involved in the response to some of the costliest hurricanes to strike the United States told Newsweek.
Among those was Hurricane Katrina in 2005, one of the most devastating storms in the history of the United States—which resulted in the deaths of more than 1,800 people—and the costliest on record, causing an estimated $75 billion worth of damage.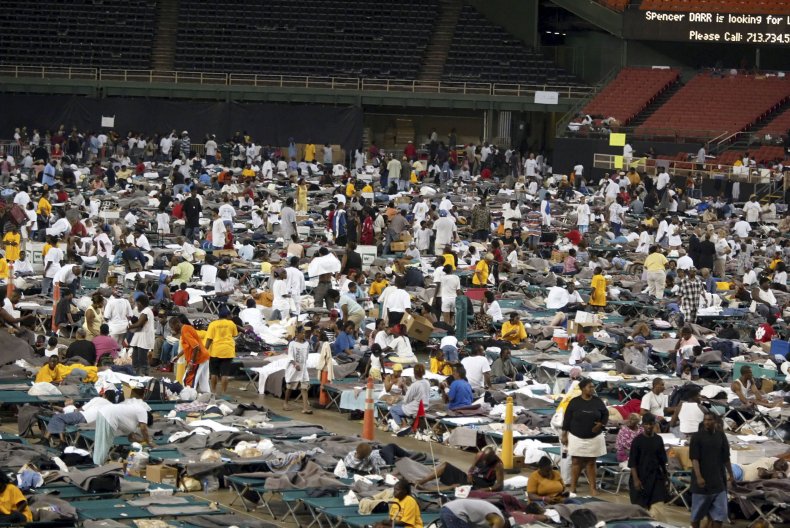 Despite the devastation it caused, Katrina was not the deadliest hurricane in American history, however. That title goes to the Great Galveston hurricane of 1900 which killed between 8,000 and 12,000 people, according to the National Oceanic and Atmospheric Administration (NOAA), making it the deadliest ever U.S. natural disaster.
If and when meteorologists detect a potentially dangerous hurricane on course to strike U.S. territory, emergency managers will have to decide how to balance the dangers posed by the storm against those of the pandemic.
"In the immediate impact area, the risk from a hurricane is gonna be a heck of a lot higher for human beings than COVID. So you have to weigh the risk," Talley said. "There'll be parts where the COVID-19 risk is going to outweigh the impact of the rest of the hurricane—maybe because you're pretty far inland and the effects are limited. So they're going to have to have a series of cascading measures, depending on what the risk is actually calculated to be."
This year's U.S. Atlantic hurricane season is expected to be particularly active, with experts predicting it will exceed the average of 12 named storms and six hurricanes.
Meteorologists from Colorado State University (CSU), for example, are predicting the 2020 season will be more active than usual, with an "above-average probability for major hurricanes making landfall along the continental United States," according to their forecast. The CSU team is predicting 16 named storms this season, eight of which will become hurricanes.
The Weather Company has produced a similar forecast, predicting 18 named storms, of which nine will be hurricanes—including four major ones. These predictions are largely based on observations of particularly warm temperatures in the Atlantic Ocean in recent weeks.
According to Yellen, early preparation is key to mitigating the worst effects of the hurricane season amid the pandemic, helping to save lives and limit economic damage.
"One of the lessons learned from COVID-19 is that it's always better to prepare sooner rather than later," he said. "Understanding that hurricane season is right around the corner, beginning in June, the U.S. needs to heed the guidance from local, state and federal officials, prepare families and homes for potential storms ahead of time, and have necessities or a 'go-kit' ready to last for several days.
"The uncertainty of disasters can be fearsome—we've all experienced this in some way or another during this pandemic—but knowing how to best prepare yourself and your family, businesses and community members in advance is key to remaining calm and safe."
FEMA says it is prepared for the approaching hurricane season, with a spokesperson for the agency telling Newsweek it has "robust planning, exercising and lessons-learned components that help us prepare for and respond to disasters."
They continued: "Even as FEMA is focused on responding to COVID-19, we are also preparing and maintaining readiness for other disasters to include spring flooding, severe weather and the upcoming hurricane season. FEMA currently has over 2,900 employees supporting the COVID-19 pandemic response out of more than 20,500 agency employees who are prepared to respond to other emergencies should they occur."
As part of its emergency preparations, the agency has developed a series of online training sessions to expand the ability of its workforce to adapt to different emergencies and build up additional capacity. Should additional support be needed, FEMA says it is able to activate the Department of Homeland Security's (DHS) Surge Capacity Force, which is composed of federal employees from DHS and other agencies.
FEMA Administrator Pete Gaynor previously said it is not just FEMA, but all local, state, tribal and territorial government agencies and emergency managers who are having to re-evaluate how the response to more traditional types of emergencies will be handled in this pandemic climate. The agency says all disaster responses should be "locally executed, state managed and federally supported."
"To make this system work, clear communication is vital," the FEMA spokesperson said.
"We are working with our states and other partners now on some of these issues and how it may change sheltering or other more traditional resources provided during emergency response.  But we have some great partnerships. And in the current COVID-19 response, every level of government, the private sector, non-profits and faith-based organizations are all involved, so all possible resources are being put to use."
Yellen is also hopeful that despite the pandemic, emergency responders will still be able to deal with the impacts of any hurricane that strikes the U.S. in the upcoming season.
"The social distancing measures may make storm evacuation procedures more complex, but rest assured that BELFOR and other emergency responders are prepared to assist with the emergency hurricane responses like we always would," he said.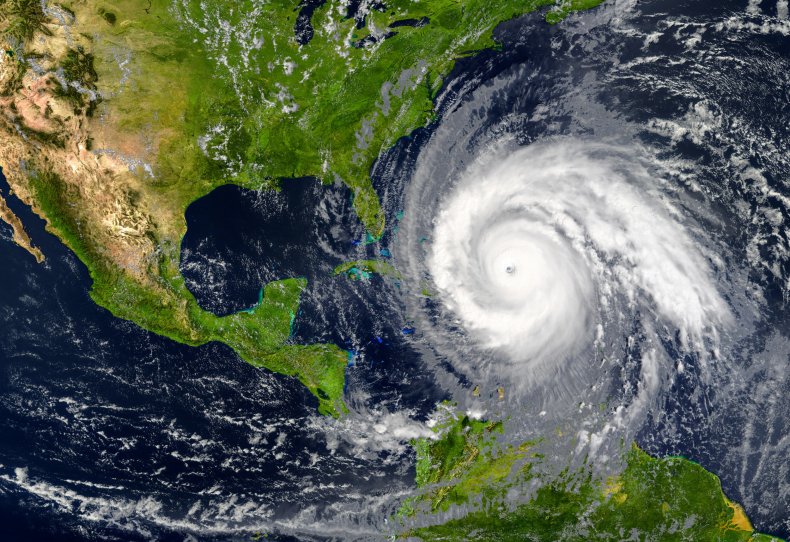 This year's U.S. Atlantic hurricane season is expected to be particularly active due to warmer ocean temperatures and a trend towards La Niña conditions as the spring and summer progresses, Todd Crawford, Chief Meteorologist and Data Scientist at The Weather Company, told Newsweek. La Niña is the periodic cooling of the equatorial eastern and central Pacific Ocean, which can affect weather patterns all over the world.
The phenomenon can weaken wind shear—the change in wind direction with height into the atmosphere—over the tropical Atlantic, where hurricanes form, enabling higher storm activity. High wind shear greatly inhibits the development of tropical storms. Warm ocean temperatures, meanwhile, provide essential fuel for hurricanes.
"In these preseason forecasts, one of the best predictors of total seasonal activity is simply the amount of warmth in the North Atlantic ocean," Crawford told Newsweek. "This is even a better predictor than if you just look at the tropical Atlantic sea surface temperatures (SST)."
In April, North Atlantic SST hit record levels for that time of year, and there is a reasonably strong correlation between North Atlantic warmth and total activity, according to Crawford.
"We've developed two statistical models that use Atlantic and Pacific SSTs to predict activity, and both of these models are producing the highest predictions since 2010, which was a 'hyperactive' season," he said. "Further, these models are not even 'seeing' the expected trend towards La Niña conditions, which typically weakens the wind shear over the tropical Atlantic and allows more activity."
These predictions do not always turn out to be accurate. However, authorities and emergency responders will still need to heed the concerning forecasts for the 2020 season to ensure that they are not left unprepared for the dual threat of hurricanes and the COVID-19 pandemic.
Any natural disaster would also likely be physically and emotionally draining for those who are already distressed as a result of hardships relating to COVID-19.
"This pandemic has put people through a lot and adding a severe weather event into the mix will make everything that much harder to cope with, especially in areas that have been hit hard by the virus and are at risk for severe storms," Yellen said. "During this time, I'd encourage business leaders and officials to remind everyone that they're not alone and the affected communities will be able to get the help they need."