Parts of Louisiana Could Be Without Power for Weeks After Ida
Parts of Louisiana could be without power for weeks in the aftermath of Hurricane Ida, according to the energy company Entergy, which is headquartered in New Orleans.
Entergy said in a statement that people in "the hardest-hit areas" could experience outages for up to three weeks, while 90 percent of customers will be restored sooner.
During a press conference with city officials Monday—a day after the storm struck Louisiana as a Category 4 hurricane—Entergy CEO Deanna Rodriguez declined to say when power would be restored, saying it would be "premature" to speculate.
"The catastrophic damage of the storm that hung over west of here caused a lot of damage to the transmission lines that feed New Orleans," Rodriguez said.
About 45,000 people are doing damage assessment in New Orleans on Monday, and eight transmission lines that power the city sustained damage, she said.
New Orleans Sewerage & Water Board Director Ghassan Korban said that despite the outages, the city is "keeping up" with providing drinking water, though there is a spike in consumption that might be due to an undetected water main break. He said there are no quality or pressure issues.
However, he warned that pumping stations are not running at full capacity, urging people to make "thoughtful" use of water to avoid possible wastewater backups.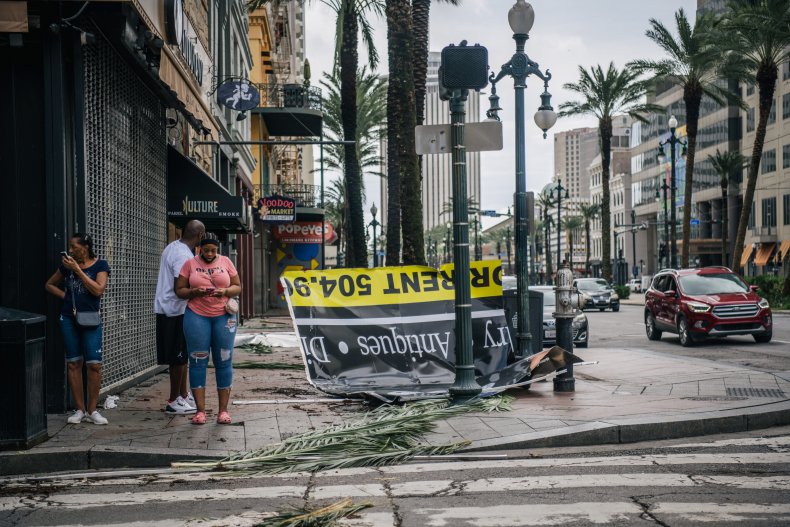 During the press conference, New Orleans Mayor LaToya Cantrell urged people to "be good neighbors" and share any power they have with others.
"Share the power you have, open your businesses for the people to recharge their devices as well as meet their ongoing needs," she said. "That's how we're going to get through this."
Cantrell asked people who evacuated to not re-enter the city due to the lack of power sources in New Orleans. She said Monday is a day for "assessment" and that residents will be notified when it is safe to return.
"Now is not the time for re-entry," she told residents.
Residents who did not evacuate are asked to be careful and stay in their homes, she said.
Collin Arnold, director of the New Orleans Office of Homeland Security and Emergency Preparedness, agreed with Cantrell. He added that hospitals in New Orleans are already strained due to COVID-19, so if people return and suffer a medical issue, it would further overwhelm the medical system.
"There is damage, mainly debris in the street. I want to be completely real with you. There's not a lot of things open right now. There's not a lot of fuel resources. There's not a lot of reason to come back."
Tyrell Morris, executive director of New Orleans' 911 operations, also said 911 being down is a reason for people to stay back. He said officials are working to restore 911 as quickly as possible
Cantrell also addressed reports of looting, saying there is no widespread operation. She said the city has not tolerated it, and that in the isolated cases, police have apprehended alleged looters.
"There is no widespread looting going on in the city of New Orleans," she said. "What we do have that's widespread is residents who are being neighbors, who are understanding and exhibiting the spirit of humility, of empathy.
Ida hit Louisiana as a Category 4 hurricane on Sunday, leaving devastation and death in its path. Videos and photos posted to social media captured the damage caused by the hurricane. By Monday afternoon, the death toll had risen to at least two, Newsweek reported.