'Parts Unknown' Is on HBO Max—Remember Anthony Bourdain by Streaming These 6 Standout Episodes
HBO Max launched recently with a treasure trove of TV shows and movies—among them is Anthony Bourdain: Parts Unknown. And we can't think of a better way for fans of the series to remember the late Anthony Bourdain, on the second anniversary of his death, than by diving back into Parts Unknown and streaming a few key episodes.
Across its 12 seasons, the Peabody- and Emmy-winning series followed Bourdain as he traveled all over the world, leading cameras and viewers to lesser-known locales in places like Scotland, Madagascar, Vietnam, and even the Lower East Side of Manhattan. Bourdain explored the locations' culture and food, and followed the lead of local luminaries.
Each episode was thought-provoking, entertaining and enough to get your stomach grumbling. For a quick primer on which episodes of Parts Unknown to revisit first (or start with, if you've never seen the show), here are six of my favorites: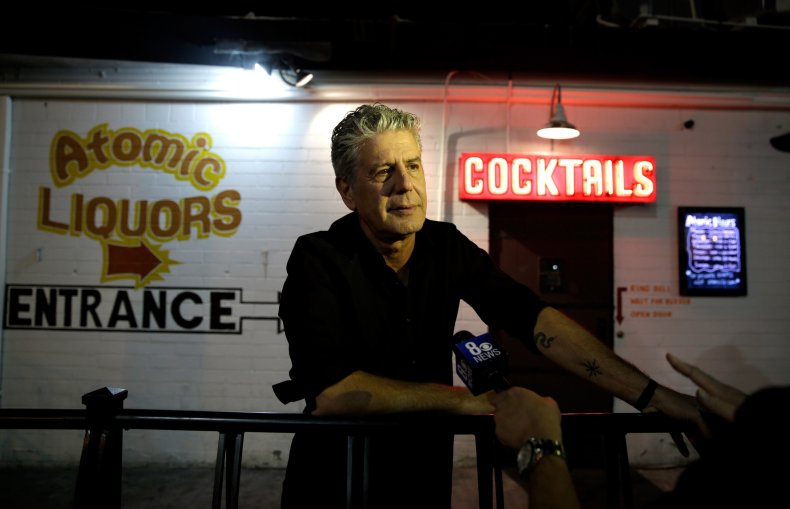 "Quebec" (Season 1, Episode 4, 2013)
"I will confess my partisanship upfront," Bourdain says in voiceover at the start of this episode. "I love Montreal. It is my favorite place in Canada. The people who live there are tough, crazy bastards." During this first-season beaut, Bourdain eats his way around the Canadian province of Quebec, and tries his hand at both ice-fishing and beaver hunting.
When he isn't spending time in a cabin located in the middle of nowhere, Bourdain stops by the high-end Restaurant Le Continental and the comfort food hotspot Liverpool House, among others. And his guests for this installment? Some of the most brilliant chefs/restaurateurs in Canada: Joe Beef's Dave McMillan and Fred Morin, as well as Au Pied de Cochon's Martin Picard.
"Miami" (Season 5, Episode 3, 2015)
Here, Bourdain immerses himself in the culture of Miami, exploring the music scene with Questlove and Willie Clark, the founder of Deep City Records; stopping at the B&M Market in Little Haiti for some cow foot soup, jerk chicken, curry goat and roti; and hunting down a different take on the Cuban sandwich at Islas Canarias. (FYI, the sandwich is different than the classic Cuban because the bread is darker and sweeter, which makes for an interesting contrast with the pickles and mustard.) Bourdain also makes room in his trip for a beer at the famous haunt Mac's Club Deuce, and a meal with proto-punk icon Iggy Pop, who had recently moved to Miami at the time.
"I love Miami for the same reason I love the places I love most around the world... it's the mix here, this big, messy, dysfunctional hell broth of people from all over the world that make it so awesome and make it a place I want to keep coming back to," Bourdain explains. "Also the food's good."
"Chicago" (Season 7, Episode 3, 2016)
In which Bourdain gives an honest glimpse of the Windy City that few see. "If you're gonna cry that I 'missed' an iconic feature of Chicago life ,'" Bourdain says during the episode, " or that there are better Italian restaurants than Topo Gigio, then you missed the point and can move right on over to Travel Channel where somebody is pretending to like deep-dish pizza right now."
During his stop in Chi-town, Bourdain visits Old Town Ale House (which has his portrait there, and is worth the hype), as well as Hyde Park's famed breakfast destination, Valois. He also drops by Chinatown for some "a**-burning Szechuan food" with Stephanie Izard and Peter Wong of the Girl & the Goat.
"Hanoi" (Season 8, Episode 1, 2016)
In perhaps the best-known episode of Parts Unknown, Bourdain motorbikes his way through the capital of Vietnam, hangs out with locals and slurps noodles with then-President Barack Obama.
The two sat down for a $6 beer and traditional meal of grilled pork served in a broth or dipping sauce, flanked by rice noodles and fresh herbs at Bún chả Hương Liên. After the fact, Bourdain talked to Anderson Cooper about what it was like having dinner with President Obama in a hole-in-the-wall restaurant, sharing personal stories. "For whatever reason, [President Obama] seemed willing to play, and my feeling was, if we're going to do this, we should do it right," Bourdain said. "I mean, we shouldn't be sitting in a banquet room at the Hilton. We should do what we do, which was hang out in some working-class place."
"Buenos Aires" (Season 8, Episode 8, 2016)
Set in the meat-centric capital of Argentina, this episode gives viewers a real look into Bourdain's psyche, as psychoanalysis is part of the city's everyday life. "There's a bittersweet aspect that I find singular and enchanting—and the city's empty streets and slowed-down pace during its summer months are, to me, perfect," he wrote of Buenos Aires for CNN. The city embraces an openness about mental health, and this installment includes bits where Bourdain reflects on his fears, dreams and anxieties.
He also checks out Chila to meet with chef Soledad Nardelli and her kitchen staff, and to partake in a late-night chorizo sandwich. In a somewhat surprising moment, Bourdain jokes that all the meat has gotten to him, and he's looking forward to changing things up when he gets home. "I'm going to get off that plane [and] I'm going to make myself a big f**king salad," he says at one point.
"Lower East Side" (Season 12, Episode 7, 2018)
The final episode (like the entire final season) of the series aired after Bourdain's death, and highlights a neighborhood that he frequented in his younger years. "This is a show about a very special place, a special time, and some very special people," Bourdain says in the episode's introduction. "So much happened, so much began on New York's Lower East Side." For its closing hour, Parts Unknown welcomes cameos from artists (Joe Coleman, Kembra Pfahler and John Lurie), musicians (Debbie Harry, Chris Stein, Richard Hell and Lydia Lunch) and filmmakers (Jim Jarmusch, Amos Poe), and features visits to Veselka, John's of 12th Street, Emilio's Ballato and Ray's Candy Store.
The finale ends with a montage of the LES, 30 seconds of silence, and a bittersweet post-credits scene of Bourdain joking around with Lurie in the artist's apartment. It's a tender moment, and a touching coda, but it doesn't have to be the last we see of Bourdain.
Parts Unknown is available to stream on HBO Max.