Pasadena's Harvest Church Wins Lawsuit Against Gavin Newsom, Lifting Worship Restrictions
A settlement reached by a California church and Gov. Gavin Newsom this week allows an injunction against COVID-19 restrictions on churches.
On Monday, a California District Court entered an order approving Liberty Counsel's settlement of the lawsuit on behalf of Pasadena's Harvest Rock Church and Harvest International Ministry against the California governor.
Under the settlement, the state of California may no longer impose discriminatory restrictions upon any houses of worship. It's the first statewide permanent injunction in the country against COVID restrictions on churches and places of worship. The governor must also pay Liberty Counsel $1,350,000 in reimbursement of attorney's fees and costs.
The settlement references several Supreme Court opinions, including Harvest Church v. Newsom, which include a long list of similar nonreligious activity the High Court set for as comparable religious gatherings. These included grocery stores, big box stores, warehouses, transportation, infrastructure, telecommunications and more.
"Governor Gavin Newsom's COVID restrictions intentionally discriminated against churches while providing preferential treatment to many secular businesses and gatherings. The Supreme Court intervened multiple times to provide relief. California may never again place discriminatory restrictions on churches and places of worship," Liberty Counsel Founder and Chairman Mat Staver said.
In his statement, Staver also noted the leadership of Harvest Rock Church's Senior Pastor Ché Ahn in this fight.
"Pastor Ahn's leadership and courage has toppled the tyranny and freed every pastor and church in California," said Staver. "Gov. Gavin Newsom has now been permanently quarantined and may not violate the First Amendment rights of churches and places of worship again."
Harvest Rock Church has been battling in court for an injunction against Gov. Newsom since summer.
"It is the First Amendment for a reason because it protects our religious liberty and encapsulates the history of the founding of the country, which goes back to people who fled Europe to protect their religious liberty," attorney and California Republican gubernatorial candidate John Cox told Newsweek. "Because of the First Amendment, we have freedom of religion. That is paramount of our liberty."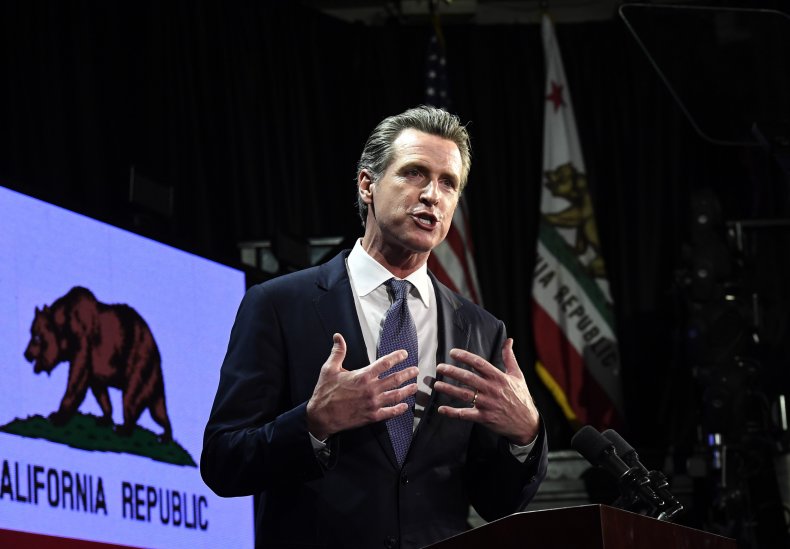 It was last month that Newsom lifted restrictions on churches on the heels of a U.S. Supreme Court ruling. On April 9, restrictions on home Bible studies were lifted but not on singing and chanting. That was followed by mandatory attendance limits being lifted.
An official spokesperson from Gov. Newsom's Office sent this statement to Newsweek, "Governor Newsom has always put the health and well-being of Californians first, resulting in the lowest positivity rates in the country and over 35 million shots in arms – more than any other state. This settlement resolves this case while providing clarity and certainty to the public around the public health standards applicable to places of worship following recent rulings by the US Supreme Court."
"California has led the nation in safely reopening because our decisions are based on what the science and data tells us, and we will continue to do so as we look beyond the Blueprint," Newsom's office added.
In all, this case involved three emergency injunctions pending appeal at the Ninth Circuit Court of Appeals, two oral arguments before a panel of three judges, two orders from the U.S. Supreme Court, including an injunction pending appeal issued by the High Court on Feb. 4, 2021.
Now, churches and places of worship may never again have discriminatory restrictions places on them that are not equally applied to this long list of "essential services" or "critical infrastructure" as outlined in the settlement agreement.