Passenger Loses Shoe After Plane Floor Opens Up: 'New Fear Unlocked'
A viral TikTok video has shown how a woman lost her shoe during a flight between Rome and New York, when the garment fell into the aircraft and could not be retrieved.
With more than 1.8 million views, 21-year-old Alexis DiBartolo from Long Island, New York, shared the video in March. In the video, she shows footage of the plane with the text overlay: "On a plane and this thing near my feet opened up and my shoe fell down into it."
DiBartolo told Newsweek: "I was flying back home to the John F Kennedy International airport with Delta Airlines. I casually sat down in my seat, which was a window seat, and my sister was sitting next to me.
"About an hour into the flight, I decided I wanted to take a nap and get comfortable in my seat, so I took off my shoes and placed them directly under the window, which happened to be right near the decompression panel.
"The plane was so dark so I had no idea this panel was broken and being held together by tape."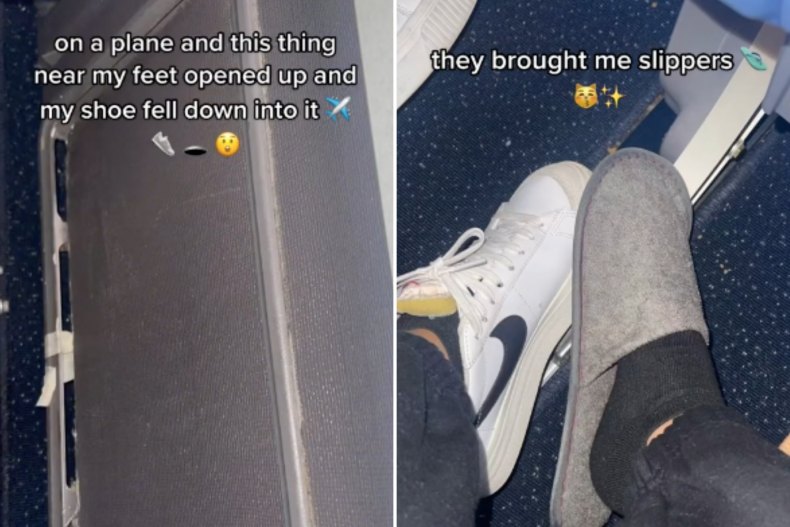 In an aircraft, decompression panels typically help equalize pressure between compartments within the fuselage, helping prevent structural damage in the case of a rapid decompression.
In April 2021, the US Federal Aviation Administration subjected all U.S. Boeing 787 aircraft to decompression panel inspections after reports of multiple incidents on 787s.
However, in the video, the aircraft was an Airbus A330-300, an aircraft slightly larger than the 787 and can carry between 250 and 440 passengers.
When she woke up again 45 minutes later, DiBartolo went to reach for her shoe when it fell down the panel: "I immediately tried reaching for it, and when I could not get it, I called the flight attendant. She could not reach it either so she contacted maintenance to broad the plane as soon as we landed in New York to see if they could obtain it."
The flight attendants were all shocked and had never seen something like this happen before. When the plane landed, maintenance came on board and could not reach the shoe either.
When they couldn't retain the shoe from the cargo either, the airline gave the woman some slippers to wear in place of her shoes.
TikTok users were shocked by the story and some viewers even shared similar stories: "This happened to me," said one commenter: "But it was my phone. I was watching it go to different states through Life360."
Another commenter wrote: "New fear unlocked," and one TikTok user said: "I would've had a heart attack mid-flight."
The airline industry is seeing some recovery in revenues and passenger numbers following a record drop-off in passengers due to the COVID-19 pandemic.
Before the pandemic and worldwide lockdowns were implemented, more than 4.5 billion passengers were recorded boarding flights globally. In 2021, the number of scheduled passengers that boarded an airplane was just over 2.2 billion, representing a 50 percent drop in customers when compared to 2019.
The forecast numbers for 2022 suggest recovery as airlines begin to bring the number of operated flights back to pre-pandemic levels.
"Your shoe is living my dream of traveling the world," joked another viewer of the viral video.
Another commenter said: "Bestie you better get those air miles."
After having to leave the aircraft with only one shoe—and a complimentary slipper—DiBartolo was eventually reimbursed for her lost footwear.
She said: "I was grateful that I did not drop my phone, my wallet, AirPods, special photos of something more expensive down there. I am now on alert every time I fly on a plane as I don't want to lose another shoe."
Newsweek has reached out to Delta Airlines for comment.