Passenger Who Suffers PTSD After Deadly Crash of Costa Concordia Cruise Ship Awarded $105K
A passenger on the Costa Concordia cruise ship that crashed in 2012, killing 32, will receive 92,700 euros, equal to just over $105,000, after a court ruled that his post-traumatic stress disorder was caused by the accident and that the Costa Crociere cruise line was financially liable.
On January 13, 2012, the Costa Concordia was at sea with about 4,200 passengers when the captain, Francesco Schettino, who is currently serving a 16-year prison sentence handed down in 2015 for manslaughter, brought the ship too close to Giglio Island off the coast of Tuscany, causing it to crash into a reef and tip over.
Ernesto Carusotti, the passenger suing the cruise line owned by U.S.-based Carnival Cruise Lines, was represented by the Italian consumer group Codacons.
The Costa cruise line said in Schettino's trial the company had paid about 84 million euros (approximately $95.3 million) in a compensation package to passengers, crew and relatives of those who died on the ship, which some people denied in order to pursue lawsuits instead.
Schettino, who was accused of misleading the cruise line and Coast Guard about the severity of the accident while requesting assistance, said months after the accident that he was on the phone when the crash occurred.
It was alleged at the time that Schettino did not activate the alarm for passengers and crew to abandon ship until about an hour after he should have, leaving his hundreds of crew members confused about how to protect themselves and the passengers while the ship was listing and taking on water.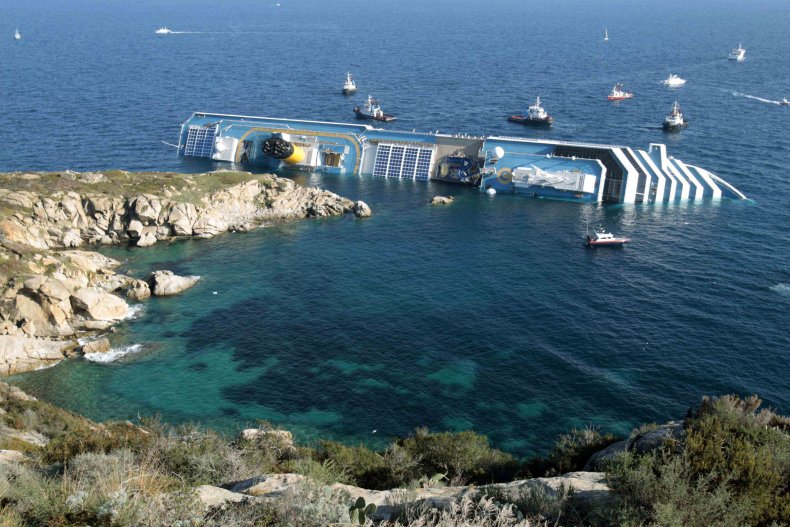 In a statement to the Associated Press, Costa said it reserved the right to respond "through the most appropriate channels."
Prosecutors say Schettino intentionally brought the ship too close to shore in a stunt and then abandoned the listing liner while passengers and crew were still aboard.
According to Codacons, Genoa Judge Paolo Gibelli ruled that Costa Crociere was liable not only for the shipwreck itself but for the traumatic experience that Carusotti suffered. The court ordered Costa to pay Carusotti 77,000 euros (about $87,300) in damages plus 15,692 euros (about $17,800) in legal fees.
In a statement, Codacons said the award was a "very important victory" since it showed the "total incongruity" of Costa's compensation package to most of the victims.
The capsized Concordia was eventually righted from the reef and then floated to the mainland where it was turned into scrap.
The Associated Press contributed to this report.