Residents of an English town received an unwelcome surprise last week after a giant block of ice—and its foul contents—appeared to fall from the sky.
Locals heard an unexpected crash around 10:30 PM last Monday, Portsmouth News reported. Outside on the pavement they discovered a mysterious block of ice.
Said resident Louise Browne: "We [were] just getting into bed and we thought someone was chucking gravel stones at our window." She added that the ice block measured "about half a [meter] square"—approximately 1.6 square feet.
"My husband says it must have come from a plane—it just fell from the sky out of nowhere," she said.
Meanwhile, Browne's neighbor Lisa Boyd "thought someone had crashed their scooter outside," according to Latin Times.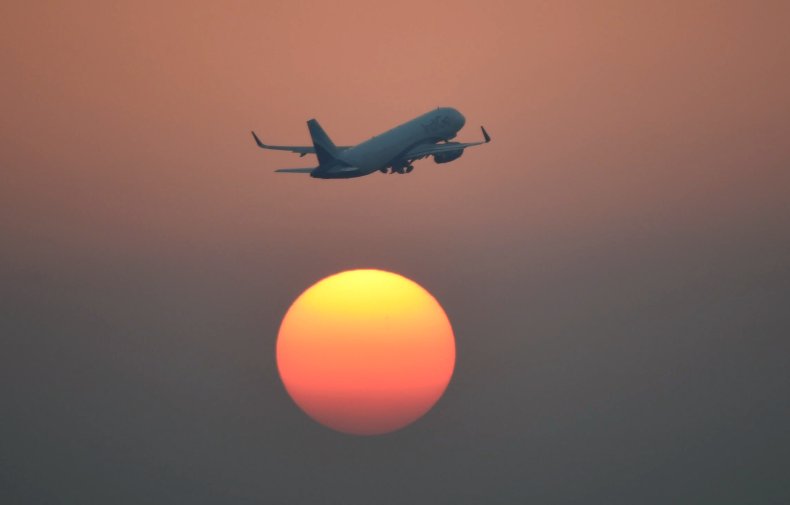 "There was a big whirring noise and huge thud so I looked out the window and there was just this lump of ice on the floor."
It was a clear night in the aptly-named town of Waterlooville, thus ruling out possibilities that the spontaneous ice block was weather-related.
As the evening wore on, the thawing ice revealed an unpleasant odor, leading residents to suspect the block, reportedly containing human waste and toilet paper, had been dropped from the plane's lavatory.
According to Portsmouth News, Boyd recalled that the next morning "there were [feces] on the path" exactly "where the ice had melted." While uncommon, instances of frozen fecal matter dropping from planes have been reported. These ice blocks are sometimes referred to as "blue ice."
"I bagged it up because it was slap bang in the middle of the footpath," she added.
According to Browne and Boyd, the ice block landed a mere two feet from a car. Should it have crossed paths with something, or someone, on its way down, it could have caused serious damage or injury. "They were lucky—if it had landed on the [hood of the car], it would have crushed it," said Browne.
"We were just thankful no one was walking past and by it because it could've killed someone," added Boyd, speaking to Latin Times.
On flights, all lavatory waste is held until arrival and then transported to special vehicles, said the UK's Civil Aviation Authority, as reported by Portsmouth News, making cases like this one rare.
"Ice falls from aircraft are considered to be rare in UK airspace, and can be a result of meteorological phenomena," explained the Civil Aviation Authority. "We receive around 10 reports of ice falls per year and while we are unable to investigate the origin of an ice fall, we do record reports of this nature."
In 2018, a similar "blue ice" incident rocked the village of Fazilpur Badli in India. After residents initially "mistook it for a meteor," the giant, melting ice ball was revealed to have likely come from an airplane toilet.