How Trump's Inauguration Compares to Inaugurations Past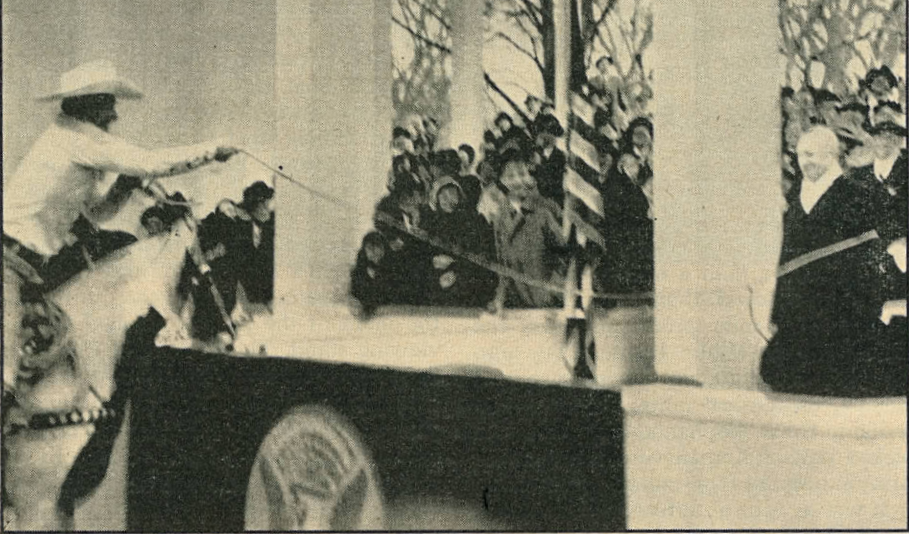 On January 20, 1953, President Dwight D. Eisenhower caused a ruckus when he bucked convention and refused to wear a traditional cutaway coat and top hat at his inauguration. The "social arbiters" were outraged, according to the January 26, 1953 issue of Newsweek. There was a mad dash of senators and cabinet members scouring men's shops for homburg hats, like Eisenhower's, and even Vice President Richard Nixon was in a tizzy; he moaned, then begrudgingly bought himself a club coat to match the president's.
But with the men managing to find last-minute attire and the foggy weather clearing, Newsweek reported that it was the most "benign" inauguration since the first Roosevelt inaugural.
Sixty-four years later, the presidential inauguration is shadowed by controversy, and it has nothing to do with the president-elect's clothing. Thousands of people are expected to descend on the nation's capital on Friday, in what is shaping up to be the least benign presidential inaugural ceremony in American history. Dozens of groups are planning to protest Donald Trump's inauguration; the Women's March on Washington, for example, has 177,000 people marked as "going" on its official Facebook page.
There are only two presidents whose inaugurations come close to matching Trump's in controversy: Richard M. Nixon's "secret plan" to end the Vietnam War prompted days of protests leading up to his inauguration on January 20, 1969, and George W. Bush's inaugurations were marred by his low poll numbers in 2001 and his dealings with the Iraq War in 2005.
The "shocking" events of inaugurations past can now be viewed as relatively innocent: a parading cowboy on horseback, an inaugural parody starring a pig and botched oaths. Newsweek recalls these and other moments as the country's 58th inauguration ceremony fast approaches.
1953: Eisenhower's Colorful Inaugural Parade
Texas-born President Dwight D. Eisenhower was lassoed by cowboy parader "Monte Montana" of California while reviewing the inaugural parade.
It wasn't the biggest inaugural parade in history—but it was one of the most colorful. More than a million Americans got a glimpse of their new President leading a 10-mile procession from the Capitol to the White House. They also glimpsed some 20,000 service men and women, 65 musical units, 50 floats, 250 Indians, three elephants, 350 horses, a picked unit of Korean veterans, and the Army's new 84-foot atomic cannon. —Newsweek, January 26, 1953
1961: John F. Kennedy up in Flames
JFK's inauguration ceremony on January 20, 1961 was a comedy of sanctimonious errors. As Cardinal Richard Cushing was delivering the inaugural invocation, the podium caught fire due to a shortage in the electric motor used to adjust the height of the lectern. A squadron of secret service agents had to douse the podium, but JFK kept his cool—he reacted with a calming, broad smile.
This was sandwiched between two botched orations—Vice President Lyndon Johnson fumbled the vice presidential oath when he said "without any mental reservation whatever" rather than "without any mental reservation or purpose of evasion." Then things went amiss again when distinguished poet Robert Frost took the stage and was blinded by the light of the sun reflected off the snow, and had to recite an old poem from memory rather than reading the one he had written for the inauguration. It had snowed 7 inches the night before, and two-thirds of the sold-out inaugural concert audience as well as 60 orchestra musicians failed to show up. The Kennedys arrived at their ball a half hour late, but managed to stay Kennedy classy the entire time.
Seconds after Cardinal Cushing's "Amen," worried secret-service agents and Capitol custodians squeezed down the aisle, crowded with startled dignitaries, to douse a smoldering electric motor, used, since President Franklin Roosevelt's days, to adjust the lectern's height. President Kennedy, relaxed as though he were a casual spectator, reacted with a broad grin. But some of the onlookers, numbed by the 22-degree cold, looked as though they might be more comfortable if the Capitol had burned down. —Newsweek, January 30, 1961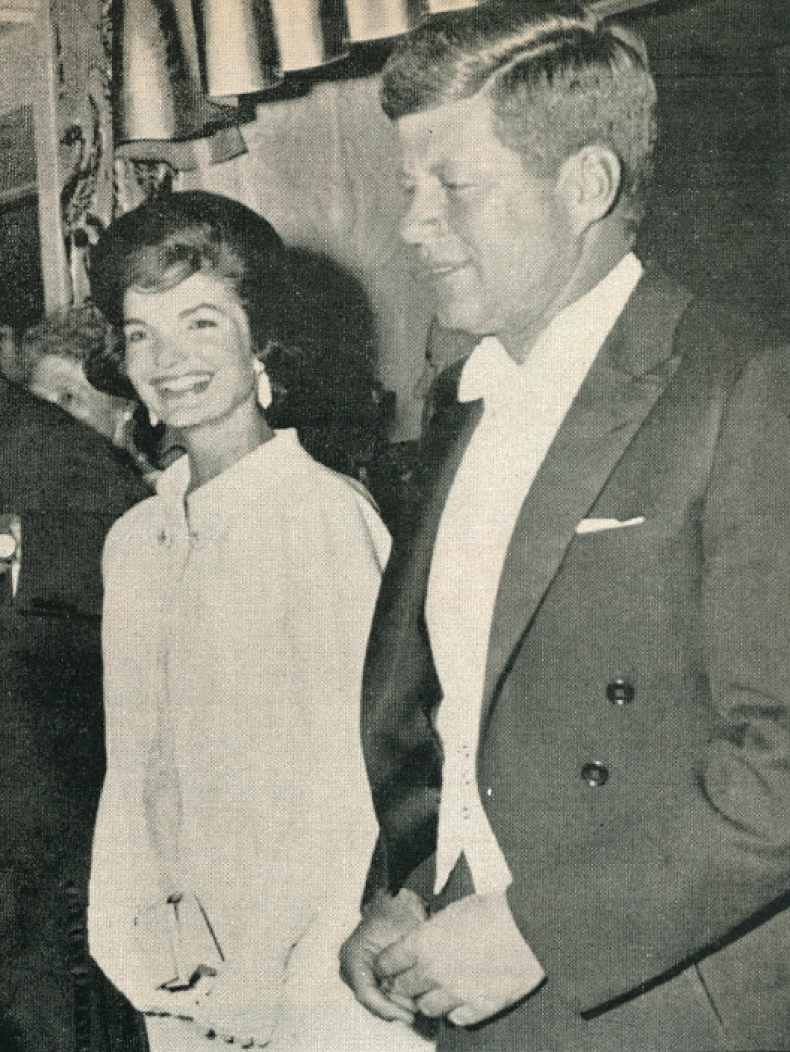 1969: Richard M. Nixon Upstaged by Pigasus J. Pig
Nixon's inauguration in 1969 was a $2.3 million extravaganza; it was pure pageantry. "We want every husband to complain for years about the cost of his wife's dress and hair-do," Ball Chairman Mark Evans told Newsweek for the January 27, 1979 issue. But his party was over-shadowed by an inaugural parody staged by the youth-oriented, anti-establishment "yippies," who "nominated" a hog for president.
Clockwork: Inaugural week's first order of business was pleasure, however—and the Nixonian managerial touch showed in every detail of the $2.3 million extravaganza. The form has never been particularly satisfactory: James Madison's 1809 Inaugural ball—the first ever—was so hot and stuffy that guests smashed windows to get air, and U.S. Grant's in 1869 is remembered mainly because Horace Greeley had to wait in a check line for an hour and a half to retrieve his coat, cursing colorfully all the while. Shadowing Mr. Nixon's party, moreover, was the presence of several thousand peace demonstrators and yippies, who planned their own parody inaugural starring Pigasus J. Pig, the hog they "nominated" for President in Chicago last August. Washington authorities granted them permits on a promise that they were coming in peace, though after Chicago no one—including the demonstration leaders themselves—could be sure. But the Inaugural planning otherwise was a triumph of Nixon technique, as precise—and as spontaneous—as clockwork. —Newsweek, January 27, 1969
1977: Jimmy Carter's Denim Inaugural
Jimmy Carter was hell bent on having an inauguration for the "people." Carter promised it would be "as democratic as possible, according to the January 24, 1977 issue of Newsweek. In addition to politicians and celebrities, Carter invited 600 Iowan farmers and their families, 106 square dancers from Minnesota and 26 Indians from the Crow nation. But despite the 'y'all come' heard 'round the nation, hundreds of Carter workers got snubbed, not receiving personal invitations. They were furious. The consolation prizes, however, were 200 folk, jazz, rock, organ, bluegrass, soul or orchestral concerts all over town; a peanut butter ice cream social; and the world's largest square dance.
… "Carter will be everybody's President, Washington will be everybody's Capital and this will be everybody's inauguration," proclaimed Bardyl Tirana, co-chairman of the event.

Well, not quite everybody's. Although Carter issued a verbal "y'all come" invitation to the whole country, fewer than 400,000 people—mostly Carter volunteers and contributors—received personal invitations (printed in brown ink on recycled paper). Only about 30,000 of those got the week's most sought-after invite—a chance to buy two $25 tickets to the Inaugural parties. An even smaller number were invited to purchase $25 tickets entitling them to sit, rather than stand, along the parade route. Inevitably there were snafus. Hundreds of Carter worker who should have received ball invitations didn't. "People are furious," grumbled Virginia's Warren G. Stambaugh, who worked as a Carter coordinator in Missouri, and wasn't invited to anything. Others who probably should not have been invited to anything were, among them a Louisiana man serving a prison sentence. "These have been some rough weeks," conceded invitations director Curt Moffat. —Newsweek, January 24, 1977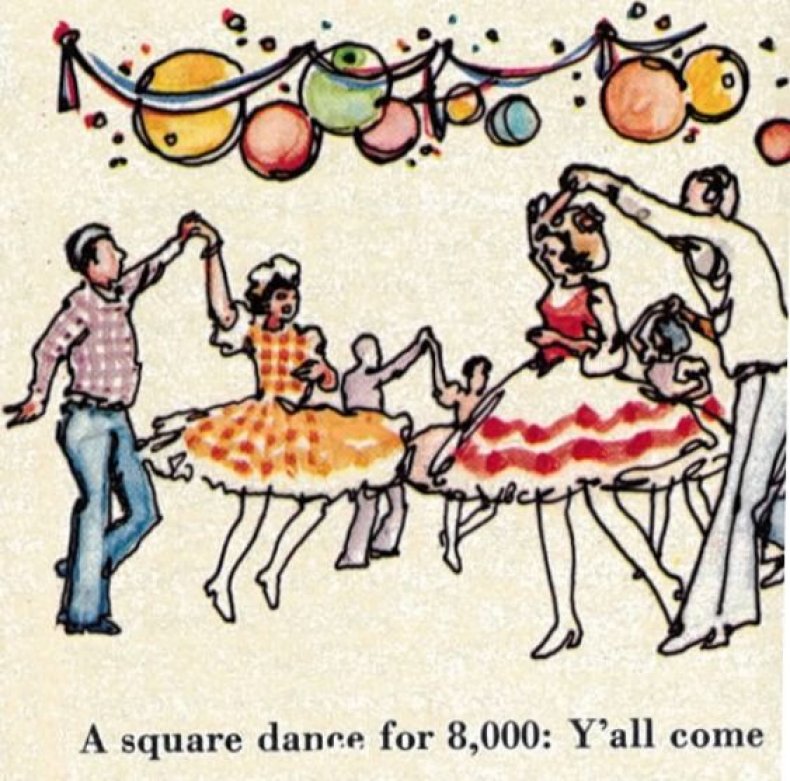 1985: Ronald Reagan Is Over It
On January 20, 1985, 73-year-old Ronald Reagan became the oldest president to be sworn in for the second time. Inaugural celebrations were held on January 21, one of the coldest days on record in Washington, D.C., and Reagan just wanted to go home and get on with it. He confided to a White House visitor that he "longed for the festivities to be over so he could concentrate on governing." After 20 years of governing, he had run out of appropriate inaugural metaphors, it seems.
Concocting the proper drama for a second Inaugural Address has been a problem since George Washington in 1793 limited himself to a terse 135-word discourse on his fidelity to the Constitution. Words have always been Reagan's political stock in trade, but as the president reviewed the Inaugural Address there were concerns that after 20 years of public life he may finally have depleted his supply of metaphors. "The message is the same," conceded a Reagan aide involved in last-minute revisions of the Inaugural Address, "but there's a search for new rhetoric." With programmatic specifics being deliberately saved for the State of the Union message, the trick was to come up with rhetorical flourishes to match his 1981 triumph. The second-term slogan: "An American Renewal." —Newsweek, January 28, 1985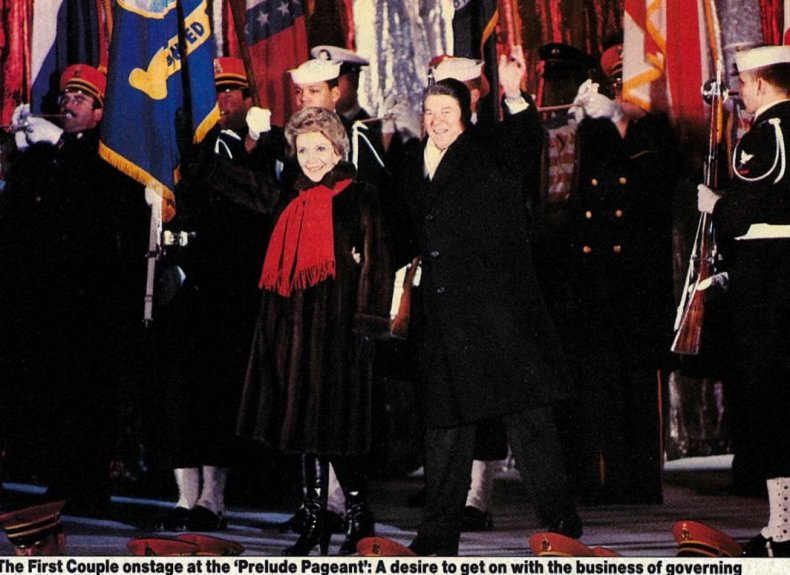 2009: Obama's Awkward Moment
Supreme Court chief justice John Roberts stumbled the oath wording at Barack Obama's inauguration ceremony on January 20, 2009. The fumble was slight, but it had an unfortunate domino effect. Roberts, who was reciting the oath from memory rather than using the customary card, said the word "faithfully" out of order, which prompted Obama to botch his own recitation.
The Constitution requires the president to say, "I do solemnly swear that I will faithfully execute the Office of President of the United States, and will to the best of my ability, preserve, protect and defend the Constitution of the United States," but Obama instead responded, "that I will execute the Office of President of the United States faithfully." Awkward, yes, and also enough to rouse political ire about whether Obama had been properly sworn in.