Pastor Johnny Enlow Says 'Vision' of Donald Trump With 'Golden Scepter' Proves He's President
Self-described Christian prophet Johnny Enlow has said that his "vision" of Republican former President Donald Trump holding a golden scepter proves that Trump is still president of the United States.
Enlow described his vision in a public Facebook post published on April 30. He published his vision in response to an April 29 statement from 85 Christian leaders. The four-page statement told prophets to issue apologies and explanations if they had publicly predicted that Trump would become president by a specific date that had now passed.
The public apologies and explanations aren't intended as punishments, the statement said. Rather they were intended as "a mature act of love to protect the honor of the Lord, the integrity of prophetic ministry and the faith of those to whom the word was given."
The statement said that prophets should have their future prophecies evaluated by fellow prophets.
"Those refusing such accountability should not be welcomed for ministry," it added.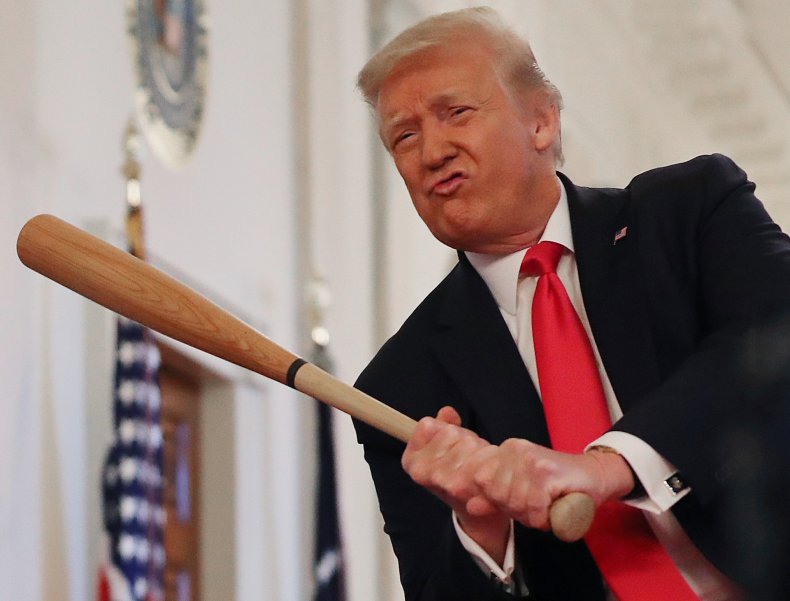 Enlow criticized the statement in his April 30 Facebook post.
"Those who refuse to disagree with God, must now be pressured into accepting the steal, under the guise of 'being humble enough' to admit being wrong. How about 'being humble enough' to keep agreeing with God after even believers and fellow leaders push for abandoning what He has clearly revealed?" Enlow wrote.
In his post, Enlow repeatedly refers to President Joe Biden as the "thief" and the media as his co-conspirators. Enlow believes Biden stole the election through an unprecedented nationwide conspiracy of widespread voter fraud. Trump, his campaign lawyers and Republican Party officials have made this claim in over 60 court cases. Almost all of the cases were dismissed from court due to lack of evidence.
Enlow goes onto say that mid-prayer, he saw a vision of Trump "seated on a throne holding a golden scepter... [with] a golden crown on his head." He said the vision was Trump's "PRESENT status from heaven's perspective."
"Heaven does not recognize [Joe Biden] having any scepter nor wearing any crown. From heaven's perspective, there is only the legitimacy of [Trump]. God has assigned a massive contingency of angels to that scepter and to that crown."
Because Trump had a higher vote count than Biden at the end of Election Night on November 3—before states began counting their mail-in ballots—Enlow argues, Trump actually won the election, fulfilling the prophecies that he would win.
Trump lost the 2020 election by over 7 million popular votes and 74 electoral votes. Nevertheless, a January poll showed that 75 percent of Republicans think that Biden didn't legitimately win the election.
Newsweek contacted Enlow for comment.