Texas GOP Senator Cornyn Criticizes Legal Theory Behind State's Election Lawsuit
Texas Senator John Cornyn has criticized a Supreme Court lawsuit filed by Texas Attorney General Ken Paxton to have the Supreme Court invalidate election results in four key battleground states—Georgia, Michigan, Pennsylvania and Wisconsin. Cornyn said he is unconvinced by the case's legal theory.
Paxton's lawsuit basically says that local officials changed voting policies, including the expansion of mail-in ballots due to COVID-19, without the permission of state legislatures, thus violating Article 2 of the U.S. Constitution. As such, he wants the four states' ballots thrown out and each state's Republican-led legislature to decide who to cast their own electoral votes for rather than casting them for the winner of the popular vote.
"Number one, why would a state, even such a great state as Texas, have a say-so on how other states administer their elections?" Cornyn asked CNN Senior Congressional Correspondent Manu Raju. "We have a diffused and dispersed system, and even though we might not like it, they may think it's unfair, those (election policies) are decided at the state and local level and not at the national level."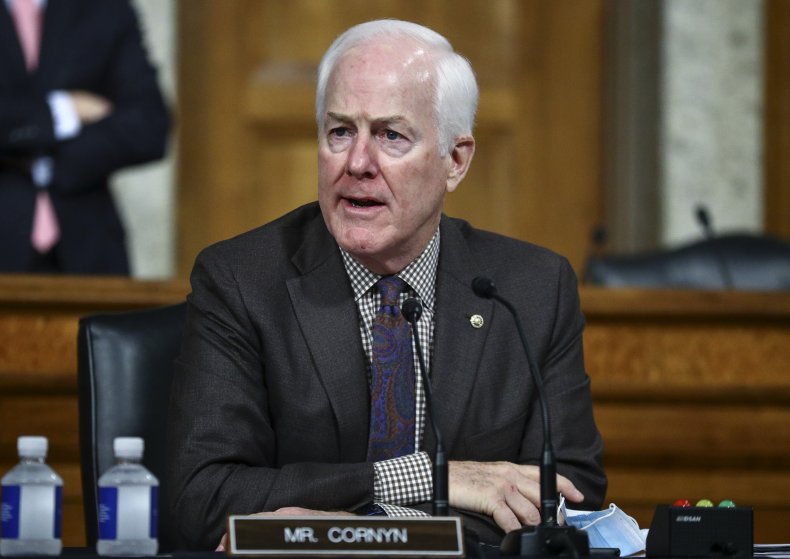 "You know, it's very unusual because when a state sues a state, the Supreme Court of the United States has original jurisdiction, so you don't have to go through the ordinary procedure," Cornyn continued. "I read just the summary of it, and I frankly struggle to understand the legal theory of it... It's an interesting theory, but I'm not convinced."
So far, the Republican attorneys general of 17 red states have signed amicus briefs in support of Paxton's lawsuit including Alabama, Arkansas, Florida, Indiana, Kansas, Louisiana, Mississippi, Montana, Nebraska, North Dakota, Oklahoma, South Carolina, South Dakota, Tennessee, Utah and West Virginia, Vice News reports.
The publication notes that Paxton's lawsuit criticizes other states for changing their election rules without consulting the legislature even though Texas Governor Greg Abbott did something similar by extending in-person voting by a week via executive order.
The attorneys general of the four battleground states mentioned in Paxton's lawsuit have condemned his legal filing as anti-democratic and without merit. Other legal experts have called Paxton's case "dangerous garbage" and a waste of taxpayer money. Paxton is currently facing an unrelated FBI investigation for corruption.
The Supreme Court has ordered the four battleground states named in Paxton's lawsuit to respond by 3 p.m. Thursday. It remains to be seen if the court will hear the case. On Tuesday, the court rejected an effort by Pennsylvania Republicans to invalidate Pennsylvania's popular votes and let the state legislature choose its electors.
Absent any action by the Supreme Court, the Electoral College's electors are set to meet on December 14 to cast their final votes. After that, the final vote count will be approved by the U.S. Congress on January 6, the last formal step to finalize the election's results before Inauguration Day on January 20.
Despite claims by Republicans and President Donald Trump that widespread voter fraud threw the election in favor of President-elect Joe Biden, 51 of the 52 fraud cases filed by Republican and Trump's re-election campaign have been dismissed or withdrawn from court due to lack of evidence.
Newsweek contacted Cornyn's office for comment.