Pastor at Southern Baptists' Meeting Called Out Trump 'Political Whores'
Pastor Kevin Smith called out some Southern Baptists for being "political whores" to former President Donald Trump while speaking at the recent meeting of the Southern Baptist Convention (SBC).
At the Anaheim, California, event, which was held earlier this month, Smith spoke about how he has seen the Southern Baptist denomination change in the past decade, and he called particular attention to the racism he said he has seen from some members.
According to the pastor, some Southern Baptists "lost their minds" when "a Black man was elected president," referring to Barack Obama's historic victory in 2008. "I don't mean agree about politics or policy or nothing," said Smith, who is Black. "I just mean giving a darn that somebody else is hurting who is supposed to be your brother or sister in Christ, and I think some Southern Baptists just bent over and became political whores with this whole Trump stuff."
The Southern Baptist denomination has historically been one of the most conservative evangelical branches of Christianity in the United States. According to a Pew Research poll from 2016, 64 percent of Southern Baptists said they identify as a Republican, while only 26 percent identified as a Democrat. Only Mormons and members of the Church of the Nazarene were more closely aligned with the Republican Party, the poll said.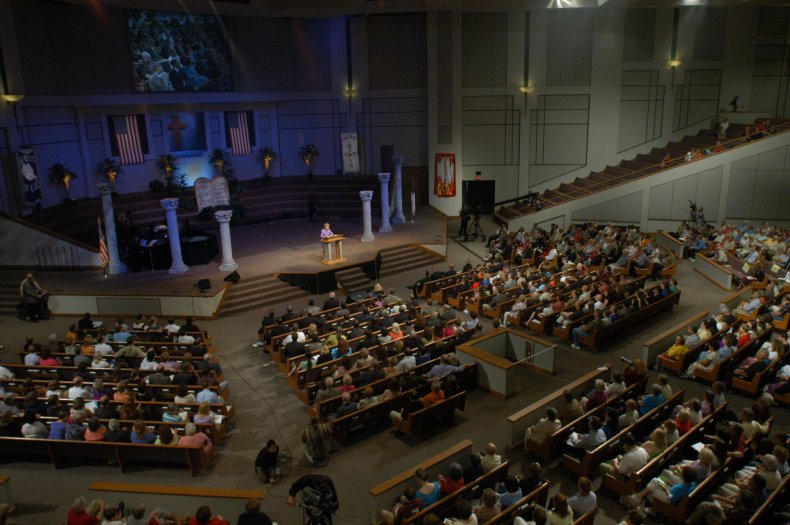 Smith, the teaching pastor at Family Church in Palm Beach, Florida, was previously the executive director of the Baptist Convention of Maryland/Delaware, according to Protestia, a news website associated with the Fellowship Baptist Church in Sidney, Montana.
At the SBC's meeting, he also asked if people of color who are members of the Southern Baptist denomination are "feeling like they're tolerated but not really embraced." He added that he still has "genuine friendships" with members of the denomination.
His comments have drawn criticism from some members of the denomination.
Protestia wrote: "As far as becoming political whores and bending over so the bad orange man could impregnate us with racial ideologies, this is not the winsomeness that he was insisting we emulate during his later conference talk that he gave in front of the whole convention, making him quite the hypocrite."
On Twitter, Tommaso Pasquarella wrote that "@smithbaptist is not the problem, though his words are wrong and sinful to be sure, it is men of conviction that would allow this type of speech demeaning men because of their skin color. Many lumped up for the sin of some which seems part and parcel of the new SBC."
Smith is not the first person to raise concerns about racism among Southern Baptists. In 2017, leaders at the SBC's annual meeting initially rejected a resolution condemning white supremacy and white nationalists, sparking outrage from Black members of the denomination. The chairman of the SBC's Committee on Resolutions referred to "inflammatory language."
Black pastor Thabiti Anyabwile tweeted at the time, "Any 'church' that cannot denounce white supremacy without hesitancy and equivocation is a dead, Jesus denying assembly."
Newsweek reached out to Smith for comment.