Located on 180 bucolic acres in western Pennsylvania's Amish country, Grove City College is considered by some to be one of the most doctrinally pure Christian campuses in the country.
Subsidized by the Pew family - devout Presbyterians who a century ago made their fortune in the oil business and later founded Pew Charitable Trusts - the college, set amid Neo-Gothic buildings, spacious green lawns and century-old trees, is home to a small minority student population. It has become a flashpoint for efforts to open up conversations about race and diversity across the nation's roughly 1,000 religiously affiliated colleges and universities.
Critics have accused it of promoting critical race theory, an academic concept that sees racism as ingrained in the fabric of American society and its legal systems. The furor arose after a series of events that included inviting Black author Jemar Tisby, who wrote the 2019 book The Color of Compromise: The Truth about the American Church's Complicity in Racism, to speak in the campus chapel soon after the college formed an advisory council on diversity.
Reaction was swift. One month later, a protest petition signed by 489 parents, alumni, donors and students claimed that "a destructive and profoundly unbiblical worldview seems to be asserting itself at GCC, threatening the academic and spiritual foundations that make the school distinctly Christian. That worldview is Critical Race Theory (CRT)."
The petition continued, "As biblically grounded Christians, we are not defensive about racism. Where it exists, we should repent of it. We are concerned, though, when our students are falsely convicted and unbiblically indicted simply because of their skin color."
Numerous parents chimed in, including one woman from Fairfax, Va., who wrote, "We sent our children to GCC for a Christian education and to escape the indoctrination, intimidation and rejection of biblical truths at other places. We did not sacrifice for CRT." Most offensive, she added, was the suggestion that "ALL white people are racists, and especially all white males."
The debate - which is widespread among evangelicals - has become so dire in the minds of some that last July, the website gospelshapedfamily.com posted a list of "Christian Colleges Without Critical Race Theory." The Christian website classicaldifference.com posted a list of questions for parents to pose to the admissions departments of any Christian college their child is considering. They include:
1) Does your college have a "Diversity and Inclusion" officer, or a person with a similar purpose?
2) Does your college have courses in Critical Race Theory, "white privilege," or "diversity and inclusion"? Is there any such course in your required coursework? (Look at their degree requirements to confirm.)
3) Does your college restrict and punish speech against BLM (Black Lives Matter), CRT, or other culturally Marxist ideologies by students? For example, would a student's debate or rejection of BLM or "white privilege" on social media be a concern for the college?
4) Does your college have professors who promote CRT on campus?
5) Has your college taken a stand against LGBTQ activism on campus?
Grove City College President Paul J.McNulty, who has spent the past few months trying to respond to objections at his institution, says no one is betraying the school's mission or its Reformed (Presbyterian) traditions.
"It's amazing how a school as conservative as we are can be a flashpoint, which reveals how troubled people are about critical race theory," he said. "I appreciate the concern, but we need to find a way to talk about race without appearing to promote critical race theory. Of course we don't promote a Marxist position on these things. That is contrary to what we're all about."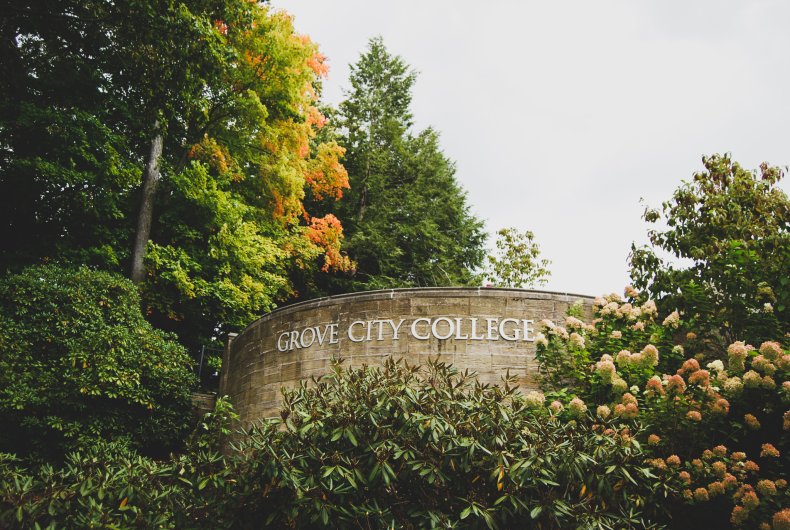 Critics have equated critical race theory to Marxism because the former defines individuals largely in terms of group identity – race, class, sex, ethnicity, sexual preference - and the latter splits those groups into oppressors and the oppressed.
The college, which is located midway between Pittsburgh and Erie, Pa., has been debating the issue for a year and a half. Last week, a group of faculty - dissatisfied with the lack of progress on the matter - threw down the gauntlet to Grove City's Board of Trustees in a lengthy statement. It accused McNulty of actions "unbecoming of a Christian college president" and of students being "encouraged to confess their white guilt" and forced into "hostile philosophies and social experimentation."
"Students were told that to exercise authentic Christian faith and truly love their neighbor, they had to confess their complicity in an unjust social order and actively join a resistance movement that affirms a worldview contrary to the legacy of key institutional figures such as the College's first President, Isaac C. Ketler, its longest-serving Board Chair, J. Howard Pew, and famed Economist Hans Sennholz," it said in part.
Plans are to present the statement to trustees at an upcoming board meeting.
McNulty called the statement "unnecessarily damaging," adding he's convinced a majority of the faculty don't agree with it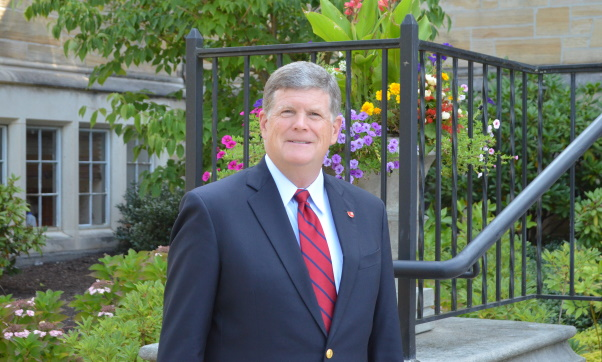 Paul J. McNulty is president of Grove City College in western Pennsylvania.
Grove City College
"My door is always open," he said. "I welcome critical feedback on how we can be more biblically faithful in our work."
The effort has spawned much discussion on Twitter on accounts such as CRT@GCC with this subtitle: "Documenting the GCC downgrade." Joshua Abbotoy, a private equity lawyer in Sugar Land, Texas, who is coordinating much of the dissent, says certain faculty - whose names remain anonymous - approached him after what they felt was a lackadaisical response by McNulty to previous concerns.
"I wanted to help the petition signatories get traction as (I) thought it was a worthy cause and these sorts of petitions can sometimes be disregarded unless people outside the institution help to amplify them," said Abbotoy, who is also executive director for the American Reformer, an online journal devoted to reforming Christian institutions.
He declined to say how many faculty were involved. By the middle of the week, a counter-petition by faculty loyalists was in the works.
Critical race theory sprang back into public consciousness after the May 25, 2020, death of George Floyd, a Black man, at the hands of three Minneapolis police officers. By early 2021, some evangelicals were seeing critical race theory as part of a Marxist worldview that demonizes western (and Christian) culture, instead of a useful tool for understanding racism.
At issue is a "victimhood culture" that parodies Christianity, says Nancy Pearcey, an apologetics professor at Houston Baptist University, an exceptionally diverse campus with 73 percent of its student body being racial minorities.
"Victimhood culture is genuinely new," she says. "No other known society has claimed moral authority on the basis of victim status. Where did it come from?"
The answer is a Marxism that appropriates Christian themes of compassion for the oppressed, the marginalized and outcast, she says, to a Marxist structure where "the driving force in history is economic — the struggle between capitalists (oppressors) and the proletariat (oppressed)."
Floyd's death put tremendous pressure on all institutions, including Christian ones, to respond in some way, prompting the debate. The evangelically minded Azusa Pacific University, just east of Los Angeles, assembled a lengthy anti-racism resources list. At Biola University, a Christian college just south of Azusa, President Barry Corey, who had earlier apologized to the student body for being insensitive to race issues on campus, promised a new array of diversity initiatives.
At Grove City College itself, a quartet of white alumni affiliated with the Black Lives Matter movement demanded the resignation of political science professor Paul Kengor, whom they accused of being a white nationalist for his characterization - in a column - of the Oct. 27, 2018, shooting at the Pittsburgh Tree of Life synagogue. Kengor, who has an adopted Black son, called the accusations a "smear."
"Gee, I didn't even vote for Donald Trump," he told Newsweek. "I wrote dozens of articles against him in 2016, infuriating many longtime conservative readers of mine. But sadly, this is the toxic environment we now live in."
Faced with blowback from students and other alumni, the quartet withdrew its complaint.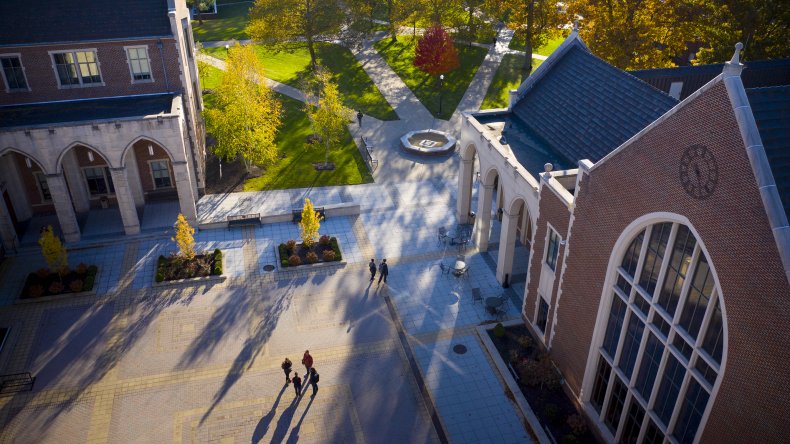 "When it comes to critical race theory, there are three responses you'll get in the Christian college network," says Scott Rae, an ethics professor at Biola. "Some will reject everything about it, and often people attempting to address race responsibly are presumed to be CRT proponents when they actually are not.
---
"On the other hand is the group that's bought into it uncritically. Then there's a group in the middle that sees critical race theory as having some value as a diagnostic tool, but when it comes to prescriptions as to what to do about racial issues - not to mention a full-blown ideology - that is when it goes off the rails."
Evangelical groups that fall into Rae's first category are fighting back. One Christian publication circulated the names of "woke" Christian institutions, including evangelical stalwarts such as Wheaton College near Chicago (Billy Graham's alma mater); Baylor University in Waco, Texas, and Samford University in Birmingham, Ala.
Last April, Wheaton's first-ever "Racialized Minorities Recognition Ceremony" got some criticism and tellingly, a YouTube video for the event had the comments turned off. In an interview last April with the magazine Sojourners, Wheaton philosophy professor Nathan Cartagena said teaching his class on critical race theory was "much harder" because some students were saying the theory "is of the devil." Cartagena did not respond to a request by Newsweek for comment.
At Baylor, its mandatory diversity training for staff, students and faculty, along with a board of regents resolution acknowledging "the University's historical connections to slavery and the Confederacy," got a withering critique from Anglican priest Gerald McDermott, editor of the 2020 book "Race and Covenant: Recovering the Religious Roots for American Reconciliation."
"Some at the college continue to teach the same woke axioms found at most secular colleges today — that America is systemically racist because of ongoing white privilege and that white students need to repent of their ancestors' racism because it is their own," he wrote for the website First Things. "Baylor's Office of Equity and Inclusion has promoted these messages in student orientation, Student Life programs, some chapel programs, and in some classrooms. Rarely, however, are these teachings subjected to public academic critique."
A college spokeswoman said McDermott's words are "a gross mischaracterization of the president's message" but would not elaborate further.
McDermott, who headed up the Beeson Divinity School at Samford before retiring in 2020, had even worse criticisms about his former employer. He particularly objected to a new requirement in a racial justice task force report that mandates every student organization or club have at least one diversity event per year to maintain its status.
"Parents might wonder why a math or chess club must talk about race in order to survive," he wrote.
In response, a Samford University spokeswoman called McDermott's appraisal inaccurate and said the university remains true to its Christian roots.
"He also makes exaggerated claims about requirements that math, science, and music classes must take out something to make room for lectures on why America is systemically racist. No such recommendations were articulated in the report," spokeswoman Holly Gainer wrote Newsweek.
But there is a need to change the racial atmosphere around Samford, according to Birmingham Watch, an independent newspaper. Black students at Samford have been treated badly for years, it said in July 2020, in having to endure "exclusion from student groups' events based on race; offensive stereotypes; assumptions that black students were accepted to Samford based on athletic rather than academic achievements; different treatment by white professors or coaches compared to their white peers; judgment for interracial dating; casual use of racial slurs by white students; and the unofficial racial division of the campus cafeteria."
The above three are among many other colleges being mentioned in various Christian blogs, media and at the universities themselves.
At Grove City, feelings continued to smolder throughout 2020 and into 2021.
One flashpoint was Tisby's appearance. Tisby, who holds a master's degree in divinity from Reformed Theological Seminary in Jackson, Miss., seemed a safe bet because of the solid theological reputation of the seminary, where Tisby worked as assistant to the chancellor. Tisby was invited to address students on Oct 20, 2020, in the college chapel, an encounter that some students felt was thinly disguised critical race theory garnished with Bible verses.
"In retrospect, inviting Tisby to give a chapel address may have been a mistake," admitted Grove City biblical studies professor Carl Trueman in a Dec. 6 essay on the college's Faith and Freedom Institute site. "A chapel address carries a certain institutional imprimatur that a simple guest lecture does not..."
Tisby's address – and the president's earlier formation of an Advisory Council on Diversity to address student recruitment, staff hires and "broadening perspectives" campus-wide – made some suspicious. Out of a total of 1,998 undergraduates, the college has 172 non-white students, or 7 percent. The majority are international, Hispanic or Asian. Only 15 are black.
"When I meet with minority families, particularly Black families, they ask me to talk to them about diversity because they don't see many Black students," McNulty said. "I tell them I want our campus to be a place where their sons and daughters feel welcome."
Students also fumed about training sessions for resident assistants that implied the campus as a whole is racist. Others in an education studies class didn't like its requirement to read How to Be an Anti-Racist by Ibram X. Kendi, White Fragility by Robin DiAngelo, Between the World and Me by Ta-Nehisi Coates and David W. Swanson's Rediscipling the White Church.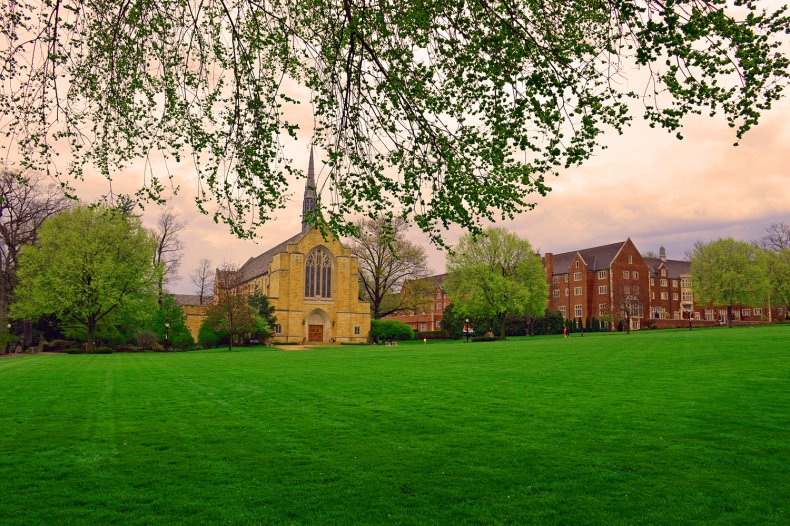 Frustrated by how the college seemed to be sliding into wokeness, an ad hoc group of students, alumni and parents posted the protest petition. One of the signers was Nathan Franklin of Bay City, Mich., who called CRT "a communist Trojan Horse designed to destroy our young people."
He added, "I'm a black lawyer with a nephew and a niece having gone through GCC, and I've seen the damage that race hustlers and white liberals have done."
Franklin, who has a white stepdaughter and biracial relatives, said in an interview that critical race theory equates whiteness with sinfulness.
"One of the things they promote are that white people are inherently evil, they are depraved, they can't promote racial justice," he said. "It's almost a religion that has no business within the halls of education."
But many Christian colleges seem to be on board with at least some of its tenets. The largest group of 185 - mostly evangelical - Christian colleges, the Council for Christian Colleges and Universities (CCCU), met last week in Dallas for seminars with titles such as "At the Table, but Not Equally Served: Thriving in Black and Latino Men at CCCU Institutions" and "Decentering Whiteness in Teacher Education Programs at Christian Universities."
Grove City College does not belong to the CCCU because the Pew fortune has allowed it to turn down all federal funding for programs and scholarships, making it unusually independent for a Christian college. (The college went to the Supreme Court in the 1984 Grove City College v. Bell case over whether it had to abide by Title IX requirements regarding discrimination based on sex, if students received federal financial aid, particularly regarding women's sports. It lost, and subsequently declared its independence.)
Grove City has also bucked national trends – among secular institutions as well –in declining student enrollment. In August, it announced its freshman class was up 20 percent (from 527 in 2020 to 629 this year).
McNulty said he has met privately with some of the petition signers and has reemphasized that chapel services will focus on biblical teachings with more controversial topics assigned to evening convocations. Although he disagreed that Tisby pushed critical race theory in his 2020 remarks, it might have worked better, he admitted, to have framed the topic as a debate with two opposing sides.
"It's a tough time being evangelical," he said. "There's a real divide and it's hitting everyone in many ways."
Rae, who is also dean of faculty at Talbot School of Theology, said Christian colleges have a theology of the sinfulness of human beings, which makes palatable the idea of sinful structures as well as sinful individuals. Where evangelicals differ is whether racism is purely individual (the traditional view) or embedded in systems (more of a Marxist stance).
"There's a good deal more diversity of thought at Christian colleges than at state universities," he said. "Christian colleges actually have conservatives on campus, so the conversation is a bit different there."