Patricia Heaton Accuses Disney of Castrating Buzz Lightyear With Recasting
Patricia Heaton has launched a scathing attack at Disney for recasting Tim Allen with Chris Evans in a move which she says has castrated the character of Buzz Lightyear.
The famous sitcom actress gave her take on the new Pixar movie Lightyear, which is an origin story of the Toy Story character. Her take on the recasting caused a stir online with thousands of Twitter users arguing with her opinion. Heaton, known for her roles in Everybody Loves Raymond and The Middle, did follow up her controversial tweet and stepped back somewhat but she still implied it was a "stupid Hollywood decision."
Some of those who clapped back at Heaton accused her of "perpetual victimhood."
After seeing the trailer for Lightyear, Heaton wrote on Tuesday: "All I can say is Disney/Pixar made a HUGE mistake in not casting my pal Tim Allen in the role that he originated, the role that he owns." She added: "Tim IS Buzz! Why would they completely castrate this iconic, beloved character?"
While thousands appeared to agree with Heaton's opinion by liking and retweeting her, many others decided to mock and argue with her.
Writer Wajahat Ali retweeted Heaton's initial message and assured the actress that Allen will be just fine. He said: "Perpetual victimhood. Tim Allen is a multi-millionaire with a Disney+ project in the works. Life is very good for him. All shall be well." Twitter user @BlakeTapper agreed with Ali. "Tim Allen has a Disney+ series coming out this fall (The Clauses) but that's not enough for the cult of constant victimhood," he said.
Three hours after her first tweet, Heaton added to her opinion. "Ok so the current Buzz Lightyear movie is an origin story—but the reason the character became so beloved is because of what [Tim Allen] created," she wrote. "Why remove the one element that makes us want to see it?" Heaton then followed up the tweet with the hashtag "stupid Hollywood decisions."
Heaton once again received a range of replies from Twitter users. Tim Allen, who has his own social media account, has not replied or interacted with Heaton's tweet.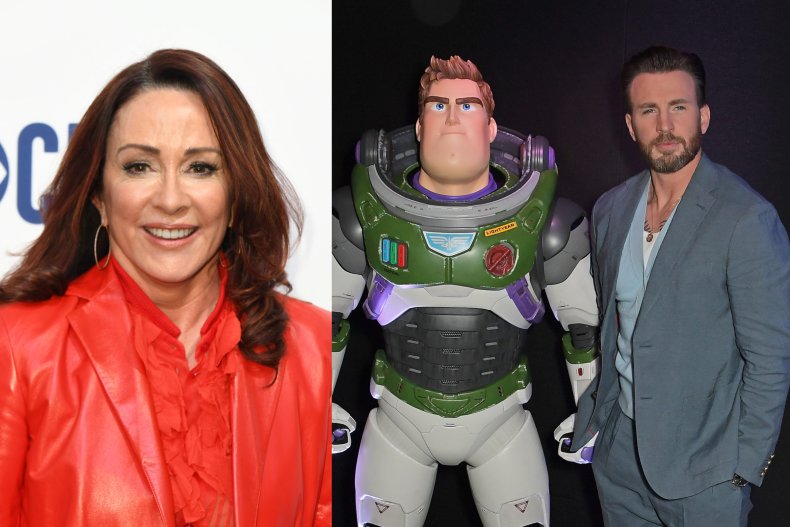 "While I love Chris he should stick with Captain America. Tim is and always will be Buzz," replied @TraceyMarieJame. Another Twitter user, @Whitediamonds07, agreed: "I was dying to bring my 6 year old this, as I LOVE Buzz Lightyear, but after learning [Tim Allen], THE STAR of the hit, isn't it—I'm going to pass!"
Many others pointed out that this isn't the first time the character of Buzz Lightyear has been voiced by another person. Actor Patrick Warburton voiced a version of the space ranger in 62 episodes of the 2000 cartoon series Buzz Lightyear of Star Command.
Comedy filmmaker Peter Atencio mocked Heaton's take on the situation by taking her use of the term "castrate" a little too seriously. "Hey Patricia! Totally agree, the castration scene in the movie felt unnecessary and gross in light of the casting choice. Seeing Buzz's genitals was arousing, but knowing they weren't the penis and balls of the Tool Man himself really steamed me!" he wrote.
The reason for the recasting in the movie is because this is a different version of Buzz Lightyear, as confirmed by Lightyear's director Angus MacLane. He told Vanity Fair: "Tim's version of Buzz is a little goofier and is a little dumber, and so he is the comic relief. In this film, Buzz is the action hero. He's serious and ambitious and funny, but not in a goofy way that would undercut the drama."
Lightyear tells the story of the human version of Buzz Lightyear, the man that inspired the toy that we see in the Toy Story movies. Lightyear hits movie theaters on Friday, June 17, with Captain America actor Evans voicing Buzz. His co-stars include Keke Palmer, James Brolin, Taika Waititi and Bill Hader.
Newsweek will be publishing interviews with the cast and creators of Lightyear in the days leading up to its release.