Patrick Mahomes Injury Update: Will Kansas City Chiefs QB Play in Week 10 vs. Tennessee Titans?
The Kansas City Chiefs will not be rushing Patrick Mahomes back into action, as the reigning NFL MVP continues to recover from a dislocated kneecap he suffered three weeks ago.
Mahomes suffered the injury as he attempted a quarterback sneak during the Chiefs' 30-6 road win in Denver against the Broncos in Week 7.
The 24-year-old appeared to have his knee popped back into place while he was receiving treatment on the ground, before being helped off the field.
Mahomes subsequently underwent an MRI scan which showed no sign of ligament or cartilage damage and put the recovery timetable to between three and six weeks—even though, bizarrely, some suggested Mahomes could return in Week 8 against the Green Bay Packers.
Three weeks have now passed since the Texas native sustained the injury, but Chiefs head coach Andy Reid poured could water on speculations the reigning MVP will be back in action on Sunday when Kansas City travels to Tennessee to face the Titans.
"We won't put him out there unless it's safe to do so," Reid told reporters on Wednesday, as reported by Adam Teicher of ESPN.
"It's day-to-day. We'll get both [quarterbacks] ready to go, like we did last week."
At the same time, Mahomes was listed as full participant in practice on Wednesday and the Chiefs are yet to announce their starting quarterback for Sunday.
Both factors suggest Mahomes could in fact start in Nashville on Sunday, when the Chiefs look to improve their record to 7-3.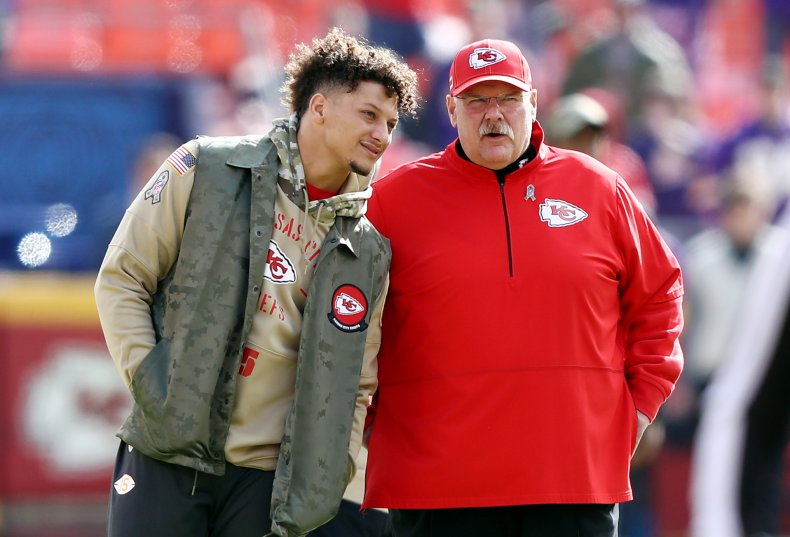 Whether the Chiefs signal caller's recovery progresses rapidly enough throughout the week to convince Reid to start him remains to be seen, but Mahomes returning to full practice is a major step in the right direction.
Should the reigning MVP not be fit to start against the Titans, Kansas City will again turn to Matt Moore, who has proved to be a competent replacement.
The Chiefs are 1-1 with the veteran quarterback under center, losing 31-24 at home against the Packers and beating the Minnesota Vikings 26-23 last week.
In his two starts this season, Moore has thrown for 542 yards and three touchdown passes, with a 69 percent completion rate.
After the trip to Tennessee, the Chiefs face back-to-back matchups against AFC West rivals, traveling to Los Angeles to face the Chargers before hosting the Oakland Raiders with a bye week sandwiched in between.
The game against the Raiders is followed by a trip to New England in a matchup that could a long way towards deciding the AFC rankings going into the playoff.