Patrick Mahomes' Face at NBA Game Sparks Jokes—'Does Not Wanna Be There'
Patrick Mahomes is enjoying some down time after winning his second Super Bowl with the Kansas City Chiefs, but some are questioning whether he really wants to be spending it at a basketball game.
Pictures of Mahomes with his wife, Brittany Matthews Mahomes, were shared on social media as they watched the clash between the Los Angeles Lakers and the Dallas Mavericks at American Airlines Center in Dallas.
ESPN tweeted that the Chiefs quarterback was focused on the finale of the Lakers and Mavericks game, writing: "Patrick Mahomes locked into the ending of Lakers-Mavs"
Mahomes didn't look over-enamored about being court side, with wife Brittany sat next to him, as he looked like he was staring into the middle distance rather than concentrating on the end to the Lakers' three-point win over the Mavericks.
One jokingly replied: "Bruh does not wanna be there with her💀💀"
There were a number of others who replied to the tweet, with a common theme of that Mahomes looks like he wants to be anywhere apart from there.
A second person added: "That don't look locked in lol more like bored."
Another mused as to whether he had reached his limit of patience with his wife and brother, Jordan Mahomes, who have come under fire for their celebrations especially since the Chiefs beat the Philadelphia Eagles 38-35 in the Super Bowl.
One commented: "He is fed up with her and his pathetic brother."
Another added: "Every time he's around his family in public and not for social media photoshoots he looks like he HATESSSS his life."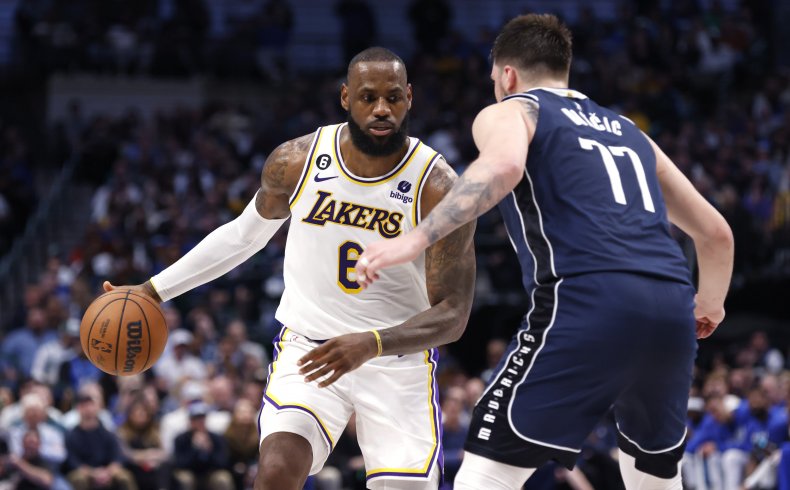 Mahomes had played through the pain of an ankle injury, which restricted him during the NFL playoffs, taking painkillers to help him through the final big game.
One mused that this was why Mahomes looked zoned out from the action. commenting: "He still on whatever they gave him so he could finish the Super Bowl."
As if preempting the jokes about her husband's demeanor at the NBA game, Brittany posted a happy, smiling pic of them together on her Instagram Story which showed that Patrick was indeed enjoying the time spent with his wife, watching basketball.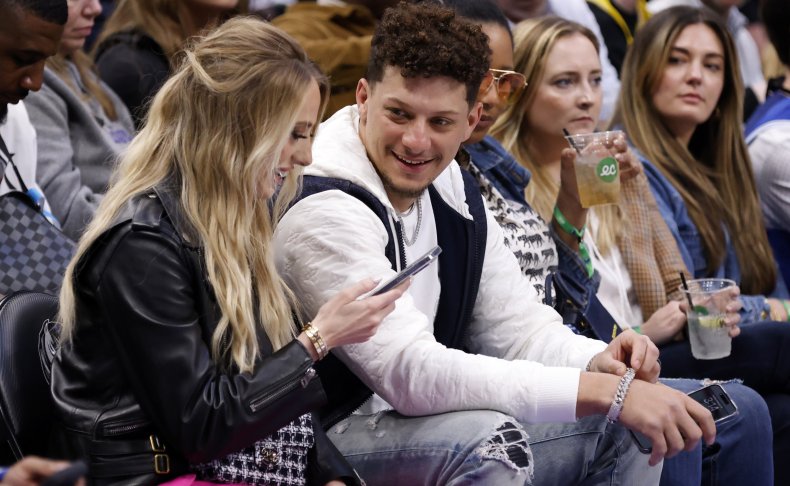 Brittany has been the center of attention for much of the aftermath of the Super Bowl as she slammed those who have criticized her celebrating her husband's successes.
A Chiefs fan account posted a photo of the Mahomes celebrating together along with the caption on Twitter: "This one's for the haters."
Brittany is seen with her arms around her husband, Patrick, as he holds a selfie stick to take a photo of their happy moment together.
Matthews Mahomes showed her delight at the post by liking it, along with more than 9,000 others, an apparent swipe at those who have been tearing into her over the past months.
Do you have a tip on a sports story that Newsweek should be covering? Do you have a question about the NBA or NFL? Let us know via entertainment@newsweek.com.