Paul Gosar Blasted for Promoting Nick Fuentes' 'Most Canceled Man' Film
Arizona GOP Representative Paul Gosar came under fire on Twitter Friday after promoting a documentary that follows Nick Fuentes, a white nationalist with whom Gosar has a history.
In the tweet, Gosar, who represents Arizona's fourth district, reposted a trailer first published in August about the documentary "The Most Canceled Man in America," a film that follows "young political activist" Fuentes after he has been "openly targeted by the U.S. government for his involvement in nationwide protests and the events of January 6," reads the documentary's IMDb page.
Gosar made a comment about "persecuted" Christians and conservatives along with the tweet, saying that the treatment they have received from "the Biden Regime brings great dishonor to our country."
"If Americans do not have the freedom to dissent, then they have no freedom at all," Gosar added.
The tweet received a wave of backlash, including from Christian Vanderbrouk, a member of the organization 43 Alumni for America, composed of former GOP staffers who supported President Joe Biden in the 2020 election.
"You should know that when GOP congressman Paul Gosar talks about 'persecution against Christians and Conservatives' here he's actually referring to the country's most prominent neo-Nazi," Vanderbrouk wrote in response to Gosar's tweet.
"Nick Fuentes is a literal Nazi," wrote author Dennis Perkins, who also responded to Gosar's tweet. "But so are you, so that tracks."
Arizona House Candidate Ruben Gallego, running for Arizona's third district, also commented on Gosar's post: "Paul, Nick Fuentes is a white supremacist and incel why are you defending someone like that?"
"I would say to all these incels and Fuentes supporters to get off the internets it's Friday go out and have fun," Gallego added. "But this is their extent of social interaction."
Some Twitter users responded with support for Fuentes, including host of the Killstream podcast, Ethan Ralph, who replied to Gallego's tweet, "Nick Fuentes is an American Patriot!"
Another user, Tenryo, responded to Gosar's original comment, thanking the congressman for "having the integrity that very few in office have."
"You are a treasure to our country and your hard work and perseverance will forever be greatly appreciated!" Tenryo added.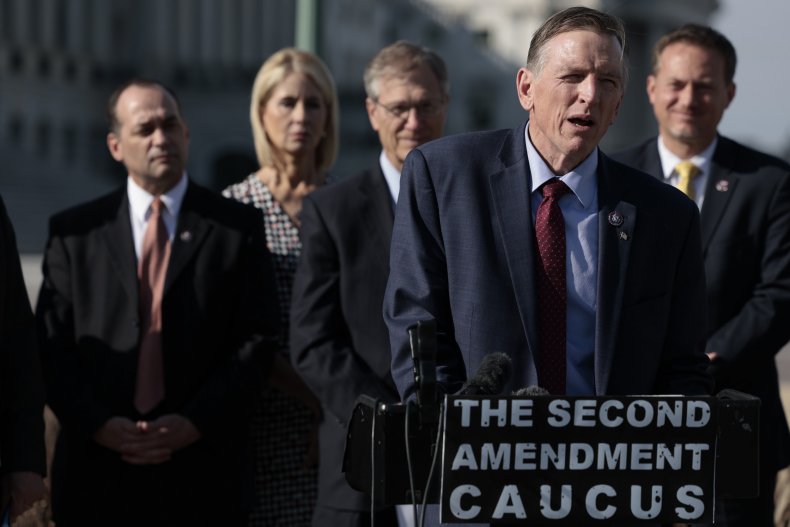 Gosar has a history of interactions with Fuentes, including after attending the American First Political Action Conference (AFPAC) in February 2021, an annual white nationalist and far-right political conference hosted by Fuentes.
In April of this year, however, Gosar seemed to have cut ties to Fuentes after coming under fire for recording a welcome message that played at this year's AFPAC. When asked about the conference, Gosar told Politico that the video message was a "miscommunication" and that the recording was intended to go to other political groups.
"I've given up on dealing with Nick," Gosar told Politico at the time. "Nick's got a problem with his mouth."
Other Arizona GOP candidates have also come under scrutiny during this midterm election cycle for endorsing white supremacists, including gubernatorial candidate Kari Lake. In August, Lake endorsed an Oklahoma legislative candidate who was quoted saying that "the Jews" are evidence that "evil exists." According to the Arizona Mirror, Lake called the candidate a "patriot."
Lake, however, has also spoken out against white nationalists, reported the Mirror, denouncing an endorsement in July from Andrew Torba, founder of the far-right social media platform Gab.
Newsweek has reached out to Gosar's team for comment.