Kari Lake Pulls Endorsement of Oklahoma State Senate Candidate Jackson
Kari Lake, the Republican candidate for governor in Arizona, on Monday rescinded her endorsement of an Oklahoma state Senate candidate who has made repeated homophobic and anti-Semitic comments, as well as peddled conspiracies such as saying that "COVID shots kill."
Lake, a 2020 election denier who is in a tough race of her own, initially called Republican Jarrin Jackson a "winner." Jackson, too, maintains that "Trump won" the last presidential election.
Jackson edged Ally Seifried in the June primary and will face her again in a runoff election on August 23, with the winner taking on Democrat Jennifer Esau in November. Jackson has described his campaign as "a return to the basics, to repent for our obedience to tyrannical government and to obey God."
Andrew Clark, a spokesperson for Lake, said that the endorsement has been rescinded, referring Newsweek to an Axios story in which Lake is quoted as saying: "if [Jackson's] comments were true," she would take back her endorsement.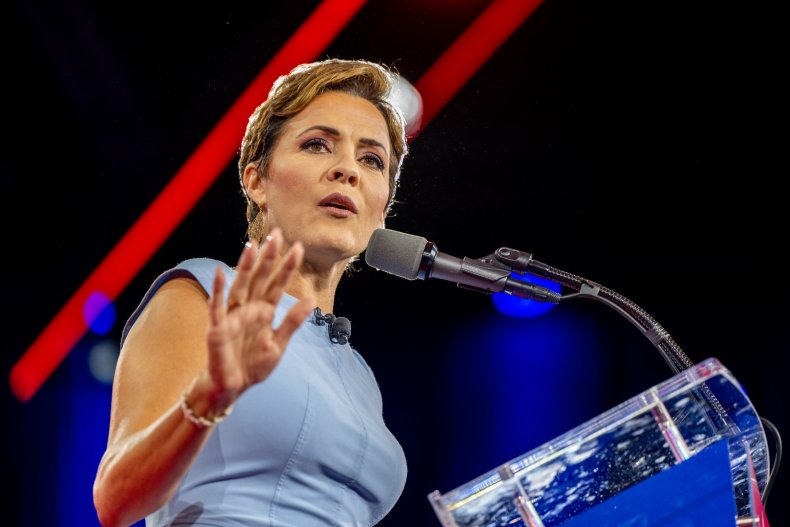 "I looked at Jarrin's resume as [a] combat veteran in Afghanistan," Lake was quoted as saying. "It is impossible to dig into everything someone has said in their life. If his reported comments are true, I [will] obviously rescind my endorsement."
Jackson has posted comments on his Telegram and Rumble social media accounts regarding Jewish and LGBTQ people, including one Telegram post on June 4 saying, "People find two men kissing as disgusting as maggots on food" and another equating Pride Month to "Groomer Awareness Month."
"There's no such thing as homosexual marriage," he also wrote on Telegram. "God made marriage man + woman. Conservatives CONSERVE God's order. Sin is not God's order."
Lake said that she respects Jackson's service but clearly denounces his "derogatory language," adding, "Our great movement welcomes anyone and everyone who wants to fight for a better future."
In a video in June—Pride Month—Jackson said being gay "is the most disgusting, despicable, stupid blehh [gagging noise] thing ever. Insert barf emoji. And yet, we're supposed to celebrate this and supposed to treat it like it's normal?"
Liberal watchdog Media Matters reported that on his Telegram page, in a February 6 post that has since been deleted, Jackson mentioned Jews and the COVID-19 pandemic following the viewing of a right-wing documentary about enemies of Christianity.
"Outline & detail the evil. ... The Jews, Illuminati, Covid shots kill," Jackson wrote. "Rothschilds. Communists. Woke pastors. Social gospel. Christ will chuck a bunch of stuff in the fire."
Other online posts have said he is "not beholden to Jews."
"The godless commies gaslight bc they hate the gospel of Jesus Christ," Jackson wrote on Telegram in response to an @StopAntisemites tweet that called him out for his previous statements.
Aside from saying elections should be held on just one day with same-day results and "conducted using watermarked paper ballots," Jackson said that "sexual 'liberation' and Darwin's lie of evolution have misled an entire generation of Americans to believe that God does not exist and that degenerate sexual behavior should be accepted."
Jackson is a former infantry officer who served multiple tours in Afghanistan and now "owns and operates an ammunition company with customers in every state except those that hate guns."
"We need fighters in EVERY state, that's why I'm proud to endorse Jarrin Jackson for Oklahoma state senate!" Lake said in her endorsement. "Jarrin is an America First patriot and does so much to advance our America First movement. RINOs & the Soros media attack him relentlessly because he's over the target."
"I am honored to be endorsed by the #AmericaFirst (and Trump-endorsed) warrior who drained the McCain swamp in Arizona and is now the GOP nominee for governor in Arizona - Kari Lake," Jackson tweeted Wednesday following Lake's endorsement. "She is a rising star and her endorsement is a big deal! Thank you, Kari!"
A born-again Christian, Jackson describes himself as a "pro-Donald Trump, pro-election integrity" candidate who intends to put an end to "grooming and radical education of children in school" and critical race theory.
"I am running for Oklahoma's State Senate to defend Oklahomans against further communist infiltration, and to change our path from godlessness to humility and hard work," his campaign website says. "The rule of law is ignored because people do not fear God. The Bible is God's word and is sufficient for leading a prosperous and peaceful life. Public officials need to appeal to the authority of Scripture more often and with greater deliberation."
Newsweek reached out to Jackson and Seifried for comment.
Update 8/22/22, 2:05 p.m. ET: This story was updated new information and a different headline to reflect Lake pulling her endorsement.