Kari Lake's Chances of Beating Katie Hobbs for Arizona Governor
Arizona Secretary of State Katie Hobbs will face Donald Trump-backed Republican and former TV anchor Kari Lake in the governor's race following a hotly contested GOP primary.
Lake, who has called for the decertification of the 2020 presidential election and said she would not have certified President Joe Biden's victory, scored a narrow victory in the Republican gubernatorial primary this week against rival Karrin Taylor Robson.
Robson had the support of former Vice President Mike Pence and Arizona's Republican Governor Doug Ducey, who is term limited, but former President Trump backed Lake.
Polling in the Arizona governor's race has been relatively limited so far, but the most recent surveys appear to be good news for Hobbs, who won the Democratic nomination by a wide margin on Tuesday.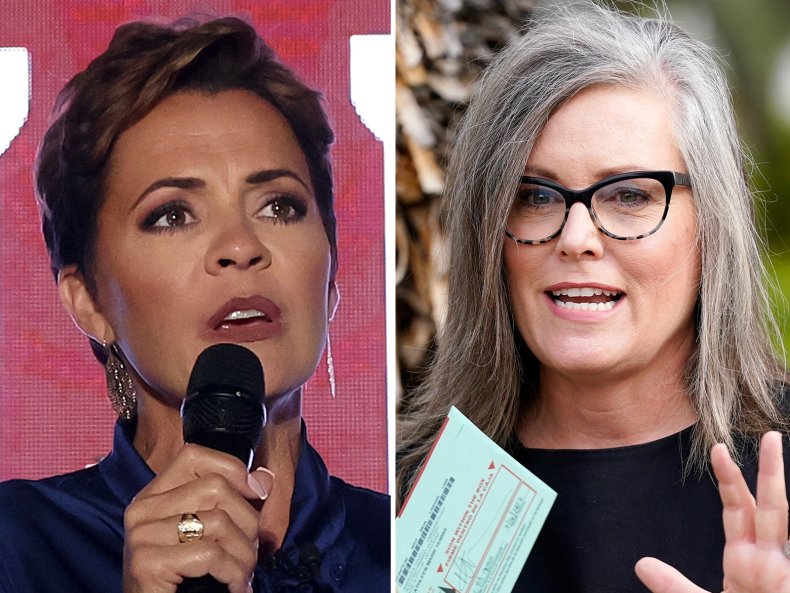 Both the Cook Political Report and poll tracker FiveThirtyEight currently rate the race a toss-up, but FiveThirtyEight also notes that Hobbs is "slightly favored to win."
The three most recent polls show the Democrat with a notable lead over Lake, though these polls were conducted before Tuesday's primaries and therefore before Lake became the official GOP candidate.
A Beacon Research poll conducted from July 5 to 20 among 504 likely voters found Hobbs with 49 percent to Lake's 40 percent, while Hobbs led with 43 percent to Lake's 38 percent among the 802 registered voters surveyed.
A TargetSmart poll from June 28 to 30 showed Hobbs with 47 percent support to Lake's 38 percent among the 704 likely voters surveyed, while a GQR Research poll conducted from May 9 to 15 also showed a lead for the Democrat.
The GQR Research poll found Hobbs enjoyed 50 percent support among the 400 likely voters surveyed, while Lake had 45 percent support.
However, not every recent poll has been favorable to Hobbs, with a Data Orbital poll conducted from February 11 to 13 among 1,000 likely voters showing Lake with 43 percent support to Hobbs' 41 percent.
Arizona is a swing state that President Joe Biden won in 2020 by just over 10,000 votes. Lake has joined Trump in pushing unfounded claims of election fraud in the last presidential election.
She has also suggested that fraud is taking place in the Arizona gubernatorial election, telling an event in Anthem, Arizona, last week: "I'm telling you right now, anybody trying to steal this, first of all, we're already detecting some stealing going on, but you guys know I'm a fighter right?"
"You haven't seen me when they try to steal something. I'm gonna go supernova radioactive. We're not gonna let them steal an election," Lake said.
Hobbs told MSNBC on Wednesday: "It's not a surprise that they're calling out false allegations about fraud already about this election, but it is really concerning."
"Trump is working to insert himself into all of these elections so that he can install leaders over the rules, to change the rules and to oversee certification in future elections so that they could potentially overturn the will of the voters if they don't like the outcome," she said.