Paul Gosar Shares New Photoshopped Anime With AOC, Dems Vs. Trump GOP After Censure Vote
Representative Paul Gosar, an Arizona Republican, shared a new photoshopped anime image to his official Instagram account showing pro-Trump Republicans in a battle against leading Democrats and Representative Alexandria Ocasio-Cortez after he was censured and stripped of committee assignments on Wednesday.
Gosar, who has promoted conspiracy theories and appeared to ally himself with white nationalists, previously posted an edited anime clip depicting him killing Ocasio-Cortez, a New York progressive Democrat, and attacking President Joe Biden last week. The post drew condemnation from Democrats and some Republicans, resulting in his formal censure in a House vote this week.
Although Gosar reportedly apologized to Republican colleagues in a conference meeting, he doubled down on his use of anime to depict violence between the GOP and Democrats with a new social media post. In the congressman's Instagram story, he shared a post from Instagram user Jack Privilege which was a photoshopped version of a key image from the final season of anime series Attack on Titan.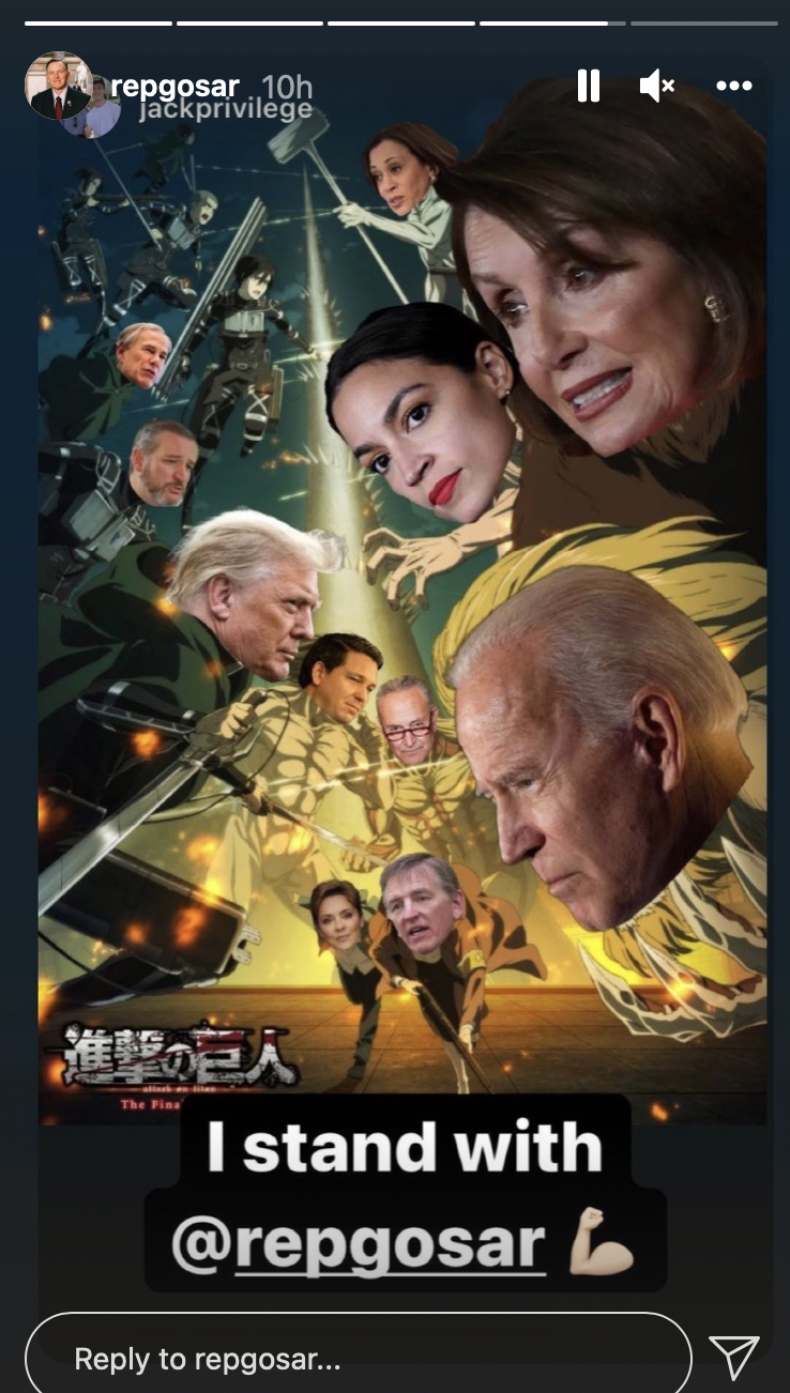 The altered image features Gosar as well as Republicans, including former President Donald Trump, Florida Governor Ron DeSantis, Texas Governor Greg Abbott and Senator Ted Cruz, facing off for battle against Democrats President Joe Biden, Ocasio-Cortez, Speaker of the House Nancy Pelosi, Senate Majority Leader Chuck Schumer and Vice President Kamala Harris.
Privilege captioned the doctored image "I stand with @repgosar," including a flexing arm emoji.
Minutes after being censured on Wednesday, Gosar also retweeted a post sharing his original video depicting an anime version of himself killing Ocasio-Cortez. The Republican lawmaker had previously deleted his original post of the video, which was also from Attack on Titan, after it received millions of views and substantial backlash.
Gosar denounced the censure vote against him as well.
"I was surrounded by members of Congress who reject the kabuki theater we saw," he tweeted after the vote. "This was an historic first to be surrounded by members in the Well of the House in solidarity against the mob of censors. Everyone knows this censure was theater."
The vote to censure Gosar passed in the House with 223 representatives in favor and 207 against. Just two Republicans—Representative Adam Kinzinger of Illinois and Liz Cheney of Wyoming—joined their Democratic colleagues in voting to censure the far-right Republican.
"What is so hard?" Ocasio-Cortez said from the House floor on Wednesday. "What is so hard about saying that this is wrong? This is not about me, this is not about Representative Gosar. But, this is about what we are willing to accept."
"The Constitution charges us to be accountable to the people – and we must act in a spirit in which all Americans can be proud," Pelosi tweeted from her official Twitter account about the Gosar vote. "Disgusting threats of violence against Members of Congress and the President violate this standard, insult this institution and demand a response."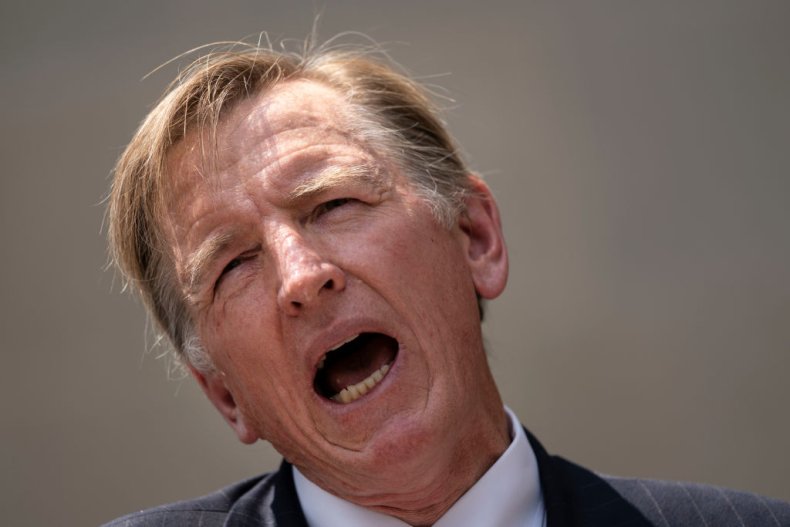 Cheney, a staunch Trump critic, took aim at GOP House Minority Leader Kevin McCarthy for failing to hold Gosar accountable. She pointed out that Republican leaders have done little to address threats of violence spurred by members' attacks against their GOP colleagues who voted with Democrats to approve Biden's bipartisan infrastructure bill this month.
"It's a real symbol of his lack of strength, the lack of leadership in our conference right now, and the extent to which he and other leaders seem to have lost their moral compass," Cheney said.
"In a moment where you've got an avowed white nationalist in Rep. Gosar who has posted a video advocating the killing of another member, the idea that our leader will not stand against that but that he's somehow going after and allowing attacks against 13 members who are conducting themselves in a serious and substantive way is really outrageous," she said.
Newsweek reached out to press representatives for Ocasio-Cortez and Pelosi for further comment but did not immediately receive responses.