Racism, Nepotism, Blackmail: Highlights From Paul LePage's Deplorable Governorship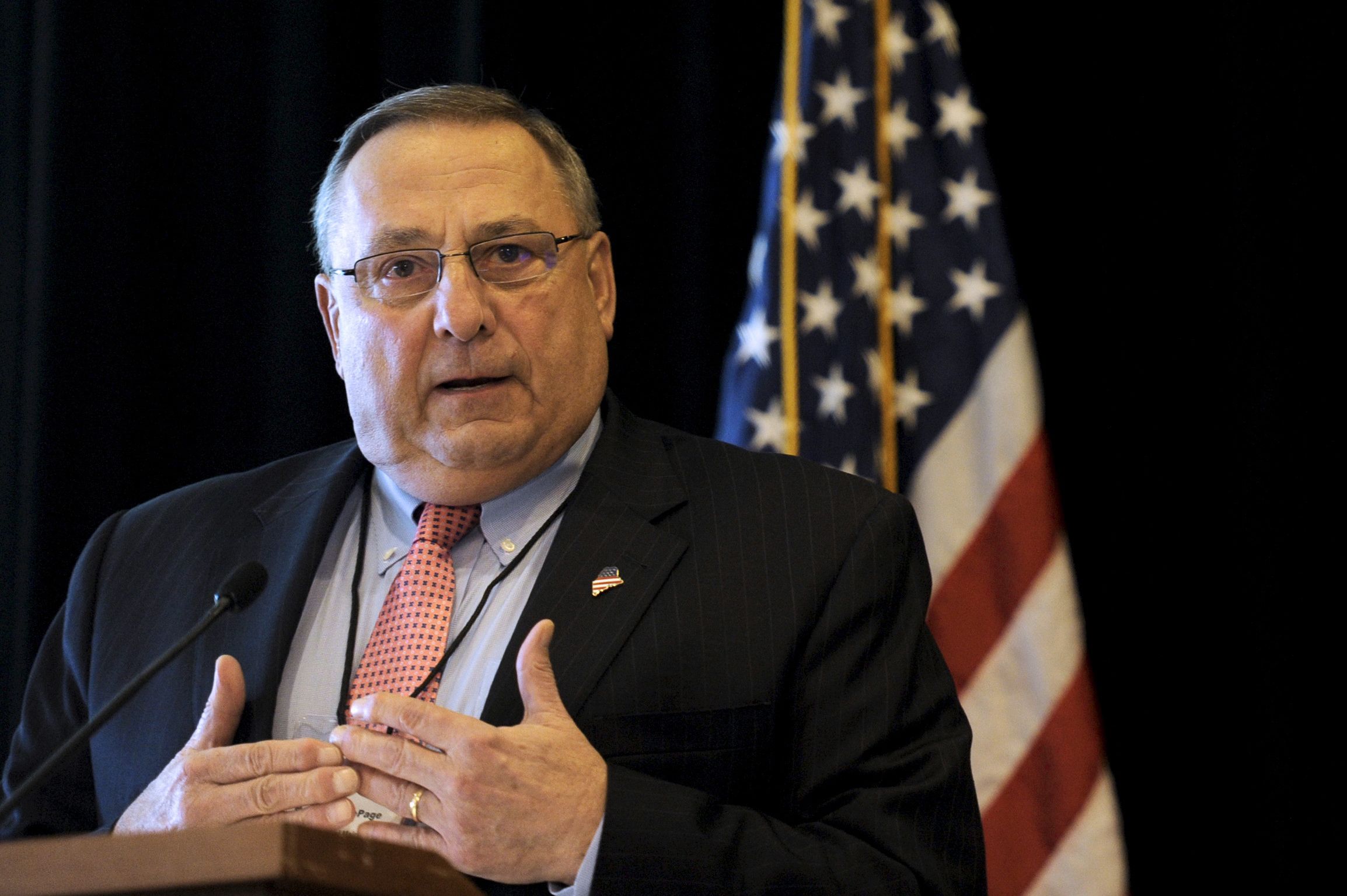 Paul LePage, Maine's controversial Republican governor, is not a fan of Georgia Congressman John Lewis's recent remarks regarding Donald Trump's legitimacy. On Tuesday, he told Maine radio station WVOM that instead of challenging Trump's presidency, Lewis should be thankful that the slaves were freed.
Related: Democrats' inauguration boycott spreads amid Lewis-Trump spat
"John Lewis ought to look at history," LePage said of the civil rights hero. "It was Abraham Lincoln that freed the slaves. It was Rutherford B. Hayes and Ulysses S. Grant that fought against Jim Crow laws. A simple thank you would suffice."
The callous ignorance of LePage's comments surpasses that of comedian Rob Schneider, who was criticized over the weekend for a bizarre tweet chiding Lewis for his remarks. While Schneider's tone-deaf tweet was easy to dismiss considering its source's questionable body of work, LePage has been a state governor since 2011, and his erratic, often racially insensitive behavior is a growing concern among Maine lawmakers.
LePage has been so controversial that state representatives called for his impeachment, demanded his resignation and even questioned his mental health on multiple occasions since he took office. In 2015, Politico called him "America's craziest governor." In 2016, The Washington Post said he was "completely unhinged." Here are 10 reasons why, not including his recent remarks about Congressman Lewis.
1. Slighting the NAACP
Shortly after being sworn in as governor in January of 2011, LePage decided not to attend multiple events commemorating Martin Luther King Jr. Day. His absence concerned the state's NAACP representatives, which told the Portland Press Herald that LePage had declined several of their invitations in the preceding months. When asked about the issue, LePage cited his adopted son, who is black, as proof that he is not a racist. "Tell them to kiss my butt," he said of the civil rights organization. "If they want to play the race card, come to dinner. My son will talk to them."
2. Pretty blatant nepotism
LePage was accused of nepotism when he was still governor-elect after he hired his own daughter to be the assistant to the governor's chief of staff, a salaried position that paid $41,000 a year. She moved into the governor's mansion with her father, which meant taxpayers footed the bill for her food, utilities and other expenses, on top of her above-average entry-level salary.
3. Obama can "go to hell"
LePage was elected largely because of his affiliation with the Tea Party, so it goes without saying that he is not a fan of President Obama. While campaigning for the governorship in 2010, he told a group of fisherman that if elected he would tell Obama to "go to hell." In 2013, two lawmakers told the Portland Press Herald that Obama "hates white people."
4. Marijuana will kill us all
In October 2016, LePage released a video warning against the "deadly" dangers of legalizing marijuana. In the video, LePage makes several unsubstantiated claims, cautioning that marijuana "snacks" could kill children and pets, and that people "will smoke weed and sell pot at state fairs." The video didn't work. On November 9, Maine voted to legalize recreational marijuana.
5. Blackmailing a charter school
In 2015, Maine's Democratic speaker of the house, Mark Eaves, was named the president of the Good Will-Hinckley charter school. The school then rescinded the offer to "avoid political controversy," after which Eaves revealed that the school board told him that LePage threatened to strip them of their funding if they retained Eaves as president. Democrats called for impeachment but were not able to get enough votes to proceed with an investigation. Eaves tried to sue LePage, but the suit was dismissed.
6. Comparing the IRS to the Gestapo
In July 2012, LePage compared the IRS to the "new Gestapo" and then doubled down on his remarks days later. "What I'm trying to say is the Holocaust was a horrific crime against humanity and frankly, I would never want to see that repeated," he told Vermont alternative weekly 7 Days. "Maybe the IRS is not quite as bad—yet." When asked if the IRS was "headed in the direction of killing a lot of people," LePage said, "Yeah." When asked if he was serious, he said, "Very serious," and that the government is "taking away the freedom of Americans to make choices."
7. Demonizing people of color
In January 2016, LePage made what may have been his most shocking comments regarding race. "These are guys with the name D-Money, Smoothie, Shifty—these types of guys," he said while discussing Maine's heroin crisis at a town-hall meeting. "They come from Connecticut and New York, they come up here, they sell their heroin, then they go back home. Incidentally, half the time they impregnate a young white girl before they leave, which is a real sad thing because then we have another issue that we've got to deal with down the road."
LePage later made a weak attempt to apologize for the comments, citing the "one slip-up" of saying "white women" instead of "Maine women."
8. "Ziki fly"
One month later, LePage said that refugees seeking asylum bring a host of diseases to "our land," including AIDS and the "ziki fly." He refused to apologize.
9. Can't handle silent student protesters
During a building dedication at the University of Maine at Farmington in April 2016, LePage called students protesting his appearance "idiots" and walked off the stage. The protesters were silently holding up a sign that read, "LePage, Maine's Shame," in the back of the crowd. LePage later apologized.
10. "Socialist cocksucker"
LePage's controversial governorship may have reached its nadir in August 2016. During a town hall meeting, LePage said that he kept a three-ring binder to track the state's drug-related crime, and that 90 percent of the perpetrators were black or Hispanic. Democratic representative Drew Gattine called LePage's comments "racially charged," which prompted LePage to call Gattine and leave a profane voicemail in which he called lawmaker a "socialist cocksucker."
After leaving the message, LePage told reporters that he would like to challenge Gattine to a duel, and that he would point a gun directly between the Democrat's eyes. When asked if he expected an apology, Gattine said on CNN. "I think Maine people are getting extremely concerned after six years and these kind of escalating events with respect to our governor, that he is now at the point where he isn't fit to be governor, that he really probably needs to get some sort of professional help and that, as a state, we're not going to be able to solve our problems, including this very serious problem we have with heroin under the leadership of this governor. And you know, we're just concerned that we can't move our state forward with this man as our governor."
LePage was later forced to release his three-ring binder full of drug-related press clippings. According to an analysis by the Associated Press, only about one third of the suspects were black or Hispanic.
Racism, Nepotism, Blackmail: Highlights From Paul LePage's Deplorable Governorship | U.S.