Paul Manafort Financial Revelation Interfered in 2016 Election Against Donald Trump, Ukrainian Court Says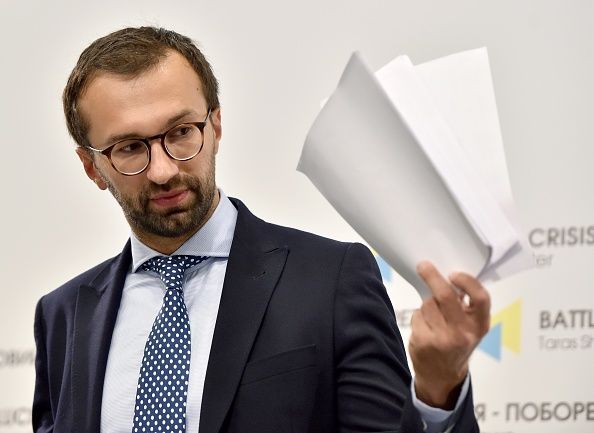 Two Ukrainian officials interfered in the 2016 U.S. presidential election when they revealed details of illegal cash payments worth millions of dollars from the country's former ruling party, the Party of Regions, to President Donald Trump's former campaign manager Paul Manafort, a court in the country's capital, Kiev, determined on Wednesday.
Artem Sytnyk, director of the National Anti-Corruption Bureau of Ukraine, and Serhiy Leshchenko, a parliamentarian who was once an investigative reporter, played a central role in finding and publishing secret records, nicknamed the "black ledger," with information about $12.7 million of undisclosed cash payments made by Ukraine's ousted pro-Russian President Viktor Yanukovych to Manafort.
The handwritten ledgers showed that Yanukovych had paid Manafort from 2007 until 2012 to bolster the former Ukrainian leader's political image and help him win elections. Investigators also claimed that Yanukovych had stolen state assets to make the payments.
Yanukovych fled Ukraine for Russia after a pro-Western social movement ousted him from power and revealed the extent of his corruption.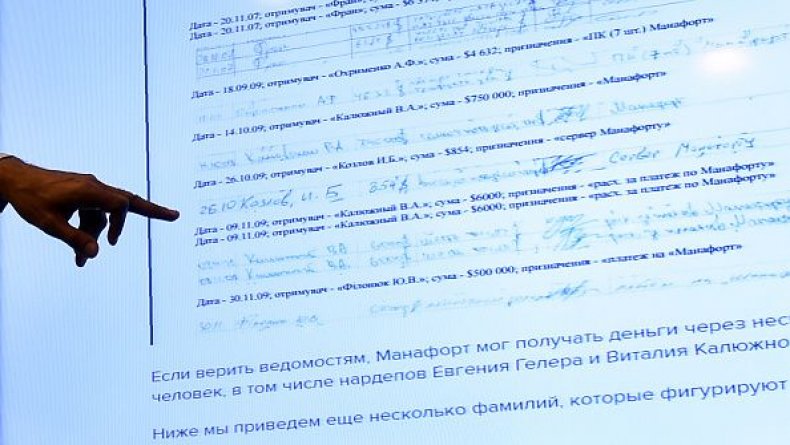 Manafort, who has been caught up in special counsel Robert Mueller's investigation into whether the Trump campaign collaborated with the Russian government to influence the 2016 presidential election, later pleaded guilty to eight counts of financial crimes, and admitted to laundering millions of dollars he made while working as an unregistered foreign agent for Ukraine.
But now, a Kiev district court says that Sytnyk and Leshchenko broke the law by revealing that Manafort's name was included in the black ledger. A statement on the court's website described the two men's actions as constituting interference in the 2016 U.S. presidential race and said that their actions had hurt Ukrainian state interests.
Sytnyk and Leshchenko did not respond to requests for comment in time for publication. Experts say the court's verdict could discourage other anti-corruption activists in the country from pursuing their work.
"The Party of Regions 'black ledger' is of significant public interest in Ukraine and the United States, and efforts to punish Sytnyk and Leshchenko for publicizing this information could have a chilling effect on journalists and activists in Ukraine who are working to uncover and reveal pervasive and ongoing corruption," Matthew Schaaf, Ukraine project director for the pro-democracy organization Freedom House, told Newsweek.
"The court's focus on alleged political implications of the ledger's release, such as claims that the release amounted to interference in Ukraine's external affairs and the U.S. elections, suggests that politics are at play in the decision," Schaaf continued.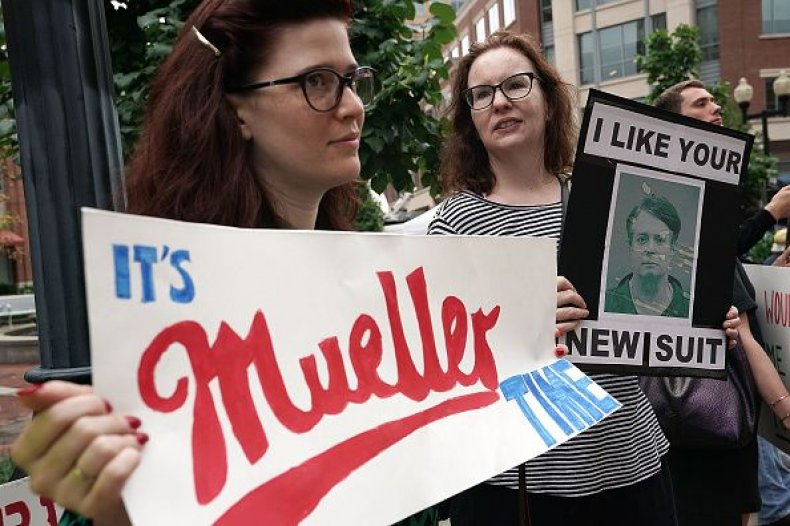 "On the heels of the same court's decision the previous day to reinstate Roman Nasirov, a high-level state official accused of corruption on a massive scale, we're reminded once again that Ukraine's judicial system is largely unable to hold officials accountable for corruption, yet seems entirely capable of going after those who are fighting it," Schaaf noted.
Melinda Haring, editor of the Atlantic Council's UkraineAlert blog and a fellow at the Foreign Policy Research Institute, argued that the court exceeded its mandate by weighing in on the issue of U.S. election interference.
"Ukraine is less than four months away from the presidential election and the incumbent president has made little progress on anti-corruption. His polling numbers are terrible. Both Sergiy Leshchenko and Artem Sytnyk aren't afraid to tell the truth and they are a giant pain for the presidential administration," Haring told Newsweek.
"This wouldn't be the first campaign to discredit either one. As far as we know, it looks like the court has overstepped its mandate. It was not asked to rule on whether Leshchenko and Sytnyk interfered in the U.S. election or Ukraine's foreign policy. Rather the court was meant to rule on the legality or illegality of revealing Manafort's name. As the elections near, we should expect more and more politically motivated court decisions and campaigns attempting to discredit Ukraine's last-standing reformers," Haring added.
It is unclear exactly how the publication of Manafort's name would have hurt Ukraine's state interests, but reports have suggested that the country's government ceased its cooperation with the special counsel's Russia investigation in an attempt to build closer ties to the Trump administration. President Trump has repeatedly called Mueller's Russia investigation a "witch hunt."
Following Trump's election in 2016, Ukraine's anti-corruption prosecutor announced that it could not verify whether Manafort's signature in the black ledger was authentic. In May, Ukraine's government stopped cooperating with the Mueller investigation after the Trump administration agreed to send Kiev deadly anti-tank missiles known as javelins.
The Obama administration had resisted selling Ukraine the deadly weapons despite Kiev's assertions that it needed lethal military aid to fight off Russian aggression.
Moscow has been backing pro-Russian separatists in eastern Ukraine for almost five years, and in 2014 annexed Ukraine's Crimean peninsula. Recently, Ukrainian President Petro Poroshenko said that there are around 80,000 Russian troops in the Russian-occupied parts of Ukraine.