Paul Manafort Sentence: Former Trump Official Pleads for Mercy but Gets More Than Seven Years in Prison
Former Trump campaign chairman Paul Manafort has now been sentenced to a total of seven and a half years in prison after a federal judge in Washington, D.C., sentenced him Wednesday to more than three years on charges of witness tampering and conspiracy.
The latest sentence comes on the heels of last week's 47-month-long prison sentence in the Eastern District of Virginia for hiding money in foreign bank accounts and tax and bank fraud. With time served, Manafort is set to spend 81 months behind bars, or a little less than seven years.
The conspiracy charges in Wednesday's sentencing were for crimes involving obstruction of justice and money laundering. Both court cases resulted from special counsel Robert Mueller's investigation into Russian interference in the 2016 presidential election.
The former campaign chairman was not ordered to pay any additional restitution after being ordered last week to pay about $6 million.
Just minutes after his sentencing, a grand jury in Manhattan indicted Manafort on 16 additional charges involving residential mortgage fraud, conspiracy and falsifying business records. The state charges would not be subject to a presidential pardon, should Manafort be convicted.
No longer wearing a prison jumpsuit, as he did last week, Manafort sat in a wheelchair sporting a suit. He offered U.S. District Judge Amy Berman Jackson a statement strikingly similar to the one heard by U.S. District Judge T.S. Ellis last week in Virginia.
"The last two years have been the most difficult that my family and I have ever experienced… The person that I am and have been described in public is not someone I recognize," Manafort told Jackson.
But this time, Manafort made it clear he was apologizing. Ellis had told him he was "surprised that I did not hear you express regret."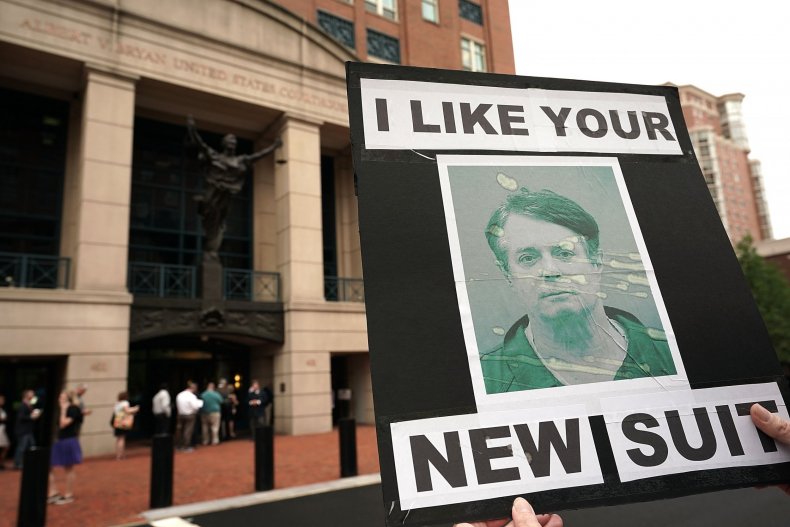 "I am sorry for what I've done. I apologize to all who have been negatively affected by my behavior," he told Jackson. "I can assure you that I feel the pain from these reflections. For these mistakes, I am remorseful."
The former campaign chairman, who turns 70 on April 1, and his wife, who is in her late 60s, pleaded with Jackson to show compassion and allow him to be with his wife and family for as long as possible after serving his initial sentence.
"She needs me, and I need her. This case has taken everything from me," Manafort said. "Please let my wife and I be together. Please do not take us away from each other for any longer than the 47 months imposed last week... If not for me, then for my family. I promise that if you do, you will not regret it."
Jackson slammed Manafort for his crimes, which go back years to when he lobbied and consulted for pro-Russian politicians in Ukraine. She emphasized that his "criminal conduct in this case was not an isolated, single incident," adding it was "hard to overstate the number of lies and the amount of fraud and the extraordinary amount of money involved."
While Jackson said she did "appreciate the comments that were made this morning," she said that it did not change the fact that in each previous court submission by Manafort and his attorneys, she believed the "element of remorse and personal responsibility...was completely absent."
"This defendant is not public enemy No. 1," Jackson said. "But he's not a victim either."
Jackson also made clear that neither of Manafort's court proceedings—in Virginia and D.C.—touched on the subject of the Trump campaign's alleged conspiring with Russia, indirectly shooting down President Donald Trump's claim last week that Ellis had said "there was no collusion with Russia." Ellis did not say that but instead explained that the charges were unrelated to any Russian collusion or the 2016 presidential election.
"Collusion...was not presented in this case. Period," Jackson said. "Therefore, it was not resolved one way or the other in this case."