For How Long Will Paul Manafort be Sentenced to Prison? Former Trump Campaign Boss Could Face Decades in Jail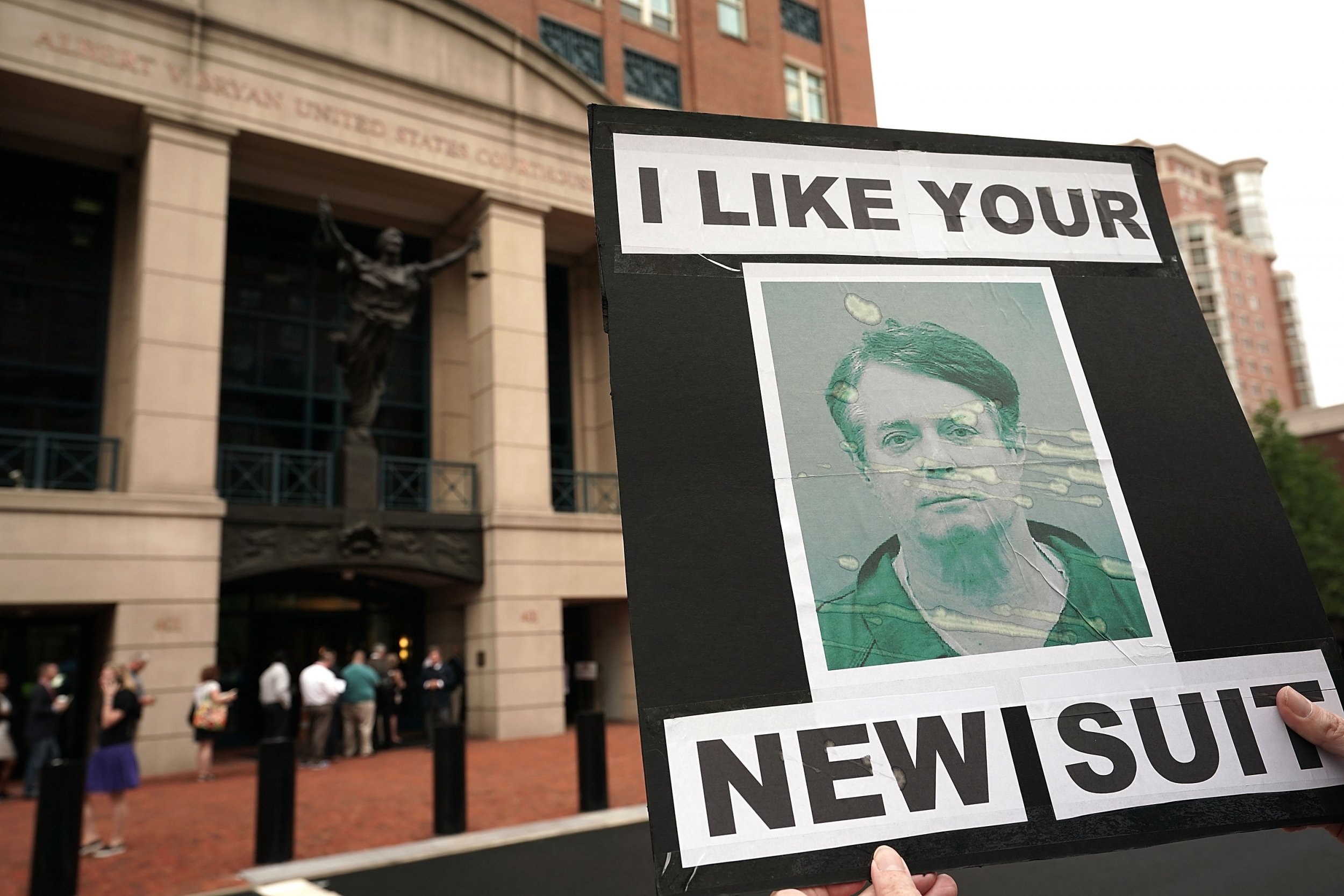 Paul Manafort, the former campaign chairman for President Donald Trump who found himself one of the major players at the epicenter of special counsel Robert Mueller's probe, will be sentenced Thursday afternoon at a federal courthouse in Alexandria, Virginia.
Prosecutors have recommended Manafort face decades in prison—essentially life sentence for the 69-year-old. His conviction in August on eight counts involving hiding a foreign bank account and tax and bank fraud are not tied to the president or Russia's interference in the 2016 election.
In their sentencing memo last month, Mueller's office recommended a term of 19.5 years to 24.5 years in prison for the "millions of dollars involved in the defendant's crimes, the duration of his criminal conduct, or the sophistication of his schemes."
Manafort's "misconduct," prosecutors wrote, involved more than $16 million in unreported income (resulting in excess of $6 million in federal taxes owed), upward of $55 million stashed in hidden foreign bank accounts and north of $25 million secured from financial institutions "through lies resulting in a fraud loss of more than $6 million." The crimes stemmed from his time lobbying and consulting for pro-Russian politicians in Ukraine.
Manafort's defense lawyers responded to the hefty sentencing recommendation by arguing that, due to his deteriorating health condition during his recent months in jail and because he's "truly remorseful for his conduct," U.S. District Judge T.S. Ellis III should use his authority to issue a sentence "substantially below" that of 19 to 24 years.
"The special counsel's attempt to vilify Mr. Manafort as a lifelong and irredeemable felon is beyond the pale and grossly overstates the facts before this court," Manafort's attorneys said. "The special counsel's conduct comes as no surprise and falls within the government's pattern of spreading misinformation about Mr. Manafort to impugn his character in a manner that this country has not experienced in decades."
Mueller's office did not take kindly to those claims, firing back in a court filing on Tuesday that they were at "odds with acceptance of responsibility." The special counsel's office added that the former campaign manager "blames everyone from the special counsel's office to his Ukrainian clients for his own criminal choices."
After his first trial, when he was found guilty, Manafort struck a plea agreement with Mueller for the remaining 10 counts the jury was deadlocked on and a second set of charges in Washington, D.C., involving witness tampering and conspiracy. His promise to cooperate in exchange for lighter sentencing fell apart soon after, with Mueller accusing Manafort in November of repeatedly lying to federal investigators.
Manafort will be sentenced for his additional set of charges on Wednesday in D.C.
After the conclusion by U.S. District Judge Amy Berman Jackson last month in Washington, D.C., that Manafort did, in fact, lie to investigators, Mueller's team argued his sentencing should be harsher and exclude any credit for cooperation.
"Here, a court has already found Manafort lied to the government and the grand jury," prosecutors said in a filing. "That is not a basis for a lower sentence, but rather a more severe one."