Paul McCartney's Glastonbury Tribute to Johnny Depp Divides Fans
Paul McCartney turned heads during his Glastonbury headline performance for many reasons, with a cameo from Johnny Depp raising eyebrows in particular.
The former Beatles band member received both praise and criticism on social media for using footage of the Pirates of the Caribbean actor during his set at the British music festival.
Depp recently won a defamation suit against ex-wife Amber Heard after she wrote a 2018 op-ed stating she was the survivor of domestic abuse. While Depp won the trial, he has continued to divide opinions among the public, as did his brief appearance during McCartney's headlining set at Glastonbury.
"Paul McCartney was insane but I wish he didn't play a music video featuring Johnny Depp during one of his songs," wrote @zlarkham14. Opinions were split though as Depp and McCartney also received plenty of praise for his seemingly public display of support. "Great to see Johnny Depp in Paul McCartney's set at Glastonbury," wrote Twitter user @Kittibee.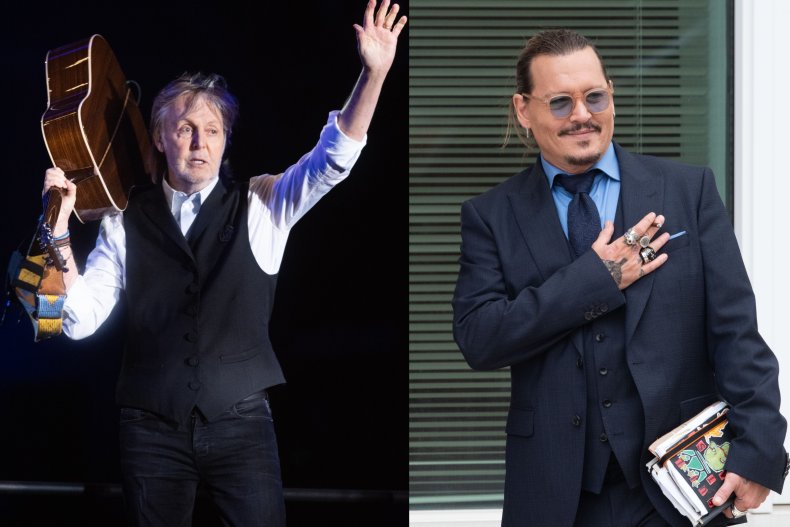 Both Depp and Natalie Portman appeared on the big screens at McCartney's show when he started playing his song "My Valentine." The music video for the 2012 song features the two actors in a black and white video, performing the lyrics in sign language.
Twitter user @Noneofthemknew1 pointed out that McCartney and Depp have had a friendship for years, and that he's "never stopped using this beautiful backdrop" of the music video over the years. McCartney continued to use the footage even during the recent US trial involving Depp and Heard.
The timing of the footage was questioned by @Kesh_MB when Depp's video was followed by images of the suffragettes. "Ok then." the Twitter user wrote.
Footage of Depp's brief cameo was shared across TikTok too, and it became a conversation thread on Reddit. User @SharinKJ received hundred of upvotes for their long assessment of the situation which could be summarized in their opening sentence -- "File under disappointed but not surprised."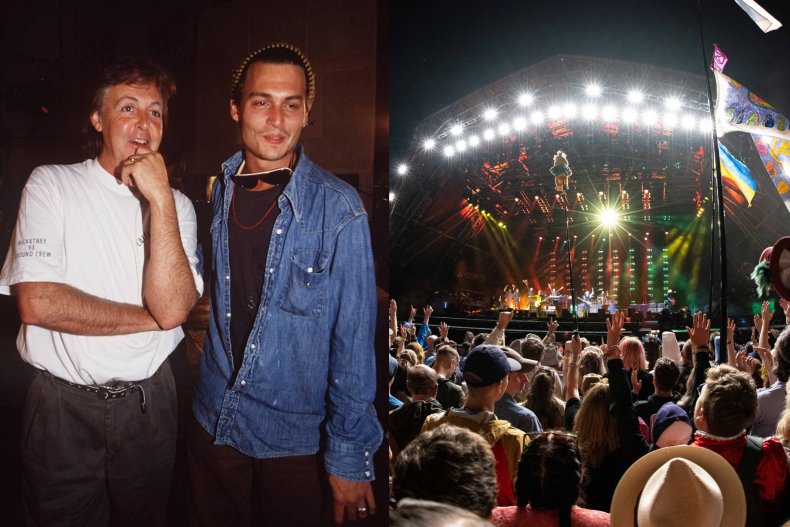 Many others on Reddit expressed their disappointment, but jeahboi openly countered this by typing, "Why does everyone have to be so disappointing? I hate this timeline."
nopeageddon claimed to have been there at the show and revealed the live audience reaction. "everyone around me was completely baffled about if it was or wasn't Johnny Depp! The set was boring enough to sustain this debate for a while too."
Back on Twitter and @MissMilk700 pointed out that while Depp may have won his recent case against Heard in Virginia, in 2020 Depp lost a libel case in the UK after he was called a "wife beater" by a local newspaper. "Paul McCartney should not have used a backdrop video of Johnny Depp in a country where [he] was found to be a wife beater in 12 counts in the high court leaving his ex wife to fear for her life," the user tweeted.
McCartney and Depp have been friends for a number of years now, as evidenced by McCartney's cameo in the 2017 movie Pirates of the Caribbean: Salazar's Revenge. He played Uncle Jack, seemingly the uncle of Depp's Captain Jack Sparrow.