Paul McCartney Appears to Back Johnny Depp, Shows Video of Actor at Concert
Paul McCartney has seemingly sided with Johnny Depp as a picture of the Pirates of The Caribbean actor is displayed on a big screen at a recent concert.
As the trial between Depp and his ex-wife, Amber Heard, continues, many tune in on the various channels live-streaming the event as it takes place in Fairfax County, Virginia.
Depp is suing Heard for $50 million after her op-ed that was published in The Washington Post. He claims that the op-ed has cost him many movie roles as it took a toll on his career. Over the course of the trial, the jury has heard testimonies from Depp, as well as countless witnesses. More recently, Heard and her attorneys had asked to dismiss the case due to the lack of evidence but the judge denied the dismissal. As of May 4, Heard is testifying.
At a recent Paul McCartney concert, a video of Depp displays on a big screen behind as he is playing the guitar while McCartney is singing "My Valentine" and playing the piano. The video was uploaded by Jill Vedder, wife of Pearl Jam's Eddie Vedder.
"Might be controversial to post this video with J.D Don't care," she wrote in her caption, Know him only to be a gentleman .. And while I support women and the 'me too' movement I also know some women who have destroyed the lives of innocent & good men."
"p.s verbal abuse is not cool either.. watch your tongue," she concluded.
McCartney and Depp have a history of friendship as the actor has appeared in some of the former "Beatles" singer's music videos such as "My Valentine" alongside Natalie Portman and "Queenie Eye."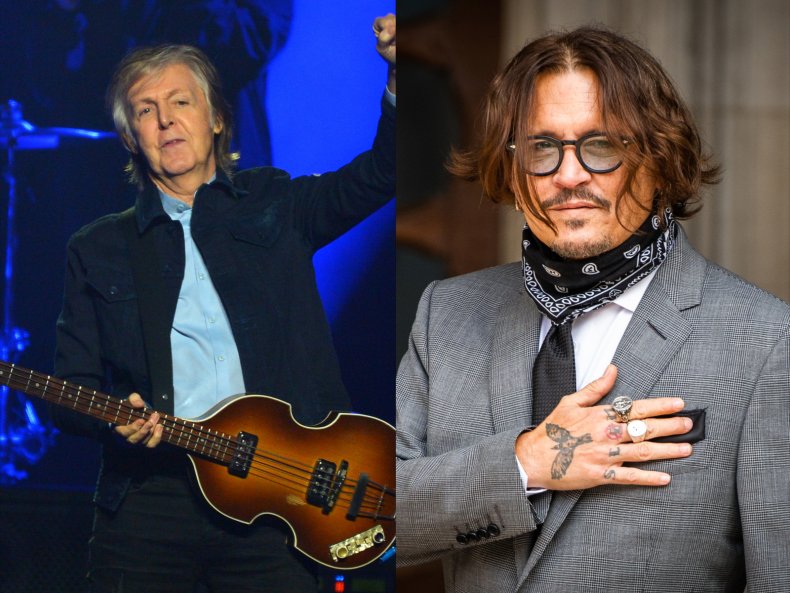 McCartney also made a cameo in Pirates of the Caribbean: Dead Men Tell No Tales. He discussed how he owed Depp some favors since he has been in his music videos in the past. McCartney portrays Captain Jack Sparrow's Uncle Ted, as they reunite in a prison scene.
"I've known Johnny a while. You know, I've always admired him as Jack Sparrow and he said 'I'd love you to be in the next one,'" McCartney said in a behind-the-scenes look into the movie.
As the video has gone viral over social media, fans thank McCartney for his alleged tribute.
"Tears!! The support for Johnny Depp is REAL. Thank you @PaulMcCartney," one Twitter user wrote.
Another exclaimed, "This. Is. Amazing!"
One user tweeted, "LOVE THIS SO MUCH!