Every Time Paul Rudd Pulled the 'Mac and Me' Prank on Conan O'Brien
Conan is coming to an end on TBS with a series of final broadcasts celebrating the show. This meant Paul Rudd had to turn up one last time to get Conan O'Brien to play a clip from the notorious 1988 film Mac and Me.
The Ant-Man actor has been trolling Conan with a specific clip from the film, in which a boy in a wheelchair falls off a cliff and into some water, since 2004, when he showed the clip while appearing on the show to discuss his role in the Friends finale.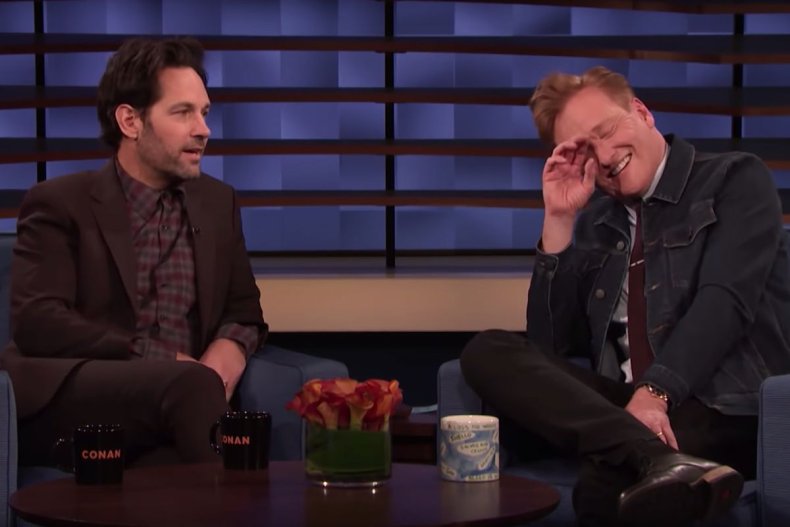 Over the years, Rudd and Conan have been locked in on-air battle of wits, with Rudd regularly promising that this time he will not play the clip, only for him to show it yet again. The projects Rudd is promoting have changed, and occasionally the clip gets a few alterations, but it remains one of the longest-running bits in late-night history.
Every time Paul Rudd has pulled the Mac and Me prank on Conan O'Brien
February 6, 2004
The first time the prank was pulled, Rudd and O'Brien were 32 and 39 respectively, and the former was promoting the hotly-anticipated final episode of Friends on Late Night with Conan O'Brien. He begins the prank by saying that despite the finale being one of the closest-guarded secrets in TV at the time, he had not realized that, and had brought a clip.
Before playing the clip for the first time, Rudd said: "Actors are always saying to you, 'I brought a clip,' and that's not true we don't really have clips and bring them along but this time I did, I brought it to you."
This first time, O'Brien seems in on the gag, something that would change with later versions.
August 10, 2005
Rudd next pulled the prank when he was on the show to promote The 40-Year-Old Virgin. "Will I never learn with you," O'Brien asks.
April 28, 2006
Rudd was next on while in the play Three Days of Rain on Broadway. After the Mac and Me clip airs, Rudd deadpans: "The set designer is a genius, that almost looked like it was outdoors."
November 13, 2008
After showing the clip instead of one for Role Models, a movie Rudd co-wrote, the actor said: "It's such a weird thing, you write it down, you put it on the page and there it is in a movie."
This time, Rudd also revealed that the last time he was on the show in 2007 for Knocked Up, that film's director Judd Apatow actually turned up to the Late Night set to make sure Rudd played an actual clip from the film. This sets him up to say the studio only allowed him to show the Mac and Me clip if he also showed one from Role Models. Of course, Rudd then shows Mac and Me again.
August 17, 2011
For his first appearance on O'Brien's TBS show Conan, Rudd played the prank twice in a row while on the promotion trail for the movie Our Idiot Brother. First he plays the Mac and Me clip, then the actual clip for the movie...only for that to cut to the young boy hurtling down the hill again. "You're wasting everybody's time," O'Brien laughs.
December 20, 2012
Though Rudd had been prevented from pulling the prank for Knocked Up, he pulled it out for This Is 40. "How many times have you showed that clip on this show over the years," O'Brien asks. Rudd responds: "We just shot that."
April 2, 2013
Five months later, Rudd appeared, still with the long hair and handlebar mustache he had for shooting Anchorman 2. Though the film would not come out until the end of that year, Rudd teases that he has an exclusive clip—which, of course, he does not.
"You've been showing that clip on my show for I think 15 years," O'Brien says. It's from a movie called Mac and Me. And you always convince me that you're not going to show it again. And you promise me that you're not going to show it again, and you show it again." Rudd responds by promising this time he has the real clip, only to show it yet again.
July 16, 2015
"You've been coming on the show for many, many, many years," O'Brien begins, "and you do this one thing consistently which is you say we're gonna see a clip and then I throw to what I think is a clip and it turns out to be a clip from this terrible ET rip-off called Mac and Me."
Rudd then spins a story about how the Marvel press machine was stopping him from playing the clip this time. A clip begins from Ant-Man that ends with his character in the grass–which is cut into the footage from Mac and Me of the boy falling down a grassy hill.
October 23, 2019
The penultimate version of the bit came during promotion for Netflix's Living with Yourself, in which Rudd played twins. So this time, when the clip played, it ended with twin aliens watching the scene. And as fits the double theme, he plays the clip again after Conan asks him to "play the real clip you son of a b****."
June 21, 2021
Rudd's surprise appearance on Conan's last week of TBS shows came as Bill Hader told a story about the worst SNL sketch they were both a part of. Rudd teases that he has dress rehearsal footage from the sketch and the Mac and Me clip plays for the first time.
He then reveals that initially he was going to show a clip from another notorious bad movie, Baby Geniuses. He says he is going to show the clip he initially wanted back in 2004...only for him to play the Mac and Me clip one last time, after 17 years of doing it.