Former Speaker of the House Paul Ryan reportedly told House Republicans they could abandon Donald Trump during the 2016 presidential campaign after the infamous Access Hollywood of the then-GOP presidential nominee emerged in the public sphere.
Days after the tapes, on which Trump bragged about grabbing women "by the p****," were released in October 2016, Ryan told Republicans in a conference call that he was "not going to defend Donald Trump. Not now, not in the future," according to a new book written by Politico's Jake Sherman and Anna Palmer, seen by Axios. The book, A Hill to Die On, was released on April 2.
During "a rare conference call with all House Republicans. Ryan's message on the call was blunt: Republicans should feel free to abandon Trump," Axios reported the book as saying.
The book, which explores the fraught relationship between Trump and Ryan, also details the latter's reaction to the former's 2016 Election Night victory.
"This is unbelievable," Ryan reportedly told Trump on Election Day. "It looks like you're going to win."
In a statement on October 7, Ryan condemned Trump's behavior in the tape and announced he had pulled out of a joint appearance the two had planned later that week in Wisconsin.
"I am sickened by what I heard today," the statement issued from Ryan's office said. "Women are to be championed and revered, not objectified. I hope Mr. Trump treats this situation with the seriousness it deserves and works to demonstrate to the country that he has greater respect for women than this clip suggests. In the meantime, he is no longer attending tomorrow's event in Wisconsin."
When the 2005 Access Hollywood tape was first dropped in 2016, weeks before the November 2016 presidential election, Trump ignored calls to step aside, apologized for the remarks and dismissed them as merely "locker-room talk." In it, he can be heard telling TV presenter Billy Bush that he gropes women.
At the time, first lady Melania Trump defended her husband during an interview with CNN, downplaying the remarks as "boy talk" and claiming that "he was led on—like, egged on—from the host to say dirty and bad stuff."
Melania Trump also said she was surprised as she had never heard her husband make such lewd comments. "I don't know that person that would talk that way, and that he would say that kind of stuff in private," she said.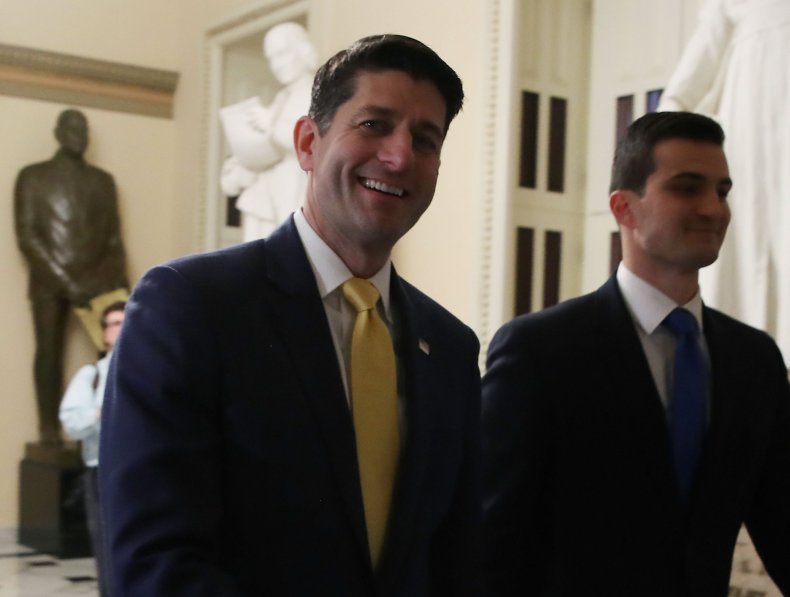 While Ryan was sharply critical of Trump during the 2016 campaign, his tone shifted considerably once the two became unlikely partners as House speaker and president. On subjects ranging from the Russia investigation to the deadly white nationalist rally in Charlottesville, Virginia, Ryan repeatedly batted away questions about some of Trump's most controversial statements or declined to call out the president by name.
In an interview with The New York Times last year, Ryan explained his attitude toward the president.
"I'm very comfortable with the decisions I've made. I would make them again, do it again the same way," he said. "I think some people would like me to start a civil war in our party and achieve nothing."
Update (04/08/19, 8:55 a.m.): This story was updated to include comments from Paul Ryan about Donald Trump after the two worked together.