Pay Freeze 'Another Blow' for U.K. Staff Risking Health on COVID Frontline
Britain's public sector workers, including teachers, police officers, NHS managers, and members of the Armed Forces, have been identified as "key" in the fight against COVID-19.
While the rest of the world shut their doors and stayed safe at home, those key workers went out to work on the COVID frontline despite the potential risk to their health. They've just been told they will not get a pay rise this year. British Chancellor Rishi Sunak said he was "delivering on the priorities of the British people" in "protecting the lives and livelihoods" of those worst affected by the pandemic with his Spending Review, announced in the House of Commons.
He revealed extra funding for schools, charities, the National Health Service (NHS), and local councils, equating to a £280 billion ($373bn) package. Money for Britain's public services amounts to £55 billion ($73bn) of that total, but, confirming the freeze on pay, Sunak said: "In such a difficult context for the private sector, especially for those people working in hospitality, retail and leisure, I cannot justify a significant across the board pay increase across the public sector.
"Instead we're targeting our resources to where it's needed most."
Critics argue staff on the frontline will be the hardest hit. The Trades Union Congress (TUC), which represents more than 5.5 million workers, described the freeze as "deeply unfair".
"People we rely on every day have been told to pay for a crisis they did not cause and have risked their lives to address. The pay freeze for key workers is a bitter pill to swallow," it said. The TUC said the freeze amounts to a pay cut due to inflation.
Sunak denied the freeze will hit all public sector workers, and said the government will provide a pay rise to over a million nurses, doctors, and others working in the NHS. But pay rises in the rest of the public sector will be paused in 2021, apart from for low earners with salaries under £24,000, who will be guaranteed a rise of at least £250. That means 2.1 million public employees will see their pay increase in 2021.
In March, days into lockdown, millions of Britons stood on their doorsteps and began clapping in appreciation of the country's NHS and care staff. Videos filmed in city centers showed how the round of applause became a wall of noise, and so began a weekly ritual to celebrate key workers, named the Clap for our Carers.
While NHS staff are exempt from the freeze, Dr. Ellen Welch, who sits on a committee of the Doctors' Association U.K. (DAUK), tells Newsweek that disregard for other key workers now is a "huge kick in the teeth for staff morale".
"The news of a further pay freeze for public sector workers is another blow for frontline staff," Welch says. "The doorstep claps are now long forgotten and the monumental efforts made by healthcare workers during this pandemic appear to have been disregarded."
She argues that even before the pandemic, a decade of austerity measures "slowly eroded the health service." Sunak has repeatedly stated he will not be returning to the "austerity" rhetoric of Britain's former chancellor George Osborne, but the DAUK warns that the NHS is facing a critical shortage of staff while treating a rising number of COVID patients in hospitals.
Concerns health and care staff are not being supported in their salaries could exacerbate the problem, Welch warns.
"Staff have left in their droves due to exhaustion and burnout, and stories of nurses relying on food banks have hit the headlines. The latest data from NHS digital show a workforce crisis, with a shortfall of 84,000 full-time equivalent staff. These numbers are only going to increase following the Chancellor's announcement and may provide the nudge disillusioned staff have needed to move overseas or change sectors."
Labour's shadow chancellor, Annelise Dodds, said Sunak's Spending Review was a "moment for the chancellor to take the responsible choice the country needs", such as protecting key workers. But after clapping them during the country's first lockdown, the chancellor has "taken a sledgehammer to consumer confidence" by freezing many of their wages, Dodds told the Commons.
Sunak argued that a pay rise for NHS workers and low earners actually means the majority of public sector staff will see their salaries rise. The Department for Health will see its budget grow by £6.6bn, Sunak said, to deliver 50,000 more nurses and 50 million more general practice appointments.
Frances O'Grady, general secretary of the TUC, said trade unions will "fight" for a pay rise despite Sunak's announcement. "Key workers deserve more than just applause and warm words. And they certainly deserve better than a pay freeze," the TUC said.
Both the TUC and the UNISON union warned that strike action against the pay freeze could not be ruled out. "People may not be aware or perhaps have forgotten that public sector workers have basically had 10 years of pay freezes and pay caps," UNISON assistant chief Christina McAnea told LBC radio.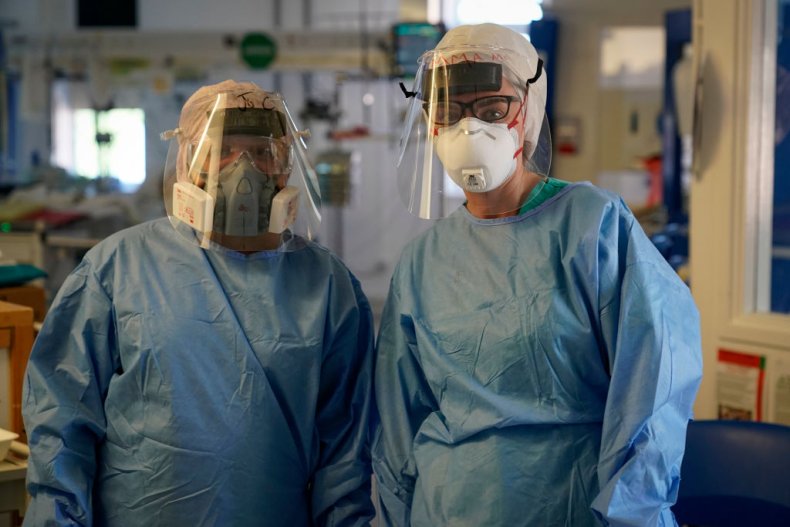 What else was announced in the U.K.'s Spending Review?
Sunak confirmed a financial package to help hundreds of thousands of unemployed people back to work, with a £2.9 billion ($3.8bn) "Restart Scheme" for support for those who have been out of work for more than 12 months.
Latest official figures showed the U.K.'s unemployment rate rose to 4.8 percent in the three months to September, up from 4.5 percent, with a big rise in the number of 16 to 24-year-olds out of work. The Bank of England has forecast that the jobless rate could rise to nearly 8 percent by the middle of next year.
The National Living Wage will rise by 2.2 percent to £8.91 per hour and will be extended to those aged 23 and over. For a full-time worker on the national living wage, that's an increase of £345 next year.
The Chancellor cut the U.K.'s commitment to spend 0.7 percent of national income on overseas aid to 0.5 percent. This is seen as controversial, as the commitment is enshrined in law and was reaffirmed in last year's Conservative general election manifesto.
Aid agencies have accused the Government of trying to balance the books on the backs of the world's poor. The World Bank estimates that the COVID pandemic will push between 88 and 115 million people into extreme poverty this year alone. Justin Welby, the archbishop of Canterbury, described the cut in the aid budget as "shameful and wrong".
Amid his own spending plans, the chancellor also presented new economic forecasts from the Office for Budget Responsibility (OBR) for the state of the economy and public finances, revealing the financial impact of England's second national lockdown for the first time.
The OBR expects GDP to shrink by 11.3 percent this year, the biggest decline in more than 300 years. Britain's GDP will not recover to pre-crisis levels until the fourth quarter of 2022, the OBR said.
Long-term "scarring" means that in 2025, economic output will be 3 percent lower than had been expected when the OBR last issued comprehensive forecasts in March, the chancellor said.
Sunak closed his announcement by telling Members of Parliament (MPs): "The spending review announced today sets us on a path to deal with the material matters of government and is a clear statement of our priorities, but encouraging the individual and community brilliance on which a thriving society depends, remains, as ever, a work unfinished.
"We in Government can set the direction, better schools, more homes, stronger defense, safer streets, green energy, technological development, improved roads, enhanced rail - all investments that will create jobs and give every person in this country the chance to meet their potential.
"But it is the individual, the family, and the community that must become stronger, healthier and happier as a result. This is the true measure of our success."