Suspect Payton Gendron Planned To 'Shoot More Black People': Buffalo Police
The teenage suspect accused of racially-motivated mass murder at the Tops supermarket in Buffalo planned to continue his rampage by seeking more Black victims elsewhere, according to investigators.
Ten people were killed at the store in the state of New York on Saturday afternoon, with police describing the shooting as "racially motivated violent extremism" after 11 of the 13 victims were revealed to be Black. Officers arrested 18-year-old Payton Gendron, of Conklin, New York, later that day on suspicion of murder.
But now investigators believe the suspect did not intend to end his alleged rampage at the supermarket, but had instead hoped to find further victims.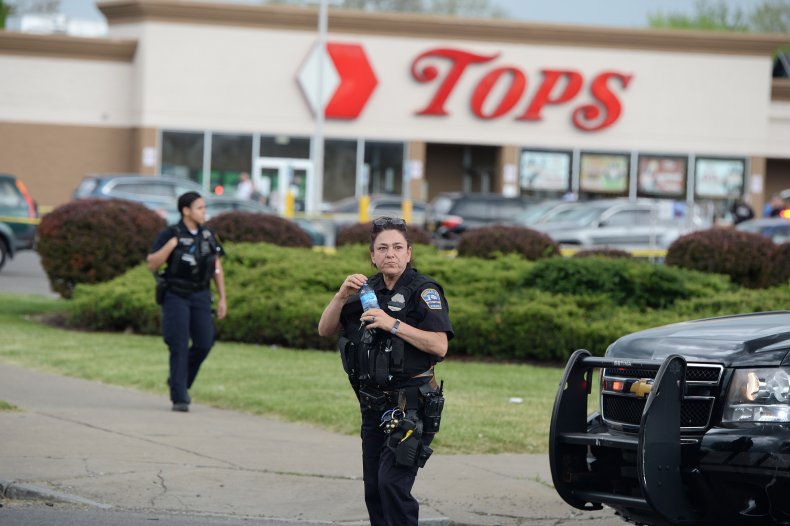 Buffalo Police Commissioner Joseph Gramaglia told ABC News: "We have uncovered information that if he escaped the [Tops] supermarket, he had plans to continue his attack. He had plans to continue driving down Jefferson Avenue to shoot more black people ... possibly go to another store [or] location."
Newsweek has asked the Buffalo Police Department for comment.
Gruesome footage of the attack was filmed by the gunman wearing a camera fixed to his helmet, and close-up images of the footage revealed the N-word and the number 14—a code relating to a 14-word statement believed by white supremacists—had been daubed on to the barrel of the gun in white paint.
The suspect drove more than 200 miles from his hometown to carry out the attack, police say, adding they believe he was deliberately seeking an area with a big Black population.
Buffalo Mayor Byron Brown said the suspect arrived intending to take "as many black lives as possible." A 180-page document allegedly written by Gendron has emerged online, in which he reportedly describes himself as a "fascist" and a "white supremacist."
Gramaglia told reporters that the suspect had made a "generalized threat" while still at high school and underwent a mental health evaluation, although he was later released. But he does not appear to have been on any authority's watchlist. FBI Special Agent Steven Belongia told The New York Times neither state police nor the FBI had any intelligence on the alleged attacker.
The latest reports about Gendron come as Buffalo police released the names of the 10 victims on Monday, who were aged between 32 and 86. They were, per the BBC:
Roberta A. Drury, 32, who had moved to Buffalo to be close to her brother, who was recovering from a bone marrow transplant
Margus D. Morrison, 52
Andre Mackneil, 53
Aaron Salter, 55, a retired police officer who was working as a security guard at the store
Geraldine Talley, 62
Celestine Chaney, 65, described as a devoted grandmother
Heyward Patterson, 67, a dedicated church-goer who drove people to and from the supermarket
Katherine Massey, 72, a community activist with a "beautiful soul", according to her sister
Pearl Young, 77, who dedicated her Saturdays to working in a soup kitchen
Ruth Whitfield, 86, who had just been to visit her husband in a care home
Update 05/16/22, 11:49 a.m. ET: This article was updated with additional information.