Pediatrician Slams 'Dangerous' DIY Baby Formulas in Impassioned Video
A Texas pediatrician is pleading with parents to stop sharing and following at-home baby formula recipes and substitutes on social media.
Across the United States, panicked parents have turned to the internet amid a baby formula shortage. The shortage that began amid COVID-19 supply chain disruptions was exacerbated by a formula plant recall in February. Forty-three percent of formula products were out of stock at U.S. stores in the first week of May, according to a Datasembly analysis.
Both the Food and Drug Administration (FDA) and the American Academy of Pediatrics (AAP) have warned parents not to attempt making their own baby formula at home, due to the risk of contamination and a lack of critical nutrients. Both of these can be life-threatening to infants. In the FDA's advisory, it referenced recent reports of babies who were hospitalized with hypocalcemia (low calcium) after being fed homemade formula.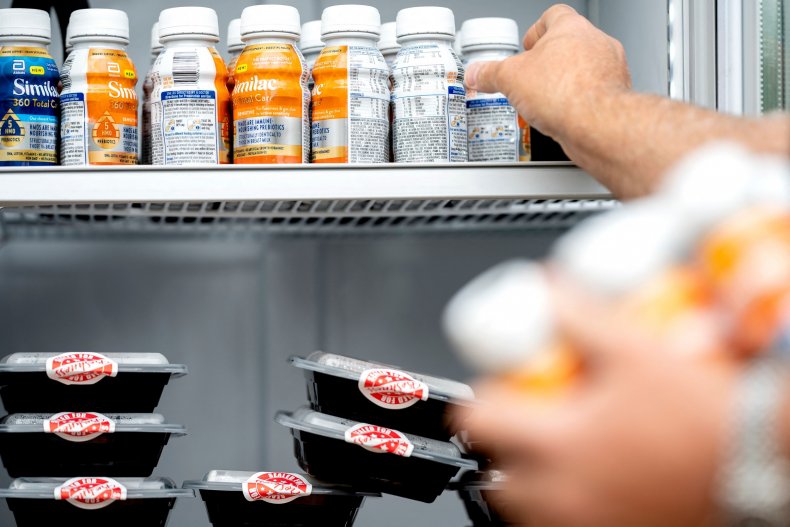 Still, DIY baby formula recipes and unauthorized substitutes have continued to circulate on social media. The trend has infuriated physicians like Texas-based Dr. Sami, who collaborates with fellow pediatrician Dr. Ana to educate parents about common pediatric concerns under the duo name PediPals.
"Formula has been designed to be as close to breast milk as possible by chemists
over the years," Dr. Sami told Newsweek.
"We understand that these homemade formulas are stemming from the situation at hand and the desperation many are feeling, but it is important to weight the risks versus the benefits, and no child should have to die from unsafely made formula."
Dangers of Homemade Baby Formula
In a TikTok video posted May 15 with 1.2 million views, Dr. Sami ticked off the dangers of homemade formula recipes she had seen going viral.
Alternative Milks
"Don't f**king give formula recipes to people online," she told her audience. "Goat milk is not an acceptable substitute for formula. It's deficient in vitamin D, iron, B12, folate. It can be harsh on the kidneys, it can cause electrolyte abnormalities."
The pediatrician told Newsweek that she had also seen camel milk and even raw cow's milk offered as formula substitutes online. These are equally inappropriate and potentially harmful for babies, she said.
Folklore/Tradition
The doctor told viewers that their family lore was no substitute for medical expertise.
"I don't give two f**ks if your grandmother's grandmother used it when she was growing up," she fumed. "Back in those days, infant mortality was just an accepted part of life. People used to pop out eight to 10 babies and two of them would die."
She questioned why promoters of homemade formula thought they were the "modern-day Madame Curie" and knew better than medical professionals.
'It's Dangerous'
"Before you post something online, just think to yourself for two seconds, 'Do I have the knowledge base and the education to know what my recommendation could potentially do to people?'" Dr. Sami pleaded. "What you guys are doing, it's dangerous. It's dangerous."
The doctor told Newsweek that she sympathized with desperate parents, but assured them that medical professionals were working tirelessly to come up with solutions.
"We know it is very hard right now for parents that are struggling, but pediatricians like ourselves are doing the best we can to find ways to help, offer safe suggestions, and advocate to our officials to get us to the end of this crisis," she said.
Recommendations for Baby Formula
The AAP recommends that parents struggling to find baby formula try calling their pediatrician, who may have samples in stock or connections to local groups with access to formula.
The organization also suggests checking smaller stores and drug stores or buying formula online—from well-recognized distributors and pharmacies—if it is impossible to find on store shelves.
Finally, the AAP recommends checking social media groups dedicated to infant feeding and formula, which may share ideas on where to find the product. All social media advice should be verified with a pediatrician.
Updated 05/31/2022, 6:17 p.m. ET: This story has been updated with comments from Dr. Sami.