Nancy Pelosi, Democrats Don't Condemn Rashida Tlaib Calling to Impeach 'Motherf***er' Trump: 'I'm Not in the Censorship Business'
While not necessarily agreeing with the choice of language or the message, Speaker of the House Nancy Pelosi and powerful members of her party did not condemn freshman Representative Rashida Tlaib's recent remarks that Democrats were going to "impeach the motherf***er" in reference to President Donald Trump.
Tlaib, the first Palestinian-American woman elected to Congress, made the comment Thursday night at a MoveOn.org event. Speaking to the crowd, the Michigan congresswoman described an interaction with her son about impeaching the president.
"'Look, Mama, you won. Bullies don't win,'" Tlaib said, quoting her son. "And I said, 'Baby, they don't, because we're gonna go in there and impeach the motherf***er.'"
In a town hall, Pelosi told MSNBC that Tlaib's comments were "nothing worse than what the president has said." She expained that while she did not like the language and wouldn't use it herself, she was "not in the censorship business… I wouldn't establish language standards for my colleagues.
"Generationally, that would not be language I would use, but nonetheless, I don't think we should make a big deal of it," she said. "I do think that we want to be unified and bring people together. Impeachment is a very divisive approach to take, and we shouldn't take it...without the facts."
Pelosi has not issued a formal statement regarding Tlaib's remarks. Her deputy chief of staff, Drew Hammill, did not respond to Newsweek's request for comment. Tlaib has refused to apologize for her words, which were caught on video, saying in a tweet she "will always speak truth to power #unapologeticallyMe." A statement from Tlaib's office said the congresswoman "was elected to shake up Washington, not to continue the status quo."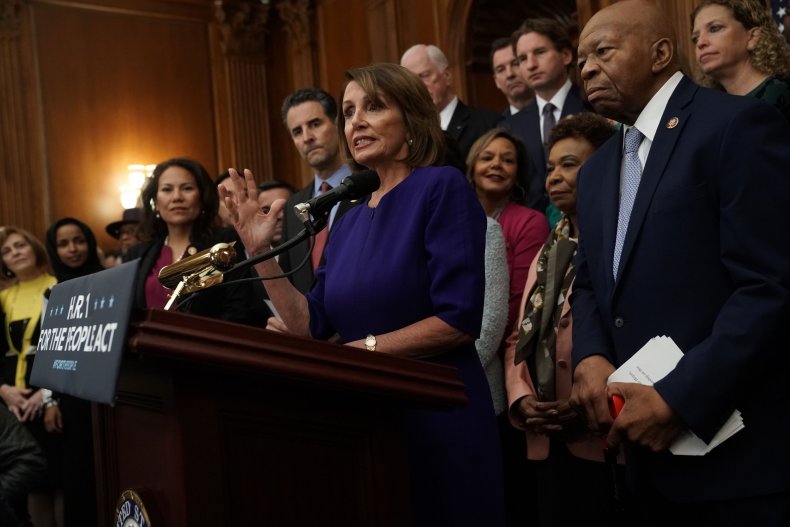 House Democrats, for the most part, shied away from condemning the remarks, but did say that impeachment was not something the party should be focusing on before special counsel Robert Mueller's report and additional investigations House Democrats plan to conduct are completed.
"It's a statement from a member," said Democrat David Cicilline, emphasizing that the freshman lawmaker was just that: one new member out of hundreds of Democrats. "I don't use that kind of language, but the reality is there are people who feel very strongly about this administration and the way this president has undermined core American values and consider him to be a real threat to things that we care about in this country."
The first day of the new Congress, House leaders and senior lawmakers continue to tamp down talk of impeachment, despite Representative Brad Sherman on Thursday reintroducing articles of impeachment against Trump.
Cicilline, as he previously told Newsweek, believed his colleagues should wait on impeachment.
"That is not the position of the vast majority of Democrats, but you know one of the beauties of the Democratic caucus is people are going to share their views and their passions," he said. "We're going to do oversight in a responsible way, a serious way."
When contacted by Newsweek, Representative John Lewis said he had no comment on what Tlaib said. Representative Ted Deutch said he also would not comment, because he'd not yet seen Tlaib's remarks.
Democrat Eliot Engel strayed from Pelosi's and his Democratic colleagues, saying Tlaib's comments were not helpful to Democrats.
"It makes me think back to when my late mother was always telling me that if you didn't have anything good to say, don't say anything at all," Engel said. "I am troubled by the direction the administration is going, and I'm as critical of the president for a myriad of things as anybody else."
But there were other ways for Tlaib to express herself, "without using profanity like that," he said.
"I can get my criticism across without having to resort to words like that," Engel said. "I don't think it's helpful, and it puts, frankly, Democrats on the defense when we should be on the offensive. It's the Republicans and the president who should be on the defensive."
Engel also said an attempt to impeach Trump now would be a "waste of time," and that the prospect is "something that should be used as a last option."