Pelosi Directs House to Draft Impeachment Articles Against Trump: 'In America, No One is Above the Law'
Speaker of the House Nancy Pelosi took the extraordinary step Thursday to announce that she's directing the chamber to move forward with articles of impeachment against the president of the United States.
"Sadly, but with confidence and humility, with allegiance to our founders and a heart full of love for America, today, I'm asking our chairmen to proceed with articles of impeachment," the California Democrat said from the U.S. Capitol during a brief on-camera statement made outside her office. "I commend our committee chairs and our members for their somber approach to actions which I wish the president had not made necessary."
Citing President Donald Trump's alleged wrongdoing with the Ukraine scandal, she accused him of violating his oath of office by interfering in a U.S. election and of abusing his power.
"The president has engaged in abuse of power undermining our national security and jeopardizing the integrity of our elections," Pelosi continued. "His actions are in defiance of the vision of our founders and the oath of office that he takes to preserve, protect and defend the constitution of the United States."
The speaker's directive made it clear that she believes the overwhelming majority of her caucus is ready to go on the record and vote to impeach the president. House Democrats conducted their impeachment inquiry at a breakneck pace, and all signs pointed toward the chamber passing articles before the year's end.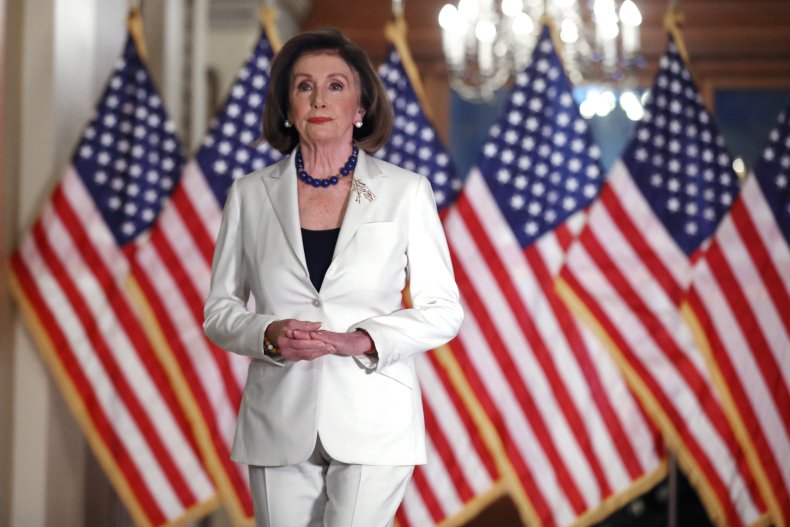 Trump responded in a series of tweets, writing that the "Do Nothing, Radical Left Democrats" are trying to "Impeach me over NOTHING."
"They already gave up on the ridiculous Mueller 'stuff,' so now they hang their hats on two totally appropriate (perfect) phone calls with the Ukrainian President," he continued. "This will mean that the beyond important and seldom used act of Impeachment will be used routinely to attack future Presidents. That is not what our Founders had in mind. The good thing is that the Republicans have NEVER been more united. We will win!"
Before Pelosi's remarks, Trump urged the House in another series of tweets to impeach him "now, fast."
White House press secretary Stephanie Grisham also chimed in on the social media platform.
".@SpeakerPelosi & the Democrats should be ashamed," she wrote. "@realDonaldTrump has done nothing but lead our country - resulting in a booming economy, more jobs & a stronger military, to name just a few of his major accomplishments. We look forward to a fair trial in the Senate."
How many articles the House will draft has yet to be determined. Pelosi suggested several committees will be involved in the process, and she directed "chairmen" to proceed with impeachment. Typically, the drafting of articles would be the House Judiciary Committee's responsibility.
On Monday, counsels for the majority and minority staff of the Judiciary and Intelligence Committees will give Judiciary members a presentation of impeachment evidence in a public hearing, according to the Judiciary Committee.
Pelosi's announcement came 72 days after she launched an official impeachment inquiry, and one day after Judiciary held its first impeachment hearing featuring four legal scholars who testified whether they believed, under the constitution, the president has committed impeachable offenses. During the proceeding, Democrats signaled they were considering three main articles of impeachment, each of which they repeatedly displayed on TV screens in the room: abuse of power and bribery, obstruction of Congress and obstruction of justice.
All three of the professors called by Democrats spoke in favor of impeachment, based on Trump's Ukraine handlings and evidence that suggests Trump abused his power and committed attempted bribery when he pressured his Ukrainian counterpart to investigate the Bidens while withholding U.S. military aid. He then obstructed Congress throughout the impeachment inquiry, the witnesses testified, and likely obstructed justice based on the Mueller report.
"If what we're talking about is not impeachable, then nothing is impeachable," argued Michael Gerhardt, a University of North Carolina Law School professor whom Democrats called as one of their witnesses.
However, the lone Republican witness, George Washington Law School professor Jonathan Turley, believed otherwise. He said the Democrats were moving too fast in their investigation and should seek to compel additional administration witnesses to testify before Congress to further build their case for impeachment.
"The investigation of the Ukraine scandal—I think it was a legitimate investigation. What I begrudge is how it was conducted," Turley said.
"I am concerned about lowering impeachment standards to fit a paucity of evidence and an abundance of anger," he added. "If the House proceeds solely on the Ukrainian allegations, this impeachment would stand out among modern impeachments as the shortest proceeding, with the thinnest evidentiary record, and the narrowest grounds ever used to impeach a president."
This story was updated to include tweets from Trump and additional information from the House Judiciary Committee.