Nancy Pelosi to Mitch McConnell: Make 2020 a 'Referendum for the People,' Not on Socialism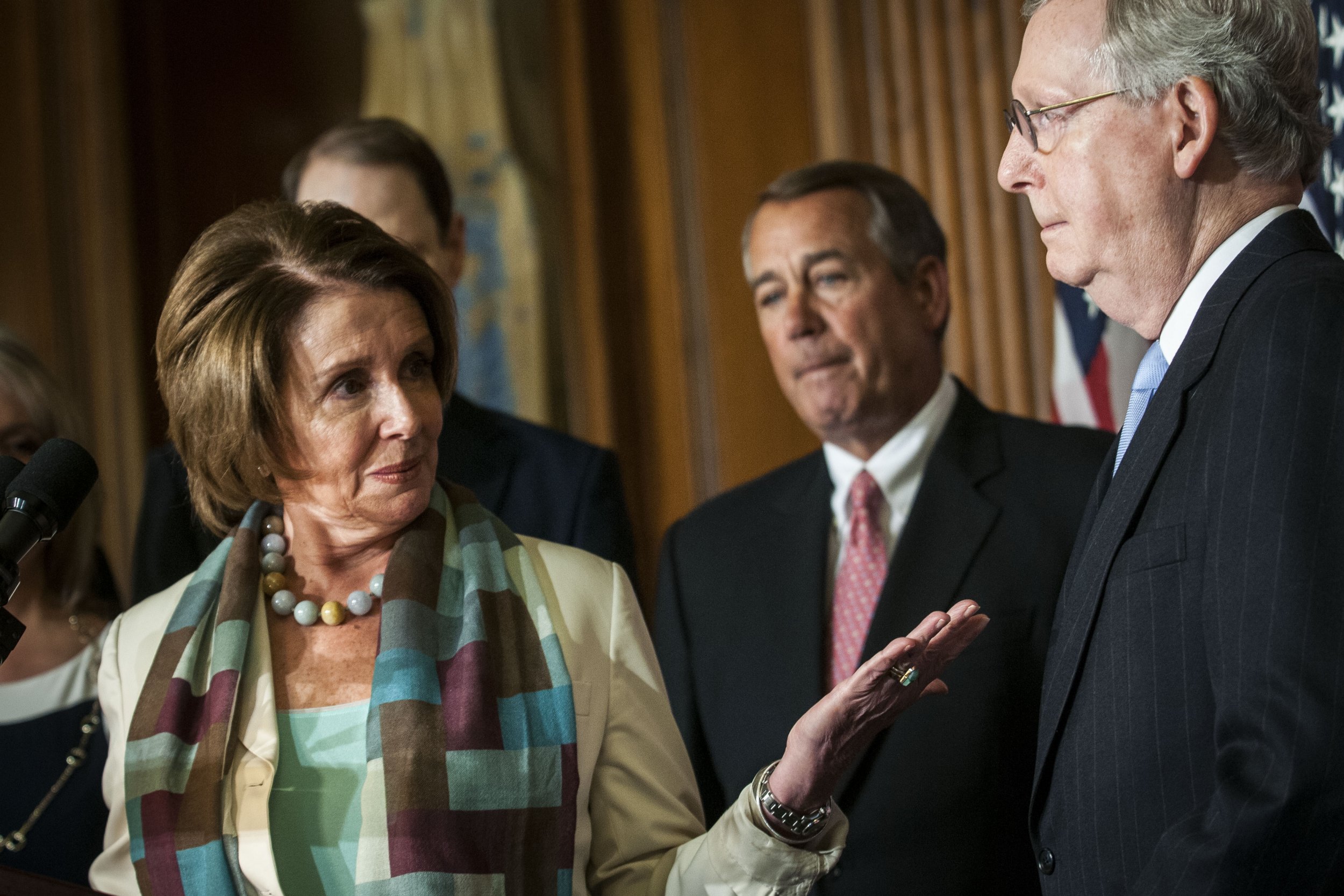 Speaker Nancy Pelosi closed the House Democrats' annual spring retreat, the focus of which was to highlight Democratic accomplishments in the first 100 days of their majority, by pushing back at Senate Majority Leader Mitch McConnell, who had told reporters that he wanted to make the 2020 elections a "referendum on socialism."
"Oh, come on," she told reporters in Leesburg, Virginia, on Friday, during a news conference concluding the three-day event. "Why don't they make it a referendum on a positive suggestion they may have for the good of the American people?"
McConnell, a Kentucky Republican, said that for his party to prevent Democrats from taking control of the Senate, it planned to go on the offensive over such proposals as the Green New Deal and Medicare for All. Trump and Republicans have labeled these initiatives "socialist policies," drumming up their bases and rallying support to combat them.
"We need to have a referendum on socialism," the Senate majority leader said. "I'm going to be arguing, and I'm encouraging my colleagues to argue, that we are the firewall against socialism in this country."
Pelosi reiterated that Democrats would continue to push their "For the People" agenda, whose spearhead had been a sweeping voting rights, anti-corruption bill known as H.R.1. Formerly titled the "For the People Act," the measure, which passed last month, seeks to strengthen campaign finance and ethics laws, and create new voting initiatives. It would also require that presidents disclose their tax returns, prohibit lawmakers from using public money to settle sexual harassment suits, require public super PAC donations and tackle gerrymandering.
Republicans have opposed the bill, and Democrats knew when they passed it that the broad initiative would be dead on arrival in the Republican-controlled Senate.
Still, Pelosi used it as an example of the type of proposals that McConnell should focus on, rather than attack Democrats over socialism.
"Let's make it a referendum for the people in terms of lowering health care costs, bigger paychecks, cleaner government," the California Democrat said.
She also took a swipe at President Donald Trump's tax reform law, which a Republican-controlled Congress passed during his first year in office. Pelosi said it was engineered to benefit the rich, as the administration and Republicans point to lower unemployment and the creation of new jobs as proof its success, and claim that Americans are paying lower taxes.
But Democrats have called attention to the tax cuts for large corporations, the Congressional Budget Office's projection that the cuts will add nearly $2 trillion to the national debt and that individual tax cuts will expire in 10 years (causing lower income taxpayers to pay more than their wealthier counterparts) as evidence that it was not "for the people."
"In our Congress, H.R.1 for us was to reduce the role of big, dark special interest money in politics," Pelosi said. "For [Republicans], H.R.1 was to give 83 percent of the benefits of their tax bill to the top 1 percent. That's the only bill passed and signed of any accomplishment in the last Congress."
The Washington Post previously rated that statistic as "Two Pinocchios," or "half true," because it fails to mention that the "83 percent" figure applies to the year 2027, when the tax cuts for certain individuals run out and will need Congress's approval if they're to be extended.